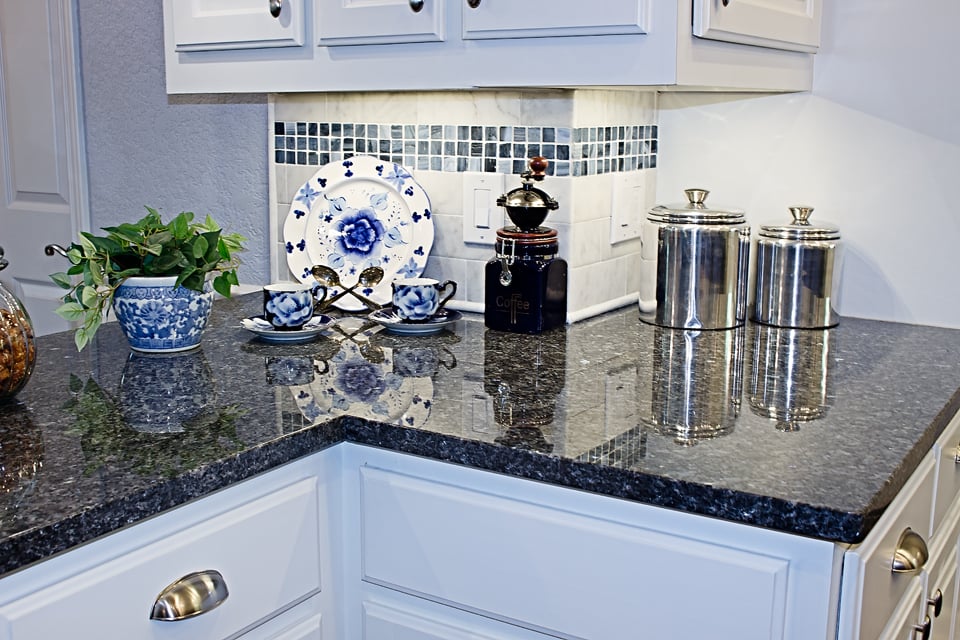 As homeowners, we like options. That is, until we have too many; then options become chores (and no one likes chores). To prevent your search for cabinets and countertops from devolving into "choredom," it's important to whittle down your alternatives using a set of criteria that reflects what is most important to you in your remodel (i.e., style, availability, dependability, etc.). If you're uncertain on which factor to base your decision, the safest (and smartest) lynchpin is cost. Once you've established a price cap, it will be easier to navigate things like construction and style.
The world of kitchen cabinets and countertops is flooded with every style and sub-style imaginable — and the last thing you want to do is invest in a trend that will be painfully outdated within the next year. So, to avoid the terminally trendy (and to find a cabinet-countertop combo that's as breathtaking as it is useful), here are some tips to follow while planning your update.
Let's Start With Cabinets
Frames or no frames? Custom? Semi-custom? Stock? The choices can be overwhelming. This quick rundown will help take some of the guesswork out of choosing your cabinets-to-be.
Framed cabinets are suited for more traditional kitchen styles. Framed cabinets have a 1-1/2 inch frame, or "face," at the front of the cabinet box. This is where the doors are hinged.
Frameless cabinets are suited for more contemporary designs. These cabinets have a hidden frame, offering greater accessibility to the contents of the cabinet. In frameless cabinets, doors are hinged on the inside of the box, making hinges less noticeable than hinges on framed cabinets.
Once you've decided on a frame (or lack thereof), it's important to establish how you want your cabinets constructed.
Stock cabinets are found in big box stores. While stock cabinetry is the cheapest route, it's important to be aware of the potential quality and measurement issues that sometimes arise with prefab cabinets.
Semi-custom cabinets come in a general style and offer customization of basic finishes/sizes. Semi-custom cabinets can be a great compromise in price and flexibility.
Custom cabinets are created from the ground up to meet your exact specifications. While custom cabinets look fantastic, the price tag will be substantially more than any other alternative on this list.
Details, details, details…
While looking at cabinets, it pays to keep tabs on the following telltale signs of quality (or lack thereof).
Hinges: Regardless of style, your hinges should be both durable and adjustable. Having adaptable hinges allows you to align the doors and frame (or overall box in the case of frameless cabinets).
Floating Panels: Make sure your cabinet's panels (exposed sides and doors panels) are floating (not glued) in a deep groove set in the cabinet's frame. The lack of adhesive allows the panels to expand and contract with temperature changes — thereby avoiding cracks or serious frame damage.
*(P.S. Sometimes it can be difficult to determine whether a cabinet has floating panels just by looking. Be sure to ask a professional to inspect the cabinets before making a purchase)
Drawer Slides: Drawers supported by side-mounted slides are much stronger than a single, bottom-mounted slide.
And Now for the wood…
As a rule, it's a good idea to avoid exotic or heavily design-oriented cabinets. For most homeowners, a solid mix of functionality and subtle good looks is the ticket. Fortunately, there are a variety of wood types that have become time-honored staples among homeowners:
Maple is great for both traditional and contemporary designs.
Cherry mixes well with other woods and is exceptionally durable.
Oak is extremely durable and does well with finishes (dark or light).
Pine has a long, continuous grain that offers a rugged look.
High-pressure laminate and Thermofoil are also becoming popular choices for homeowners looking for an alternative to (sometimes pricey) wooden cabinets.
What's the cost? Our True Cost Guide shows a median price of  $4,600 for cabinet installation. It's important to note that this price doesn't include the actual cost of cabinets or additional hardware.
When I say "countertops," you say "granite." Or do you?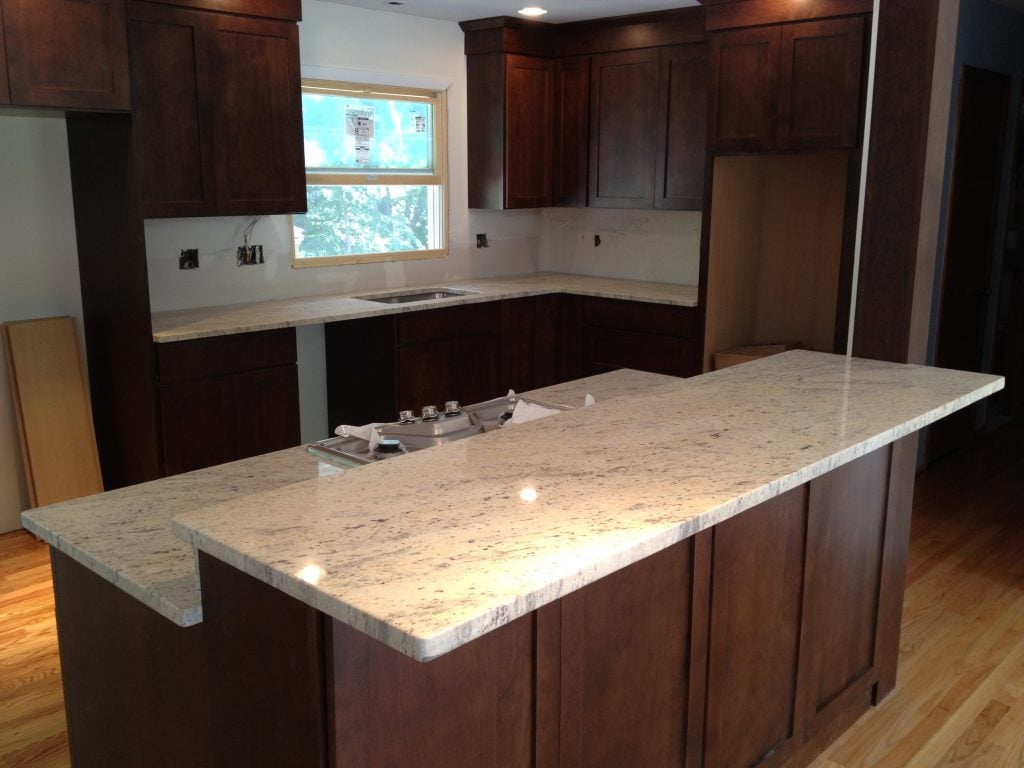 If you mention countertops to a homeowner, it's a safe bet that the next word out of his or her mouth will be "granite"— and for good reason. Aside from being visually stunning, granite is a durable, lasting option that hasn't wavered with the trends. But, as alternatives to granite increase in quality, predictions are pointing to a lull in granite-mania. While granite may be becoming common, there are additional countertop choices that are becoming popular in their own right:
Laminate: Today's laminate isn't the bubbled Formica countertop you had growing up. In fact, there's an almost endless supply of attractive laminate options that look like a wide variety more expensive countertop materials (for a fraction of the price). What's the cost? Our True Cost Guide shows a median price of $3,000-$4,000 (prices depend on the size and quality of laminate).
Marble: Like granite, marble is a classic choice for high-end countertops. But, unlike granite, marble is highly susceptible to stains and etching, which can be pretty upsetting after shelling out the cash to have it installed. What's the cost? Our True Cost Guide shows a median price of $4,000-$7,000 (prices depend on the size and quality of marble).
Quartz: Silestone or Caesarstone (the brand names typically associated with quartz) are the "plug-and-play" alternatives to marble and granite. While quartz is still expensive, it doesn't require the sealing or constant maintenance that other materials do. What's the cost? Our True Cost Guide shows a median price of $5,900-$14,000 (prices depend on the size and quality of quartz).
Butcher block: In terms of value, it doesn't get much better than butcher block. While upkeep is a must with these countertops (oiling is required every six months), the price-to-impact ratio makes them extremely attractive to many homeowners. What's the cost? Our True Cost Guide shows a median price of $1,700-$3,100 (prices depend on the size and quality of butcher block).
Solid Surface: It's all fun and games until something gets scratched — a lesson many solid surface (or Corian) countertop owners found out the hard way. While solid surface has been a popular choice in the past (and still looks great today), many homeowners have turned to other alternatives because of the potential scratching. What's the cost? Our True Cost Guide shows a median price of $2,200-$5,000 (prices depend on the size and quality of Corian).
Stainless Steel: If you're a serious cook (or just like the sleek look), stainless is a great choice. While stainless is practically indestructible (wine, beets and acidic liquids are no match), avoiding scratches and smears (finger prints and small crumbs become immediately apparent) can be difficult. What's the cost? Our True Cost Guide shows a median price of $2,000-$7,000 (prices depend on the size and quality of stainless steel).
Granite: Granite is still king for a reason: it looks great, it doesn't require massive amounts of upkeep and when compared to other natural stones (slate, soapstone, quartz), its costs are reasonable. While granite's popularity has been waning slightly, it's adoration among homeowners still soars (granite countertop prices depend on the size and quality of granite). 
No Comments Yet