© Denise Hasse / iStock / Getty Images Plus / Getty Images.
Fences are useful boundary markers and can add value and visual appeal to your property. The key is choosing the right style of fence for your purposes: confining livestock, marking your front yard boundary, or creating privacy and security in the garden. This guide helps you explore and compare different fencing styles.
On This Page:
How to Choose the Best Fence Designs
Selecting the right fence depends on its purpose and your desired outdoor aesthetic. For example, while a beautiful white picket fence is an American classic, it doesn't offer much in terms of security. Consider these key factors before you decide.
Budget: Your budget is central in influencing which fence you buy. Figure out your spending limit and how many linear feet of fencing you need to work out your budget per linear foot, as fencing costs can quickly add up.
Durability: Consider strength, lifespan, resistance to pests, rot and fungus, rust, and the material's ability to withstand local weather conditions.
Maintenance: Maintenance, cleaning and repairs should be simple and minimal.
Purpose: The style of fence you choose should be suitable for its intended purpose.
Installation: Find out what installation requirements, such as foundations or supports, are necessary. Research if DIY is possible or if professional installation is your only option.
Different Fence Styles
With five main types of fence materials and many styles, you need a firm grasp of each to make the right decision. For example, if you're looking for a classically attractive boundary marker for your front yard, wooden picket fencing could be the best option. Alternatively, if security is your primary concern, opt for a wrought iron fencing design.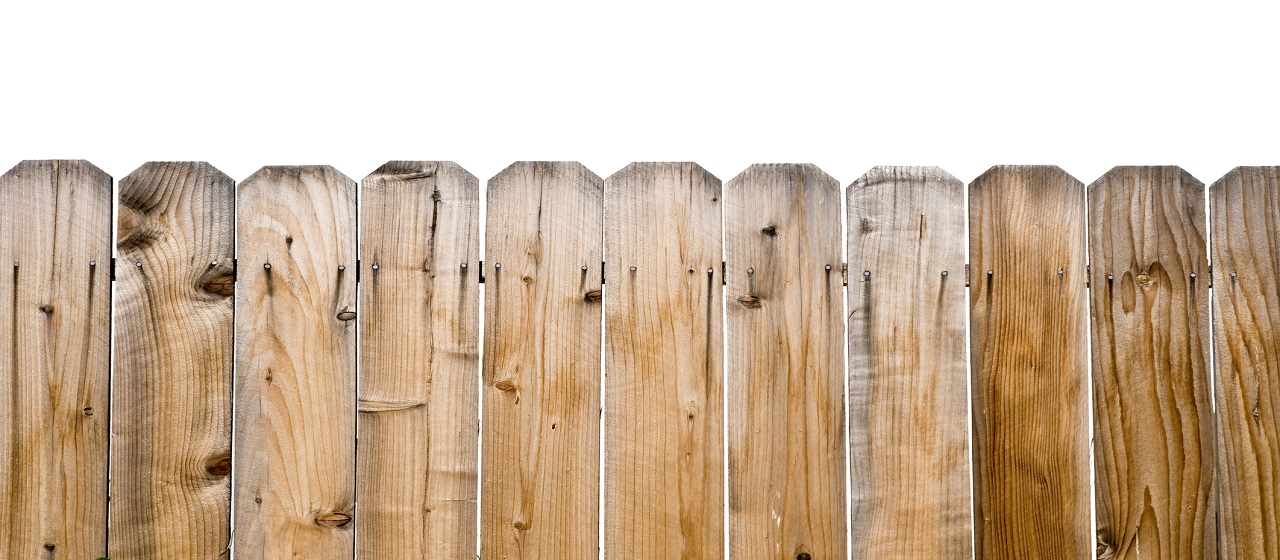 © emmgunn / E+ /Getty Images.
Wood Fence Styles
Wood fence styles range from traditional to contemporary and from purely functional to attractive and decorative.
Lattice Fences
Lattice fences are affordable and decorative. You can use them as privacy fences by growing dense foliage over them.
Pros:
Options suitable for all budgets. Lattice fencing costs $3.50–$30 per linear foot
Plant-friendly and promotes upward growth
Aesthetically pleasing
Works well in conjunction with other fencing
Most lattice fencing is prefabricated cedar or bamboo for easy installation
Cons:
On its own, lattice fencing provides little privacy but can be used with other fence panels or trailing plants to provide a privacy screen
Not particularly durable
Vertical Board Fences
Vertical board fences are the most common type of residential fence. There are budget-friendly options available as well as higher-end panels. Vertical board fences are affordable choices for basic privacy and security fences.
Pros:
Budget-friendly: $7–$15 per linear foot
Sturdy and durable. The fence boards don't sag, particularly if made from high-quality wood such as redwood or ipe
Work well on uneven ground and can be stepped if necessary to accommodate uneven terrain
Easy to build and install
Available in prefabricated panels
Protects against wind
Cons:
Water and ice easily damage the board ends
Usually plain and utilitarian in appearance
Picket Fences
The picket fence conjures up cozy images of traditional properties with carefully tended lawns. They're good for demarcating a property boundary but don't provide much security.
Pros:
Inexpensive: Picket fencing costs $3–$30 per linear foot
Takes painting and staining well
Environmentally friendly if sustainably sourced. Biodegradable and individual pickets can be recycled and reused
Cons:
Requires regular maintenance and repairs
Prone to moisture damage and rot without proper sealing and care
Susceptible to warping and sinking
Not good for privacy or security
Post-and-Rail Fences
Post-and-rail fences are a solid choice for making a boundary over a large area, as material use is minimal. However, they don't provide any security or privacy.
Pros:
Affordable: Post-and-rail fences cost $4–$12 per linear foot
Has a quaint, rustic appearance
Sturdy enough to fence in livestock
Requires minimal care and maintenance
Cons:
Does not provide privacy or security
Pets can easily escape
Wildlife can easily get through the fence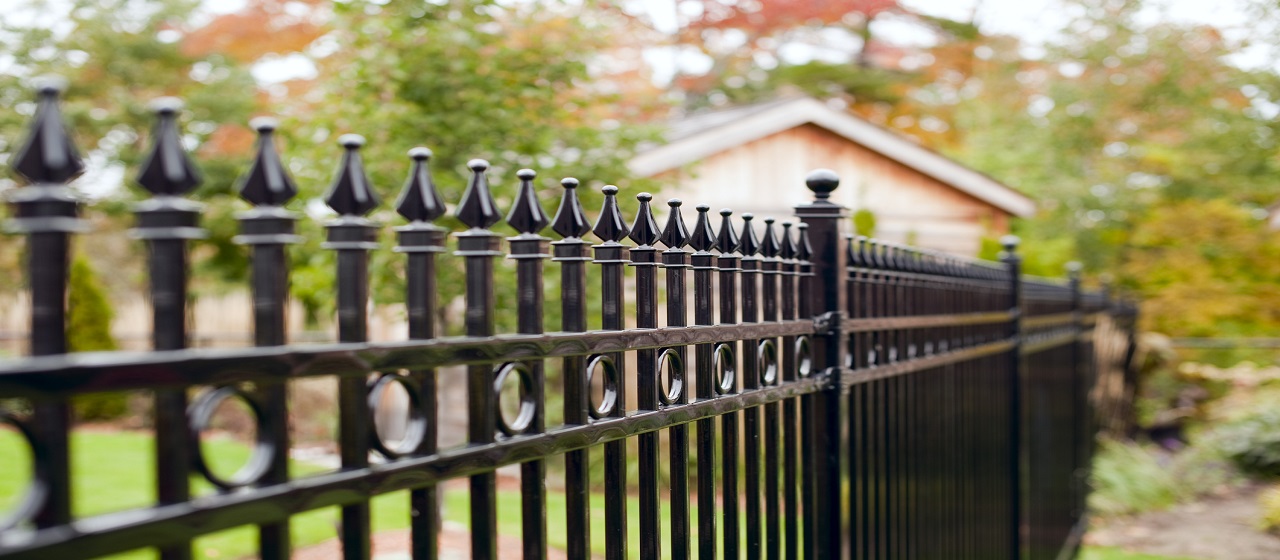 © ballycroy / E+ /Getty Images.
Metal Fences
Metal fences are generally stronger and more secure than other materials. You can choose from highly ornate and secure metalwork or simple but functional wire. For the higher-end options, which are often costly, homeowners often reduce costs per square foot by combining the metal with brick.
Wrought Iron Fences
Wrought iron fences have a high-end, timeless look. While costly, they're extremely strong and, with a little care, will last a lifetime.
Pros:
Strong and durable
Unbeatable lifespan
Solid, reliable security barrier
Stair stepping allows use on mild gradients
Cons:
Expensive: Wrought iron fencing costs $24–$34 per linear foot
Requires regular maintenance including inspecting and patching the finish to avoid rust
Not suitable for steep slopes or very uneven terrain
Aluminum Fences
Aluminum fencing is an attractive, more affordable alternative to wrought iron. Although it has a similar appearance, it's not as strong as wrought iron.
Pros:
Inexpensive options are available: costs $7–$40 per linear foot
Doesn't rust and is easy to clean with a regular garden hose
Versatile and decorative
Easy to install
Environmentally friendly if made from recycled aluminum
Recyclable
Cons:
Not suitable as a privacy fence
Not the most secure choice; because it's so lightweight, it's not as strong as steel or iron
Steel Fences
Steel is a strong, long-lasting fencing option that's good for creating a secure barrier around your home.
Pros:
Moderately priced (for metal): Steel fencing costs $7–$32 per linear foot
Strong and long-lasting
Can be racked or stepped for use on uneven terrain
Resistant to rust if galvanized and finished with a powder coating
Resists insects
Heat and fire resistant
Easy to clean
Cons
Heavy, so transportation and storage are difficult
Shouldn't be installed near ocean due to salt water damage
Lacks privacy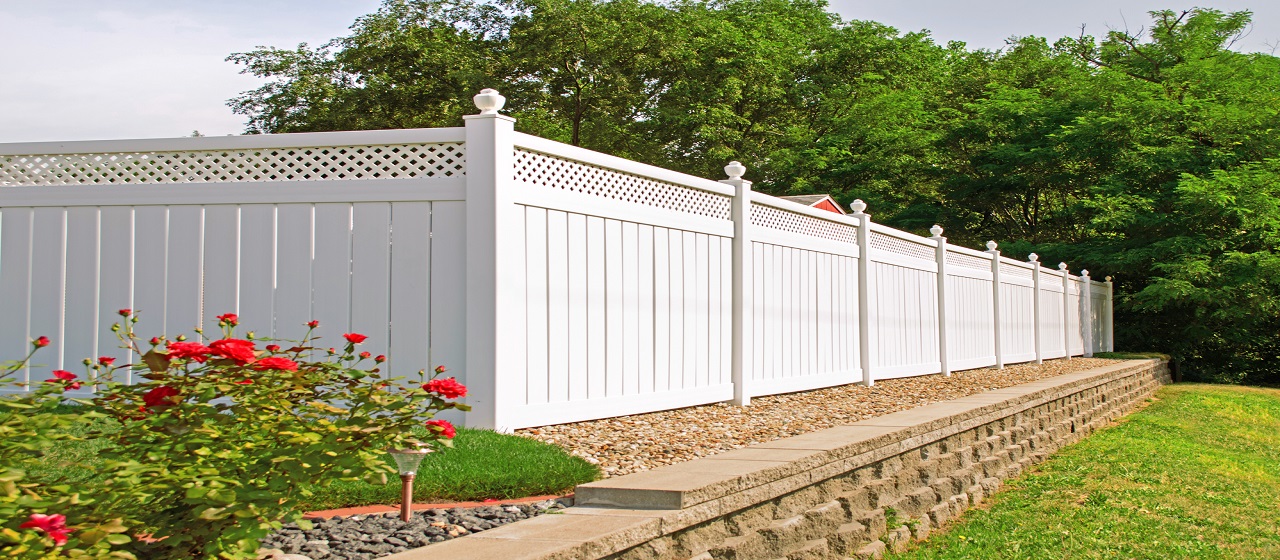 © ghornephoto / E+ /Getty Images.
Vinyl Fence Styles
An alternative to traditional wooden fence styles, vinyl fencing made from PVC comes in a range of styles, including those that mimic real wood.
Pros:
Does not rot
Does not crack or splinter
Impervious to insect and water damage
Available in many styles, from little pickets to tall privacy fences
Cons:
Comparatively expensive: Vinyl fencing costs between $10–$30 per linear foot
Not ideal for security fences
Not particularly strong
Prone to snapping, warping or buckling in extreme weather
Composite Fencing
Composite fencing is an amalgamation of wood fibers, pulp or sawdust and ground plastic particles that are bonded and held together by an acrylic resin. It looks and feels like real wood and is an environmentally friendly choice, as it usually contains a high percentage of recycled materials.
Pros:
Low-maintenance
Easy to clean and can withstand pressure washing
Eco-friendly choice, as it consists of recycled materials diverted from landfills
Mimics real wood
Requires no staining, sealing or painting
Resistant to termites, other pests, rot and fungus
Does not expand and contract with temperature fluctuations
Cons:
Expensive: Composite fencing costs $22–$38 per linear foot
Color may fade over time
Susceptible to stains from spills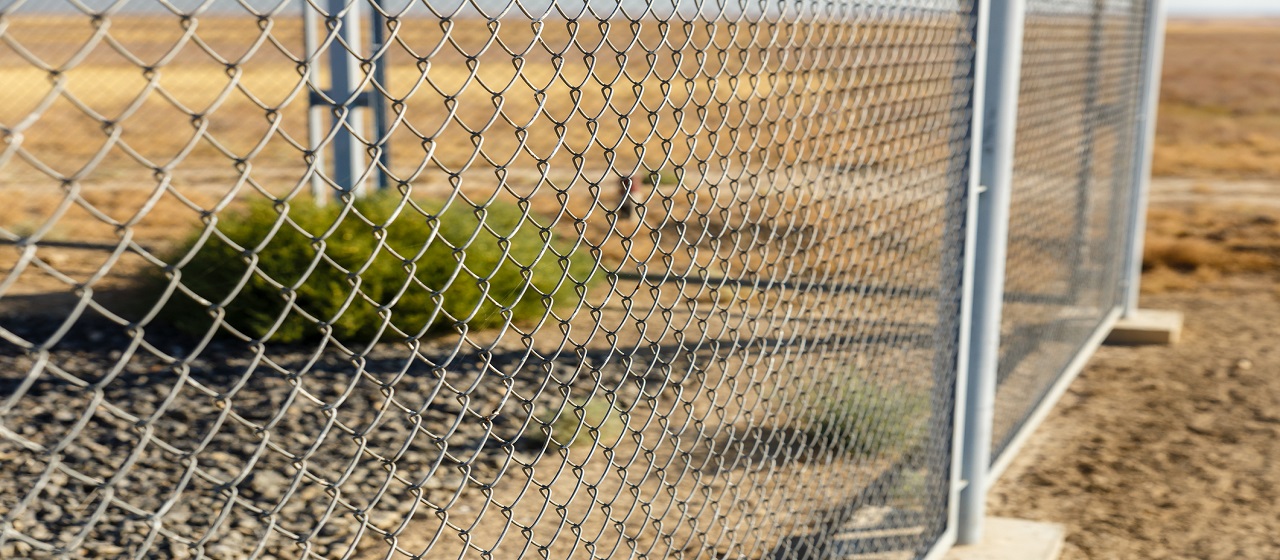 © Mieszko9 / iStock / Getty Images Plus /Getty Images.
Wire Fences
Wire fences are not made to enhance the aesthetics of your property, although some homeowners opt for black fencing to help boost aesthetics They are inexpensive, purely functional products suitable for DIY or professional installation.
Chain Link Fences
Chain link fences have been an inexpensive fencing solution for decades. They're not pretty, but they are effective—particularly for keeping pets in and wildlife out.
Pros:
Inexpensive: Chain link fencing costs $5–$20 per linear foot
Suitable for DIY installation, though professional installation can give you a tighter, more durable fence
Safe and effective containment, providing it's tall enough
Low maintenance
Cons:
Won't add to the value of your property
No privacy
Not suitable as security fencing
Does not add aesthetic appeal
Barbed Wire Fences
Barbed wire fencing isn't common in residential settings. While it's an inexpensive, fierce and intimidating security deterrent, it isn't attractive and will not add value to your home.
Pros
Low-cost: Barbed wire fencing costs $0.50–$0.70 per linear foot. Remember to account for the number of strands you want, plus the posts you'll need for securing the wire
Visually intimidating
Good for farm fencing
Cons
Can cause injury
No privacy
Security is limited, as barbed wire is easy to cut and it can be climbed if covered
Not attractive
Best Fence Designs Compared
Whether you want to keep your livestock contained or enhance your property with an aesthetically pleasing, ultra-modern boundary fence, it's important to understand the best fence options for each application. If you're unsure, talk to a local fencing installer to discuss your options, or hire a fencing pro to give you a quote and advice.
Best Garden Fence Types
Vertical board fences are a smart choice for garden fences. They're solid and, if installed correctly, have no gaps—so they keep pets and children in and wildlife out. They're affordable and can be stair-stepped if you have uneven ground at the edges of your garden.
Best Privacy Fence Designs
Vertical board fences are a smart option for privacy fences, as they're solid and tall enough to stop people looking over or peeking through the boards. Plain panels are very affordable. Or, for a high-end, decorative look, you can opt for a tropical hardwood vertical fence such as batu or ipe. A local privacy fence specialist can help you decide on the best material and design.
Best Security Fence Design
Steel fences or wrought iron fences are unbeatable for security fencing. Both of these options are incredibly strong with long lifespans. Different heights, styles and finishes are available, and they're easy to maintain as long as you check the finish and repair any damage to avoid rust. These options are more expensive than wood, vinyl and other materials, but if security is your primary concern, these are your best choices.
Best Modern Fencing Options
Lattice fencing, aluminum and composite fencing are all solid options for modern fencing, with plenty of contemporary styles and colors for you to choose from. Aluminum and composite will, depending on the style you choose, give you more security and privacy than standalone lattice, but lattice is easy to combine with other fencing types for a unique, privacy-focused modern design.
Best Front Yard Fencing Options
Picket fencing is a great choice for your front yard if you're looking for an affordable, easy-to-install classic. It's a tidy boundary marker that adds quaint charm to your front yard. However, if you want more privacy or security, you'd be better off with short vertical boards or decorative composite.
3 Comments