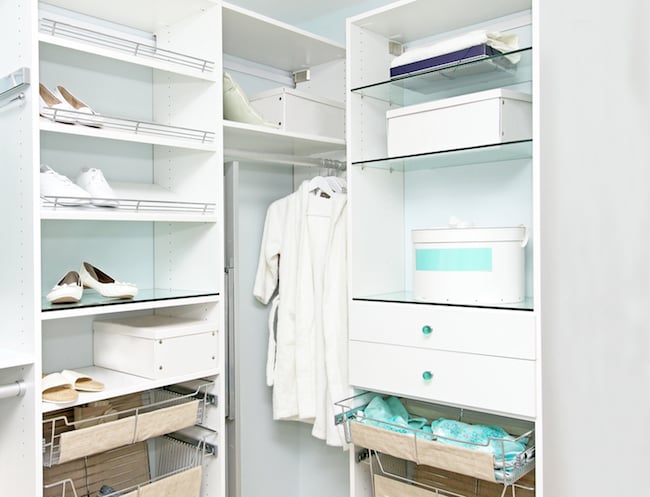 Does your closet need a little more "ahhh" than "ughh?" If so, use the following checklist to give your closet the organizational tools it so desperately needs. For a complete breakdown of the costs associated with sprucing up your closet, check out
Home Advisor's True Cost Guide.
Clothing: It stays or it goes
First things first: If you haven't worn something in a year or longer – pitch it (or better yet, donate it). If you find an outfit that you love but only get around to wearing a few times a year (like certain work and formal attire), store it. As you move through your closet, divide your clothes into two piles: yes and no. It may be hard to part with some clothing, but you'll be glad you did.
Once you've cleaned out your closet, consider incorporating the following:
Hamper baskets: Large hampers are perfect for keeping dirty clothes organized and off of your floor. Hampers save time on laundry day, and they keep your room looking spick-and-span.
Baskets: 8" or 12": Baskets work as catchalls for magazines, extra linens or any other items that may not have a home. If you tend to like "things," baskets can help you keep a handle on clutter.
Shelf dividers: T-shirts have a way of disorganizing themselves. To avoid a tangled mess, include shelf dividers in your closet.
Clothes hangers: Hanging items will help keep your shelves clear of clutter and free up additional floor space. Once you've cleared some room, invest in additional hangers.
Pull out (valet) clothing rods: Valet clothing rods let you extend your clothing rods' reach and save additional shelving space.
Shoes: Enact the one-year rule
It's hard to say goodbye, but if you haven't worn a pair of shoes (or even tried to wear them) within the last year, they need to go. Again, this rule doesn't apply to shoes that are a part of a formal or particularly special outfit. 
After you've cleared some shoe space, think about a shoe cubby:
Shoe cubby: Shoe cubbies come in a variety of designs: door-mounted, standalone, slanted, built-in, etc. Regardless of the design you choose (don't be afraid to adopt several), shoe cubbies will help you keep your shoes organized and out of a pile on your closet floor.
Jewelry: Keep it together
Because jewelry takes up less space than other items, don't feel the need to be as cutthroat. But, keeping track of your favorite pieces is important.
Here are a few tips to help you find what you're looking for and keep everything else where it belongs:
Jewelry tray: Having an extra jewelry tray is never a bad thing. Keep an extra tray or two on your shelf space for your lesser-worn pieces.
Wall-mounted rack: A wall-mounted jewelry rack will keep your necklaces organized and untangled. Also, wall-mounted racks can double as hat racks or racks for hanging odds and ends like scarves and headbands.
Drawer cubbies: If you have a chest of drawers in your closet, use drawer cubbies to keep your expensive or easy-to-lose jewelry safe.
Ready to start your
closet organization

?Find Pros
No Comments Yet