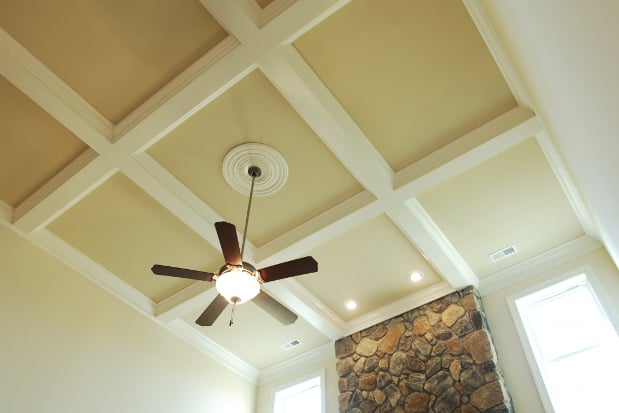 People always talk about the newest renovations to their homes: hardwood floors, freshly painted walls, or refurbished countertops. When thinking about all the renewed surfaces of a house, why are ceilings always the last thing left out? Since they're overhead, they're typically ignored, but maybe this is because nobody takes the time to do anything special with them. With the installation of coffered ceilings, any area of your house can quickly become the most popular room in the home because of their spacious and elegant appearance.
Add a Little Class
When you think about these types of ceilings, one often thinks of mansions or elaborate government buildings. Why not add this sophisticated look to your own house? Many home offices, libraries, and dens can be enhanced with the old-world look of wooden grids and recessed paneling. The word "coffered" is actually a derived from the French word for "box," and this latticed look has been around for centuries not only because of their dramatic beauty and intelligent appearance, but they also have a function that many people are unaware of.
Playing with Illusion
Ceilings are often painted a plain white and the only enhancement they receive may be a fancy fan unit or light fixture. You won't see find the kind of texture that you see in popcorn ceilings. Coffered ceilings can involve these features as well, while adding an illusion of space to the room. Though many homeowners still prefer the antique appeal of dark wooden beams and paneling systems, many people now play with the dimensions of a room by altering the traditional face of these grid ceilings.
Ready to start your
Coffered Ceiling Project

?Find Pros
Dark woods can actually make a room look smaller, as if the ceiling is closing in on you, and this may be desired if you have a high-ceiling room that you wish to make more intimate. But if you have a small space, simply by painting the beams a different color than the recessed panels, a new depth is created in the room itself. In fact, there are now narrower beams available, which if installed closer to the ceiling (less recessed), produce the illusion of space.
Creative Decoration and Cover Lighting
Although coffered ceilings are often found in more luxurious rooms, they are becoming more popular in everyday environments, such as kitchens, dining rooms, and even master bathrooms. But beyond the initial lattice-design, these ceilings can be enhanced with touches of embellishment. There are all kinds of molding, trim, and beams to choose from: what kind of wood would you like to choose? Do you want it varnished and glossy or rough and rustic? Do you want ornamental molding or do you want something smooth and streamlined? Though large hanging light fixtures take away from the ceiling's unique look, there are many lighting options out there: wall sconces, lamps, or cove lighting (light fixtures hidden behind the molding that cast a romantic glow and spotlights the ceiling itself) can help to create a mood to the room.
Pragmatic Appeal
Economics: Coffered ceilings are often very expensive—they don't look cheap for one simple reason: they aren't. A lot depends on the size of the room and type of wood you choose, but often the installation costs are high because it is extensively customized and has to be done by a master craftsman. However, there is an affordable alternative.

Consider investing in a suspended ceiling, one that is set up much like paneling systems in school rooms or public offices, except instead of being made up of fiberboard, they are constructed of particle board which hangs from the grid of beams for a similar look at an economical price.

Sound: Also, these specialized ceilings, in addition to adding an eye-pleasing comfort to a room, add an audio comfort as well. Due to their niche design, they have been known to reduce echoes and noise that can often come with wood surfacing by absorbing excess sound in a room.
Professionals: Since there are so many designs out there and the installation is so complicated, you will most certainly need experts to help you out. Luckily there are many consultants out there to help you in the selection and local ceiling professionals available to assist you in the installation of this type of ceiling, the cove lighting, and other frills that bring this to light.
No Comments Yet