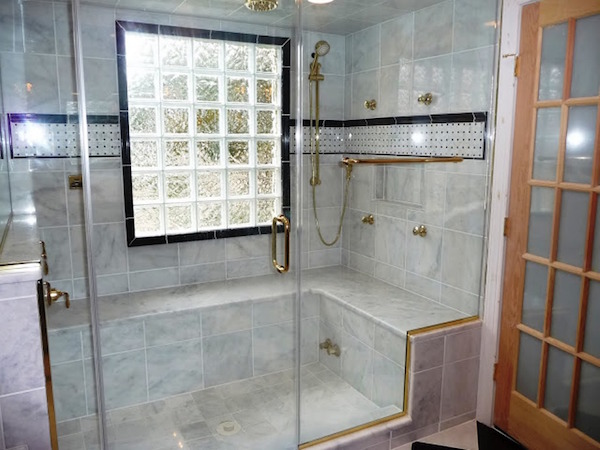 The most common shower door style is the bypass door, which has two doors that slide in a frame mounted to the tub's end walls. This is the most economical design and by far the most popular. It is a design that is also responsible for the greatest amount of shower door problems. If you're not set on a bypass door for budgetary or design reasons, there are an endless array of other shower door designs out there to choose from that will probably cause you less trouble over time.
Shower Door Problems Are Common with Bypass Shower Doors
A bypass door, or a sliding shower door that runs on a track, provides the perfect environment for water to gather and cause problems. The metal track where the rollers sit can rust, gather debris, develop mold and mildew problems, and generally deteriorate from water damage. Besides the track itself failing, the retention of water causes a number of other shower door problems as well. Rollers can gum up and stick, and the metal components in your rollers can rust and fail. Basically, the general rule that metal and water don't mix is a good one to live by. Spending money on shower doors that mix the two together is going to cause you problems in the long run every time.
Other Shower Designs
While standard bypass shower doors are the norm, there are a number of other options out there to choose from, depending on your design and budget considerations. The simplest answer is to invest in a hinged shower door. These doors don't rely on tracks or rollers and thus don't experience the number of problems that a sliding shower door does. If you're thinking outside of the box and have the means, you can eliminate a shower door altogether. Wraparound shower designs and walls create showers that don't need doors at all. Plus since they're usually made of high-quality materials, such as stone or block glass, they look a lot better than your standard, framed glass shower door in the first place.
Ready to start your
Shower Door Repair

?Find Pros
Shower Glass Design
While stone and block glass are dependable and attractive building materials, they're simply not in the running when it comes to fitting the strapped budgets of many homeowners. If shower glass is the best option for you, you should consider your options carefully before your glass shower door installation.
Obscured or Frosted Glass—This glass is opaque in nature, offering both privacy and a feeling of space in a bathroom setting.
Etched Glass—With etched glass you can add design and elegance to both plain and frosted shower glass walls and coverings.
Glass Blocks—As mentioned, glass blocks provide eye-catching, decorative highlights, to any shower set up. Your design options greatly increase when using this material, though they will also come at a higher price than with standard glass.
Talk to a Bathroom Contractor
If you're dealing with shower door problems and are ready for a change, talk to a bathroom contractor about shower options that will fit your bathroom and home design. Whether you're looking for an economical solution or are ready to take on a more substantial bathroom remodel, a bathroom contractor will be able to offer you the advice and quality workmanship you've been looking for to solve your shower door problems once and for all.
10 Comments