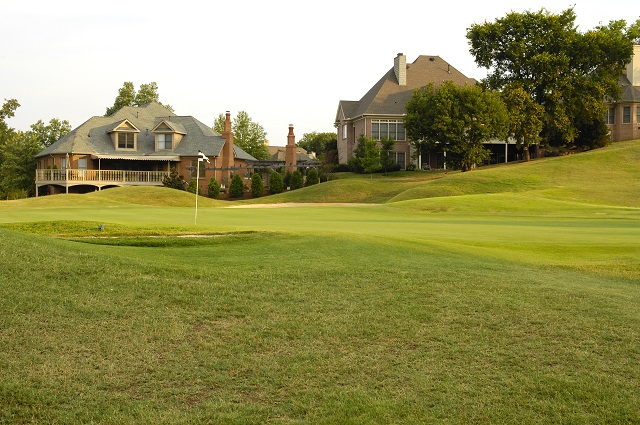 It's every golfer's dream: a private golf course in their own backyard. The ability to step outside on a weekday evening after a long day at work, on a Saturday morning with a couple of friends, or on a Sunday afternoon before another busy week begins to hit a few balls would be fantastic for your happiness, health, and handicap.
Even on a budget, there is one way to bring the game of golf home that is well within reach. A backyard putting green can accomplish the triple crown of improving your short game, shifting your mood, and keeping you in shape. But, before you start digging, there are a few factors to consider. Read on for all the information you need about the logistics, affordability, legality, and accessibility of adding a putting green to your backyard.
Logistics
Like with any home improvement project, planning is critical. Start by determining whether your yard is the right place to plant the pin. In the case of installing a quality, sustainable putting surface at home, consider the following factors:
Not only do the above factors help you decide whether to pursue a putting green for your home, but they can also determine whether a putting green is a sensible investment because they all impact both the time and cost of the project. Read on for more about budgeting and accessibility.
Affordability
While many people think a putting green is out of their financial reach, that's not necessarily the case. A putting green typically costs between $15 and $25 per square foot. Naturally, more complicated locations and features will take more materials, equipment, and labor to build (and maintain). Other major cost factors are whether you choose real grass or synthetic turf and whether you install it yourself or hire a professional to install your putting green.
Real Grass vs. Synthetic Turf – Generally speaking, a putting green made of real grass will cost less in materials initially, but more to maintain over time, than a putting green made of synthetic grass. When you consider that both projects will require the same amount of labor and materials, the initial cost difference is negligible. For that reason, the consensus among putting green owners seems to be to go synthetic. Generally speaking, artificial turf is also easier to navigate in a wheelchair or for anyone with a mobility concern.
DIY vs. Professional Installation – You can certainly save money if you choose to install your putting green yourself, but you will likely need to rent some professional equipment, like a compactor and drum roller. While turnkey installation from a professional will cost more, the expertise a pro possesses may prevent costly problems down the road, like a base that is too shallow to stand up to foot traffic.
Legalities
In most cases, building a backyard golf getaway isn't a project that requires a lot of oversight. In some cases, the project will require a permit. You should check with your local code enforcement office regarding local requirements. If you do need one, costs typically range from $100 to $300.
If you live in a neighborhood governed by a homeowners association (HOA), you must adhere to the rules laid out in your HOA agreement. In the event a putting green is prohibited, you may be able to appeal to your board of directors. To do this, you will typically need to provide an outline of the project scope and a sample design for approval.
Finally, there's a reason people build putting greens and not driving ranges. You'll need to be careful of property damage. If your putting green is close to a neighbor's home, cars, or other property, you may want to add a net or build a fence in your yard to catch shots gone awry.
Accessibility
If you love golf, and you also happen to have a disability, an at-home golf course is a perfect way to practice and play on your terms. Because you'll be right outside of your own home, you won't have to worry about accessibility concerns — on the course or in the clubhouse. If you follow all of the instructions above, including making paths at least 48 inches wide, your putting green will be completely accessible to golfers in wheelchairs and those using modified equipment.
There are probably plenty of things you are unnecessarily worried about, including how the pressure of a wheelchair might impact the green itself. Even single-rider golf cars apply no more weight than a standard mower. As long as you build your green to accommodate normal foot traffic and maintenance, it should work for a wheelchair as well.
Building a backyard putting green is a project that is entirely within reach for many club-wielding homeowners, as long you pay attention to the details. Once you've done the proper planning and budgeting, be sure to look into the rules and regulations in your area. Then, you can drive home a project that will bring you a better golf game, improved health, and a lot of joy.
No Comments Yet