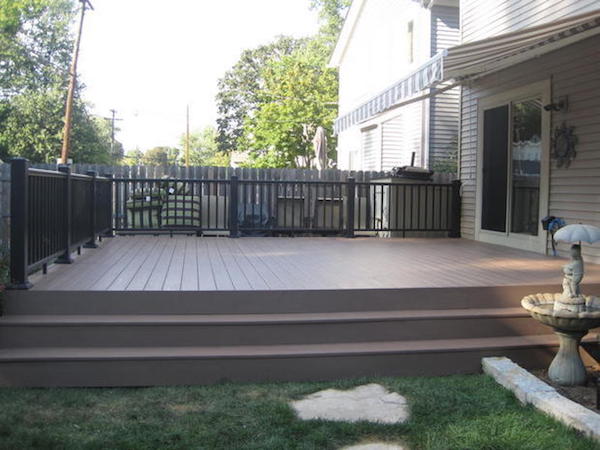 Composite decking is a decking material that is composed of several different recycled materials, though mainly hard plastic and wood. This type of product came about to extinguish the problems of typical wood decking. Wood fades, molds, cracks, splinters, and needs to be treated and sealed regularly for the deck to maintain its original look and feel. When composite decking materials came on the scene less than a decade ago, it curbed many of the problems typically associated with wood decks.
The Decking Advantage
This type of decking is a little more expensive up front than wood materials. Where you save money is that you won't have to treat a composite deck or porch, it won't crack or splinter (causing you to have to replace individual boards), and this material has exact, uniform coloring.
While a wood porch or deck might be cheaper to build, it will continually cost the homeowner more money each season in maintenance and repairs. With composites, a little washing every now and again it all it needs.
Composite Decking Brands
There are as many as 10 brands of composite decking materials on the market today. Some brands are best used for ocean side decks, as they are more resistant to the salt in the air; some are the most solid; some offer more colors; some have more unique railing systems. The choice is yours as to which brand fits your exact needs.
Problems with Composite Decking Materials
When composites came out they were touted as never staining, never needing maintenance, and never fading. Now that a few years have passed, homeowners have seen the real truth behind these claims. While no product will ever be able to replace the natural beauty of wood, since composite decking materials are man made, they can also be man-improved.
Certain companies that make composite brands have been working round the clock to improve their product. These products are now more resistant to stains, they don't fade like wood, but they do need a little maintenance. Early on it was said that these materials would never grow mold. The fact is that any material can grow mold. That is just the nature of mold growth. As a result, all you need to do is wash your composite deck every so often to keep mold from latching on (which is a good little trick for your siding, too).
Other advances have been installing grain patterns in the decking to imitate the look of wood, as well as offering several more colors than was possible 5 years ago.
How Much Does Composite Decking Cost?
Composite decking cost is measured by square feet; it's about $35 per sq. ft. This will vary depending on the exact material you choose and may not include labor.
Final Thoughts
Composite decking companies are making a product that will save you money by eliminating maintenance, repairs, and finishes, while providing the same strength as wood decking. Plus this is great for the environment. No mater what your preferences, this product can answer the call.
4 Comments