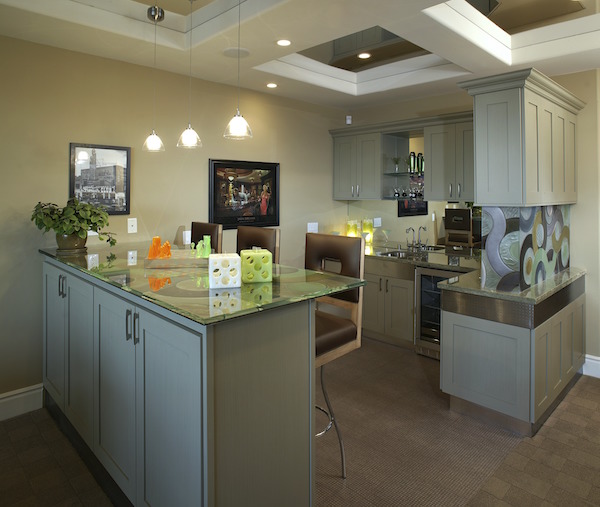 "Contemporary" is one of the slipperiest terms in home improvement. It can mean the latest fad or it can represent the decorating themes of the 1950s when the term was first used. Even in the 1950s the term seemed to be an offshoot of space exploration and was dominated by the then futuristic-looking linoleum.
You can also see how decorating trends can come full circle. Hardwood floors gave way to linoleum only to have the advent of laminate flooring create a return to wood and faux wood flooring. You may hear about how popular a contemporary kitchen has become or you may hear that contemporary is influencing many other decorating schemes. Even more ornate traditional kitchens are becoming more streamlined to match a contemporary lifestyle. It may sound cheeky, but the question has become: Is a kitchen popular because it's contemporary or is it contemporary because it's popular?
How to Decorate the Contemporary Kitchen
Contemporary kitchen design isn't a strict philosophy for kitchen decorating. There is no manual or set of rules to follow that will allow you to call your kitchen authentically "contemporary." There, however, common scenarios and concepts that will inform any contemporary decorating scheme for the kitchen: The touchstone for the contemporary kitchen is handling the chaotic stress of modern life.
Previously, this decorating scheme has been dominated by earth tones and simplistic design, but a transition seems to be taking place. While maintaining the simplistic design that continues to maximize function and gives valuable time back to the homeowner, bright colors are returning in full force. Designers and manufacturers are attempting to put the sexy back into simplicity. The low maintenance of laminate flooring and the durability of metal appliances are still part of the contemporary kitchen, but striking colors for walls and cabinets give your kitchen the pizzazz previously reserved for more ornate design.
Different Styles of the Contemporary Kitchen
The ambiguous meaning of contemporary also lends itself to subcategories of the decorating style. This mixing and matching of styles can help you understand the kitchen that's right for you.
Urban Contemporary: Focuses on materials found in the urban setting. A mix of metal, concrete, and glass gives this kitchen a stark, sleek look. Traditional "warmth" is sacrificed for chic style and no nonsense access.
Casual Contemporary: Uses softer lines but maintains a streamlined design. Wood and color return without being ornate or formal. Often, the island kitchen works well with this decorating scheme.
European Contemporary: Employs bolder colors and patterns. These patterns, however, stray from more traditional kitchens with larger contours. Instead of small linoleum tiles, this kitchen will use large stone tiles for floors.
Ready to start your
contemporary kitchen

?Find Pros
How to Design a Contemporary Kitchen
The kitchen triangle (sink, refrigerator, oven range) is still widely observed and accepted as a central component of kitchen design, but the parameters of these work stations are loosening considerably. While a tight-knit work triangle may be best for cooking large family dinners and entertaining, more isolated kitchen stations can also facilitate hectic morning routines. Coffee nooks, built-in wall ovens, and more open kitchen spaces are now more common and more prevalent elements in contemporary kitchen design.
Final Tip: Pick and Choose from Contemporary Styles
The major risk with any contemporary decorating scheme is the possibility that the style will quickly go out of fashion. You should always look to design a kitchen or any home area with staying power. Don't feel like you need to run into the comforting arms of traditional decorating. Your home won't stand out if you play it too safe. Take what you truly love from contemporary design and incorporate it into your kitchen remodel or new construction. Talk it over with your contractor and give yourself time to feel confident with your choices. In the end, the only person you really need to satisfy is yourself.
No Comments Yet