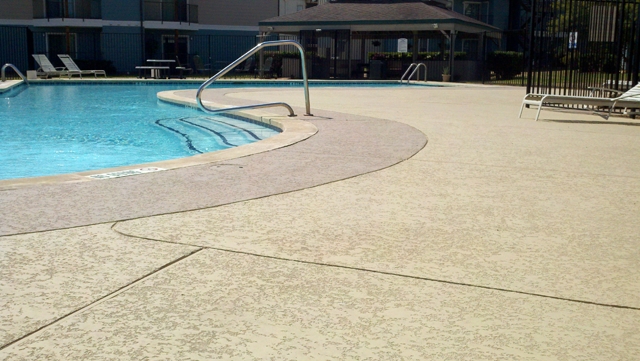 On hot summer days you may find it hard to stay outside. Not just because of the rising temperatures but also because everything you touch burns you skin. Hot concrete patios, driveways, and sidewalks are sometimes impossible to walk on unless you're wearing the appropriate footwear. But what about when you're barefooted and swimming? Oddly enough, though you'd think pool decks would be extremely safe, they can actually become quite dangerous. They get slick and slippery. They crack with extreme weather changes. And they can become extremely hot to the touch. Therefore, as a solution to these particular pool problems, cool decks were invented to take the heat off the street.
What Is a Cool Deck?
It's a topping applied over a stronger concrete base. This special material can be applied to a concrete structure while it's curing in order to significantly lower the exterior surface temperature. It comes in any color or pattern to match your taste, and it can be textured for traction to guard against slipping. Plus, it's extremely durable (almost twice as strong as the base structure), stain resistant, and waterproof (to avoid mold or mildew buildup). So overall, a cool deck requires little maintenance, endures traditional wear and tear, and extends the life of your concrete, making it a very economical choice.
How Do I Know If It's a Kool Deck?
Sometimes it's hard to tell if you have a genuine Kool Deck (a trademarked product) or if your concrete is simply textured or stamped. But it's important to know what you're dealing with before beginning any maintenance or repairs since each material has a specific composition that requires its own specific procedures. First, take a garden hose and wet down the concrete. If the water absorbs right into the surface you most likely have a Kool Deck. But if the water runs off the surface you most likely have another type of product.
What About Deck Replacement?
If it's fading, cracking, or peeling, there are several solutions. Since it's expensive and time consuming, most of the time you won't have to involve yourself with a complete deck replacement. Instead, you're probably going to be more concerned with repairs. If there are larger areas of damage, such as cracks and fractures, you'll need to fill these in as soon as possible. There are specialty caulking agents on the market for cool decks, but you may want to inquire with a professional contractor before purchasing. But if the damage is more wide spread, then you may want to think about re-surfacing with another application of the material.
How Do I Repair It?
If the damaged areas are small, the most popular answer is applying a liquid coating, much like a sealer, over the original surface. First, sweep and clean the product. You'll probably want to rent a power washer to remove any unwanted debris or peeling paint chips. If the facade is smooth, you'll also have to use an acid wash to rough up the surface for proper adhesion of the coating (the same process should be followed if you're thinking about painting light-colored decking with a darker shade). Once it dries, you're now ready to repair the area. You could of course do this yourself since Mortex Manufacturing Co., Inc. and other companies provide repair kits that cover 6 square feet (multiple kits can be purchased for larger areas). The repair kits are easy to use and come in a wide variety of colors to match your original shade (everything is included except a small trowel). But if you do not feel comfortable repairing the surface or if you have large areas to repair, you may want to contact a concrete contractor to apply it.
15 Comments