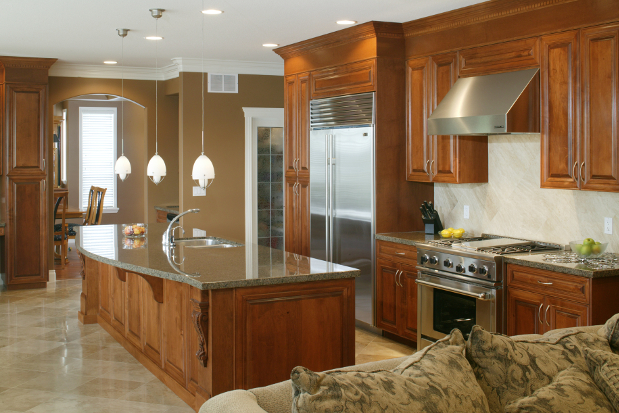 Counter and cabinet refurbishing is a great way to add beauty to an older kitchen, but depending upon the size of the project and the materials you're working with, countertop and cabinet contractors may be in your home for more than just a single day. This is why it is important not only to plan your refurbishing project carefully, but to understand what it takes to get along with the crew in your home, as both will have a direct effect on the project as a whole.
Preparing Your Home (and Yourself) for Counter and Cabinet Refurbishing
Counter or cabinet refurbishing is not as big of a project as a full kitchen remodel, so there's probably no need to stock up on take out menus or rent a hotel room for a week. That being said, your life will be somewhat disrupted during the process, and following these steps can make the job faster for your contractor, and easier on you, too!
Create a close place for them to park their trucks outside the home so that the path to your kitchen won't be painstaking.
Lay down drop cloths or old pieces of carpet along the path so any mess the contractors may create can be easily disposed of.
Remove any objects of value from the work site and the path to it. (Don't force your countertop or cabinet contractor to risk moving your valuable items! Though many contractors are happy to help you in any way, this is a liability for them.)
Ready to start your
cabinet/counter project

?Find Pros
A Small Word on Cabinet Refurbishing
While counter refinishing is typically a pretty straightforward process, cabinet refurbishing is a task that takes on many forms. Depending on the style, age, and make-up of your cabinetry, refurbishing can be a very involved job, indeed. Your crew may need to use some pretty foul-smelling chemicals or make some rather loud noises during the process, and both can be a bother to a homeowner (or even a neighbor) in close proximity. It is a good idea to ask beforehand what kinds of noises and smells will be involved in your project so you can prepare your family and others around you for the day or three of inconvenience.
Also, it's very important to remember that whether you're resurfacing counters, refurbishing cabinets, or remodeling your entire kitchen, communication between you and your crew must be good for the project to go smoothly and the results to be exactly what you envisioned. Therefore, it is crucial to find a contractor you can talk to. Cabinet refurbishing is not the biggest job on the planet, but it will still be well worth your time to talk to several contractors before you choose the one to do the job; this will give you a better chance of finding a company you feel comfortable dealing with, and could even bring some good deals to your attention!
Cabinet Contractors Are Prepared (But Odds and Ends Come in Handy!)
You hired these professionals expecting that they will arrive on the job with the proper tools and materials, but it doesn't hurt to help them out with the smaller things. Have rags or old washcloths and towels available for them. Create a space for them to work, both inside and out. Make sure there is a place where they can wash things off, whether it is an outside hose or your own kitchen sink (though this could be a problem for countertop contractors, since the sink may be removed or turned off). By giving them these minor tools, they will be able to clean up after themselves more easily, and it will help the job go faster.
Ready to start your
cabinet/counter project

?Find Pros
Cabinet Refurbishing Is Thirsty Work
While there is certainly no law that says you must provide a hired crew with beverages, it's a very nice gesture (that won't go unnoticed!) to provide a few bottles of water or iced tea if it's hot outside or a cup of coffee during breaks. You don't have to go overboard, but even little things like allowing the contractors to use your home bathroom will make the job site feel more comfortable and create a friendlier relationship between you and the contractor.
One Last Tip
It is important to remember that no matter how much noise and commotion the project produces, counter and cabinet contractors are people you have invited to be in your home. Even if all the hullabaloo is a little difficult to deal with at times, don't forget that your crew is there to do a job that will make your house a more appealing place. If you find yourself getting perturbed, make sure to talk over a problem before you react. This will help the contractors feel acknowledged and will ultimately help both parties through the process.
No Comments Yet