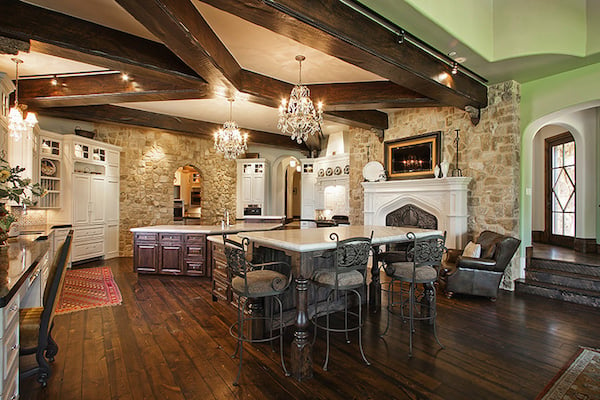 If your current kitchen has no real personality, it may be time for a serious change. They're meant to be warm, welcoming, and full of friendly hospitality, which is why country kitchen design has become such a popular style: it thrives on old-fashioned aesthetics that conjure up traditional values of the past. Due to its architectural features, rustic installations, and folksy décor, country kitchens often invoke a strong feeling of nostalgia, which generates a sense of kinship, simple living, and just taking it easy. But just because you want your kitchen to retain an authentic feel of the past doesn't mean you can't have all the contemporary conveniences of the present.
Which One is "The One"?
All country kitchens share the same basic concept: mixing the old with the new. Therefore, they all have similar philosophies in terms of blueprint and décor. However, there are several subtle interpretations on this style. So make sure to choose the one that works best for you:
English: The English style replicates the experience of a European countryside. But it's a bit more formal, which means it uses neutral shades and more modern embellishments.
French: This approach has a quaint, cottage look, but just because it's cozy doesn't mean it's cramped. Often it utilizes a lot of open space in order to give the appearance of size.
Americana: Something we're all familiar with, this style has a distinct look by avoiding neutrals. Instead, it embraces color and pattern in order to create a farmhouse ambiance.
Find the blend that works best for you. Elements that bring function and form together will help make the space not just beautiful, but a breeze to bake in. You might be surprised how affordable modern country style can be. Just look at how much a farmhouse sink cost.
Reliving the Past
If you're going to have a bona fide country kitchen, there are some things you'll need to preserve. No matter which style you choose, they all hang onto a vague reminiscence of years gone by. The exact historical period its replicating isn't as important as the landscape it evokes: the countryside, a farmhouse, or anyplace that suggests tradition and simplicity. Even though you want it to feel simple doesn't mean you can't still make bold statements in your décor. Here some common features of country kitchen design:
Materials: Solid wood is often a priority. This means wide-planked hardwood flooring, cedar or oak cabinetry, and handcrafted furniture, all of which typically use some kind of distressed or reclaimed wood. And typically stay away from darker woods and slick staining. Instead, keep it light-colored in order to reveal the natural grain. Wicker is another popular material when it comes to chairs, storage units, or decorations.
Decoration: One word—antiques. Country kitchen design embraces the quaint. So go to yard sales or auctions and pick items that look historic. Make sure to choose both functional products (antique light and plumbing fixtures) as well as creative items (turn an old coffee can into a planter or an antique toy into a candle-holder).
Color: Mixing and matching colors is a common characteristic. You want it all to feel uniform, but if you're going to use lighter surface colors for the walls and floors, then contrast this by making the window treatments darker or painting the cabinets.
Patterns: Speaking of mixing it up, patterns tend to be a staple of country kitchens. Put up a striking border of unique images (farm animals and American flag patterns are popular choices). Or buy striped placemats and plaid napkins to offset the otherwise simple atmosphere.
Lighting: Natural light is the way to go. Large picture windows, skylights, and dormers are a great way to keep it real. Or transform an enclosed porch into a permanent addition.
Ready to start your
country kitchen

?Find Pros
Living in the Present
Though you may want the simple life in terms of lifestyle, you also need to live in the modern world. So even if you desire that old-world look, unless you're a total purist, don't be afraid to get contemporary. Especially since your kitchen takes on the brunt of household work, your rustic décor needs to complement its day-to-day operations.
Fixtures: Even if you have an antique faucet and sink, you may still want to invest in current conveniences, such as garbage disposals, water purifiers, and sprayers.
Appliances: Just because you have an old-school style doesn't mean you actually live in on the farm. Unless you really like antique ice-boxes, try to make your kitchen more efficient with modern appliances.
Surface Areas: It doesn't have to all be wood. Mix it up and make it unique. Installing some granite countertops or stainless steel cabinets can really make for an eclectic look.
No Comments Yet