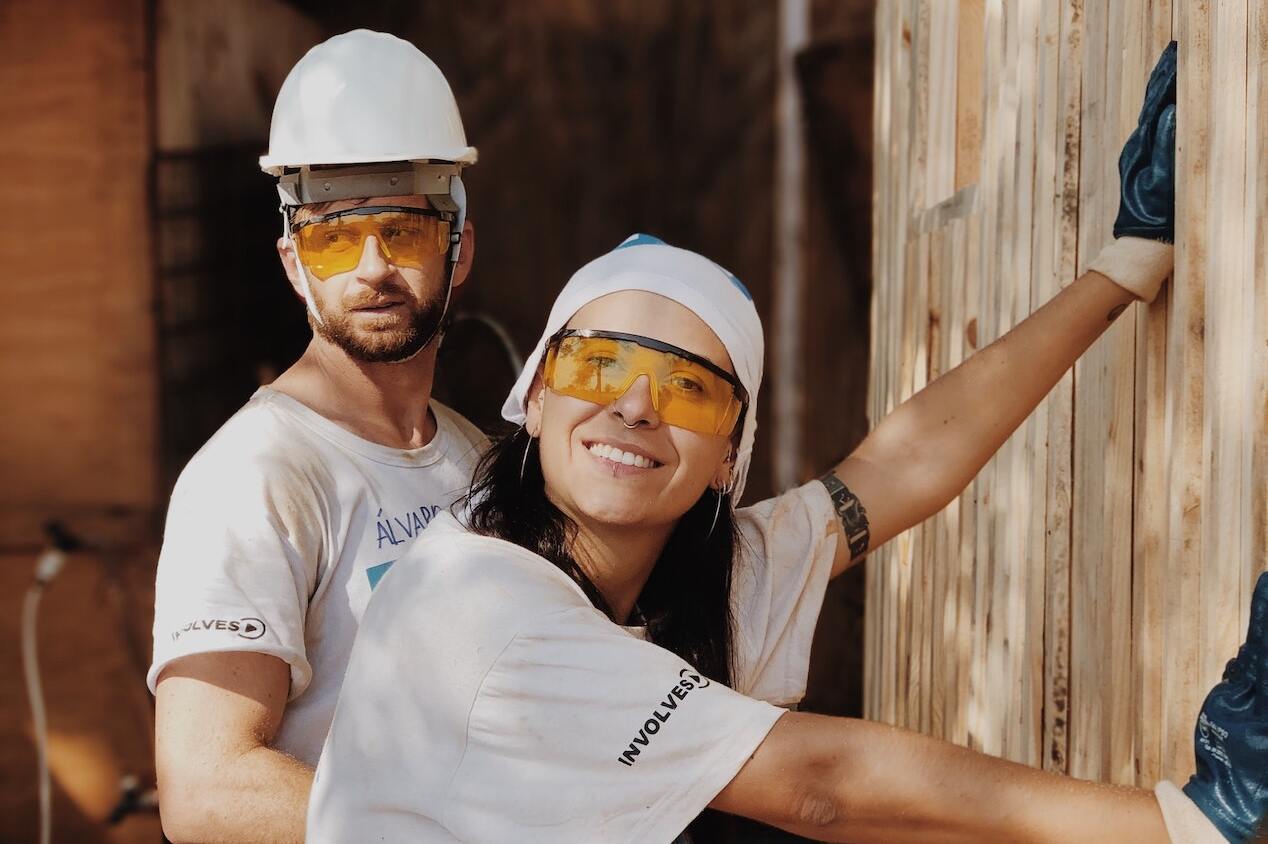 Over the last 18 months, many of us have spent more time at home than usual—a lot more. Homes became offices, schools, gyms, and art studios when stay-at-home orders took effect. This change had a big effect on the home improvement market as people took a closer look at their surroundings and imagined changes to their living rooms, kitchens, basements, and bathrooms. And since many people were trying to stay distant from others during the height of the pandemic, DIY project interest increased.
In 2020, home improvement and repair spending ballooned to nearly $420 billion, driven by the number of Americans who had to adjust to working and learning at home. For many of those living with their partners, this also meant tackling home improvement projects together, maybe for the first time.
HomeAdvisor surveyed 975 homeowners who have taken on a home improvement project with their partner to find out what the experience was like and who called the shots.
Key Takeaways:
7 in 10 say home improvement projects are a great relationship test.
Agreeing to or staying on a budget was an issue for 80% of couples.
Nearly 3 in 5 couples described the home improvement process as "satisfying," while only 1 in 5 described it as "tense."
How Couples Approach Home Improvement Projects
It's no surprise that partners will have different approaches to taking on home improvement projects. In fact, many times, these undertakings can test the strength of a relationship and the compatibility of a couple.
So, who's in charge when a couple takes on a home improvement project together?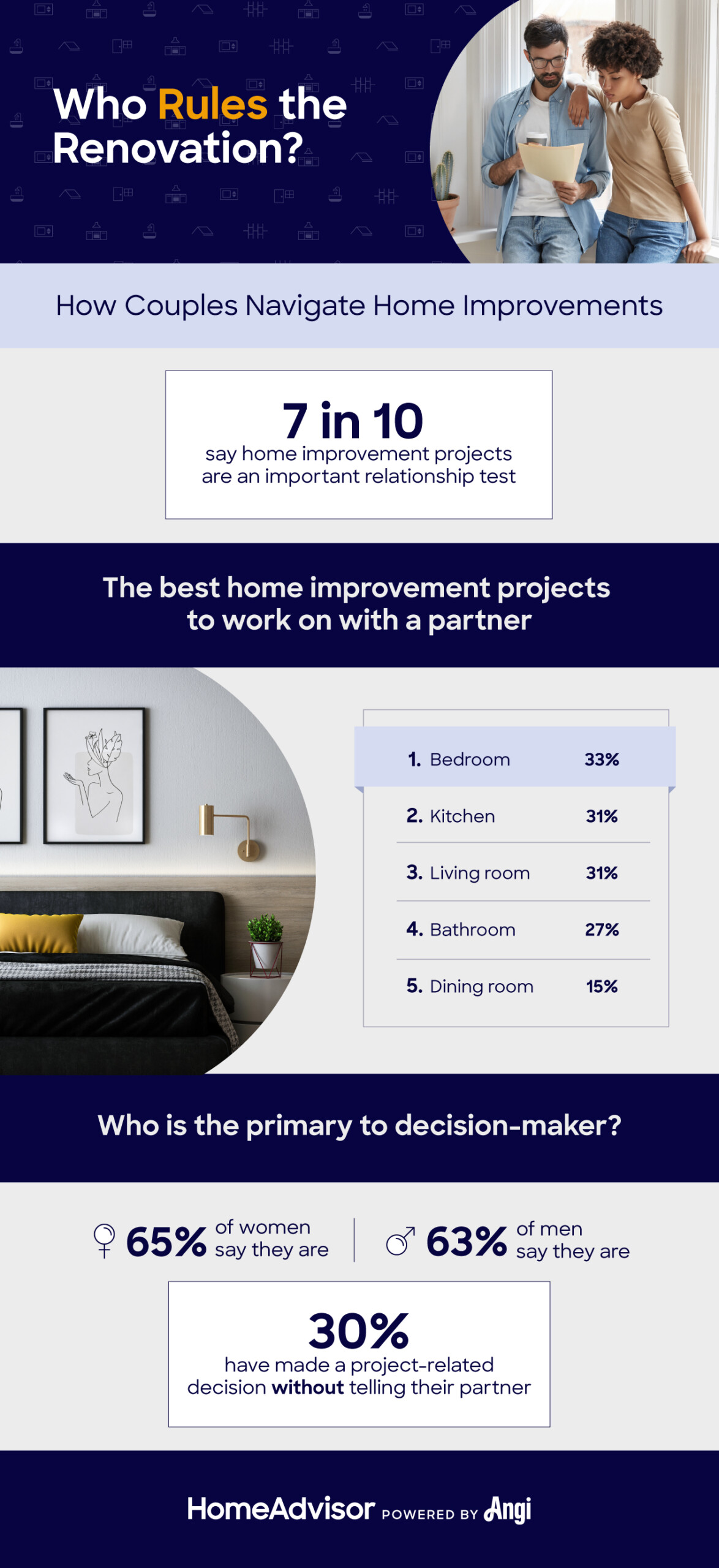 When it comes to making the decisions, women and men both say they're the primary decision-maker: 65% of women say they make most of the decisions while 63% of men say they do.
And 30% of respondents admit to making a project-related decision without telling their partner, with men doing this more often than women (33% and 25%, respectively).
With this tendency toward an "in charge" mentality in mind, couples need to talk about every aspect of the project, make lists to prioritize certain items, and be willing to compromise.
When Home Improvement Leads to Conflict
It's no secret that home improvement projects are stressful. Even home improvement professionals lose their cool every now and then.
And when both people in the relationship say they are the primary decision-maker for the projects, well, this can definitely lead to some stressful moments.

So, what elements of a project tend to create conflicts for couples? Respondents indicate that most of the biggest challenges they've faced involve budget, a difference in taste or style, and agreeing on a vision.
In fact, 46% have brought in a third party to help guide them through the process and help the couple come together on a budget, style and vision.
More than half of respondents say they've fought over a difference in style, and almost three in five (58%) say there's at least one item in their house that they hate but that their partner won't let them scrap.
However, more than one in four say they've thrown one of these undesirable items away without telling their partner. Examples include:
"I broke a statue on purpose and then threw it away."
"A sofa. I sold it."
"Several word sign messages."
"An ugly vase that his mom gave him."
Interestingly, major issues don't tend to cause the most problems; when conflict occurs, it's usually from the smaller things. In the survey, 48% of respondents say they're more likely to argue over a small detail, like paint color or tile, than something like knocking down a wall (31%).
Another thing that can cause conflict is having to complete some less than glamorous tasks during a home project. Those that were most despised by survey takers involve the office, yard or landscaping.
When a couple encounters conflict during a home improvement project for any reason, it can have a negative effect, either on the project, the relationship, or both. Nearly one in three respondents say they have left a project unfinished.
If not handled correctly, this kind of conflict can damage a relationship. Two in five say they considered separating or did separate from their partner because of a home improvement project.
Ultimately, Home Improvement Projects Bring Couples Together
While home improvement projects and renovations can result in conflict for couples, many find that the overall experience brings them closer; as a couple overcomes differences, they learn how to compromise and eventually work together as a cohesive team.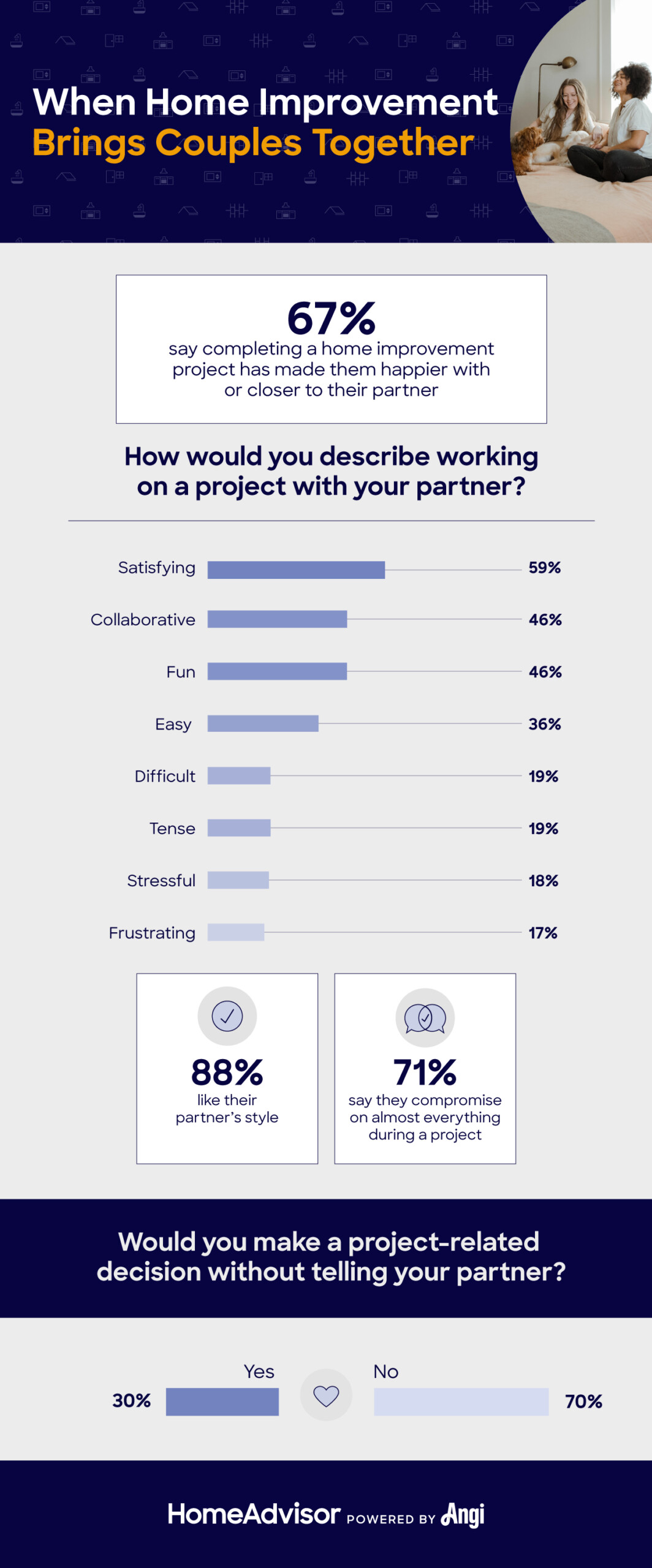 While most couples have different tastes, nearly nine in 10 like their partner's style, and most can compromise. And almost three in four say they compromise on almost everything during a project.
Who is more likely to compromise during a home improvement project? Survey respondents say men. In our survey, 71% of men said they're more likely to compromise compared to 51% of women.
Many couples said they truly worked together, creating an equal partnership, during an improvement project. In the survey, 70% say they don't make project-related decisions without telling their partner.
Most people who took the survey don't regret taking on the project with their partner, and 67% of respondents say that completing it has made them happier or closer. Respondents said they prefer doing projects with their partners that involve the bedroom, kitchen, and living room.
Finally, when we asked respondents to describe their experience as a couple during a home improvement project, answers were more positive than negative: "Satisfying," "collaborative," and "fun" topped the list, while "tense," "stressful," and "frustrating" were at the bottom.
How To Navigate a Home Improvement Project With Your Partner
If a couple goes into a home improvement project with their eyes open, understanding how they and their partner tend to handle common conflict causes—project control, finances, design taste, and anxiety—the process can end up being a positive experience.
Discussing these four elements—and perhaps even seeking advice from a couples counselor if necessary—before getting started can help ease the process and lead to a successful result for both the project and the relationship.
Some survey respondents had advice for couples considering a project of their own:
"Let your husband have some input but gently guide him toward your own visions!!"
"Just say yes to everything, and it will go smoother."
"It took both of our designs and personalities and meshed them together, and I think it came out way better than I expected."
"Home improvements are a nice way to get closer to your partner and have something made by both that reminds you that if you put a little effort into anything, great things can be accomplished."
Of course, planning and preparation will help a home improvement project go more smoothly.
Before starting a project, it's a good idea to know everything that it will involve to avoid headaches and hassles, like extra trips to the store.
As more young people buy homes, they'll need to navigate home improvement projects with their partners, whether they do it themselves or call a local contractor to help with the project. The good news is that, according to our survey, the process will bring most couples together.
Methodology
On July 23, 2021, we surveyed 975 homeowners who have worked on a home improvement project with a partner. Of those, 77% of respondents were married, and the average age was 38; 43% were female, 57% were male; 72% identified as heterosexual, 20% as gay, and 8% as other members of the LGBTQIA community.
Fair Use
Feel free to use this data and research with proper attribution linking to this study. When you do, please give credit and link to https://www.homeadvisor.com/.
No Comments Yet