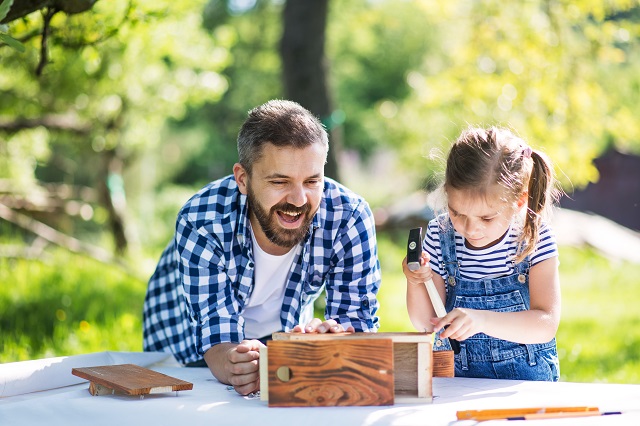 Doing arts and crafts is fun all year long, but when it's nice outside, why not bring some of your projects out into the garden? There are all sorts of things you can make to brighten up a yard or garden, from tiny gnome houses to bird feeders to wind chimes that make pretty sounds on a windy day. These crafts don't have to cost a lot, and you can do a lot of them mostly on your own. Have fun with your family doing these craft projects on the weekend, or get some friends together and have a crafting party! You'll love the way your garden looks when you're done.
Crafts for Birds
Birds are pretty to look at and sing beautiful songs. You can encourage them to come to your yard with a few different crafts. You could make them a birdhouse to build their nest in, or you could create a birdbath to give them water to drink and splash in. You can also make all sorts of different types of bird feeders. Once you do these crafts, you'll be able to watch the birds check out and use what you've made!
Wind Crafts
When the wind blows, beautiful wind chimes, spinners, and wind socks can make your yard or garden a nicer place to be. From colorful ribbons and pom poms to painted keys, you can use all sorts of things to make these types of crafts.
Planter Crafts
If you love plants, there's no better way to put your personal stamp on them than by making your very own planters. You can create a homemade planter by using almost any type of container, from coffee cans to water jugs. Your garden will have a cool, personalized look if you create planters yourself! Paint them with different colors or patterns, then fill your planters with herbs or flower seeds and watch them grow.
Plant Labels
When you plant seeds in your garden or in planters, adding labels can help you remember where you planted what since you won't be able to tell which plants are which by looking at them until they get bigger. You can make all sorts of different types of labels for your plants, using things like clay, rocks, or craft sticks. You might just write the name of each type of vegetable, fruit, or herb on a label, or you might try drawing pictures of them, too. Either way, you'll be able to show off your creative plant labels when you show people your garden!
Tire Crafts
Instead of throwing old tires into the landfill, there are plenty of things people can do to get more use out of them, including in your garden. With a parent's help, you can make your very own tire swing and hang it from a tree, which reuses a tire and gives you something fun to do outside! You can also turn an old tire into a cool planter by painting it in fun colors and filling the center with dirt and seeds. Stacked tires can make a wishing well with some paint and creativity. Or you could make a sandbox for the family to play in. A lot of these ideas are kid-friendly, so have the kids join you in a fun craft project.
Other Crafts
There are so many cool crafts you can make to display outside, from fairy houses to stepping stones. What other ways can you think of to brighten up your yard or garden?
Want to Do More?
If small crafts inspire you to spend more time in your yard or build longer-lasting play areas and fixtures, call a carpenter, swing set installer or backyard landscaper to create the perfect garden for your family.
No Comments Yet