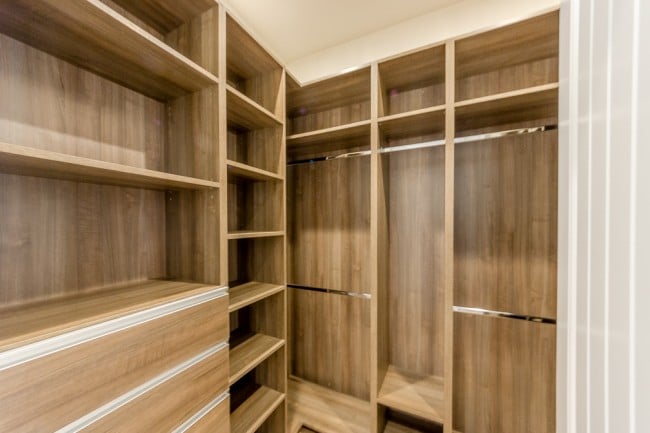 Having enough storage space can be a problem even in large homes. While there are many solution options available, many of them fall more into the "quick fix" category. Building a custom closet is a great way to add value to your home and to keep items meant to be stored from spilling into other areas of the house.
When to Build a Custom Closet
The best time to think about having a custom closet installed is while the house is being designed. Like most things, storage space rarely appears out of thin air; the extra few feet of room needs to come from somewhere. The cost of moving a line on a piece of paper is quite insignificant when compared to moving a finished wall. Find out more about what closets by design cost before budgeting your project.
Unfortunately, since many houses are already built when they are purchased, most of us don't have the option of planning in such a manner. Though not the optimal situation, a custom closet can still be built and function well in an already existing space.
Custom Closet Design
In the planning stages of a home, you can work one-on-one with your contractor to make a closet as roomy as it needs to be. Moving the boundary of an adjacent room a foot will make a significant difference in the closet's area but won't have nearly the same effect on a whole room. You can then plan out a storage area that has built-in shelves and drawers, or whatever else you think you might need.
When it comes to existing storage areas, efficiency is the key. Here, it's important to utilize as much vertical space as possible, because horizontal space probably won't be an option. A custom closet builder will know how to get the most storage out of the room already provided, or if you really wanted to move a wall, the builder could certainly help with that, as well.
Ready to start your
custom closet build

?Find Pros
Custom Closet Organizers
The term "closet organizer" means different things to different companies. Sometimes, it means a wire rack or a set of hanging vinyl cubbyholes. To others, "closet organizer" denotes a custom-made storage system that will take up a lot less room than it creates.
The first company will provide you with something that could suit your needs and might end up saving you space. The latter company will provide a permanent solution to your closet storage problems. Many will send a representative to your home to take measurements and walk you through all the different options available to optimize your closet space.
Somewhere in between the two is purchasing a custom closet organizer without the aid of a professional. There are some places online where you can enter the dimensions of the area you're working with and a program will tell you what will fit into the space. The products you purchase will be easy to install yourself. This route is a more cost-effective option than hiring a contractor. You will, however, miss out on having a professional there to ensure you're getting all the storage you can from your space.
No Comments Yet