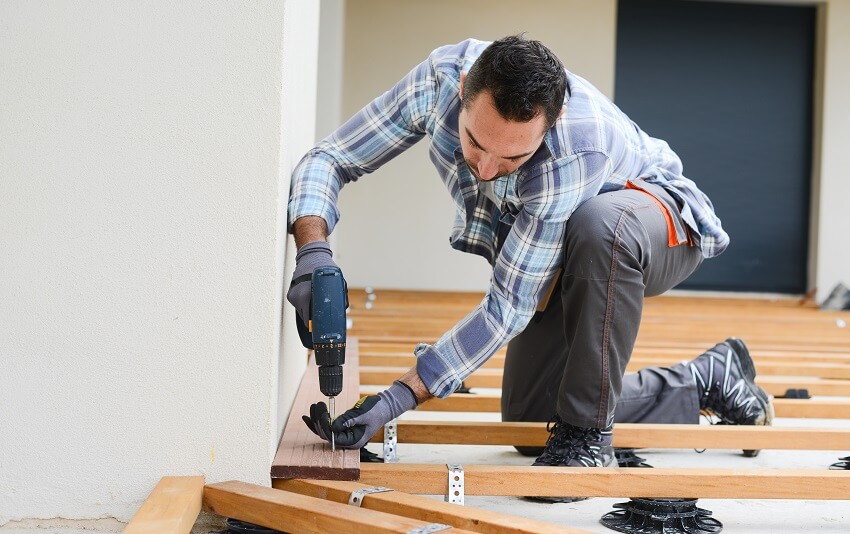 Reviewed by Bob Tschudi, Home Building and Remodeling Expert.
Need a Deck Built?
A new deck is a substantial investment and a very visible addition to your home and landscape. Planning the deck itself requires significant thought. That's why you need to take time to find a builder with the experience and know-how to get your job done right. Talk to a number of contractors, check references and qualifications, and look at examples of their previous work.
Once you've gathered all this information, you're in a much better position to find a deck builder who will meet your needs and that you'll be comfortable trusting on the job. This guide will provide you with everything you need to hire a pro that can get your project done on time, on budget, and to your expectations.
On This Page:
Who Builds Decks?
A variety of professionals, such as carpenters, general contractors, handypersons and even some roofers can build a deck. Your budget and time frame will differ depending on the expert you hire. Finding the right pro starts with understanding exactly what project you have in mind. Then, you can hire someone who specializes in your type of job.
Deck Carpenters
Decks are commonly made of wood, and specialized carpenters can build them. The right pros will know the different kinds of wood, how that type responds to the climate where you live, and more. They can also give you advice on future maintenance including sealing, staining, or repairing.
Balcony Builders
Building a balcony requires expertise in how to make it strong enough without extensive support beams that take away from your exterior space below. Look for pros who have the tools necessary to build on higher ground and provide that support. The work might also require cutting into your home's exterior walls for a new balcony entrance.
Composite Decking or Trex Installers
Composite has become popular because it is durable and doesn't require much maintenance. Installation requires understanding the hidden fastening system many brands use. Because that can get complex, composite brands like Trex keep lists of approved contractors who have the experience needed for the build.
Roof Deck Contractors
Building a roof deck can transform your home's exterior space. For this type of project, installation and accessibility are usually complicated. Specialized contractors have roofing experience that allow them to consider the entirety of the construction. You need a pro who knows how to get the materials to the roof and how to build reliable support on unusual pitches—all while keeping your roof watertight.
Pool Deck Builders or Patio Pros
Pool surrounds and patios are sometimes used interchangeably, but are typically very different from each other. Understanding the basic differences between decks and patios has to precede finding the right pro for the project.
All pool surrounds need to be waterproof. The most popular material for in-ground pools is concrete, but composite also works if your pool is above ground level.
Patios also use concrete most often, but tiling or stone can work in some cases. Choose your patio's purpose and preferred material first. Then, find a pro with the means and expertise to get it to your property and install it correctly. 
Home Porch Contractor
A porch is closely connected to your home and typically uses strong materials like stone and concrete. Many porches have an awning that protects you from the elements. The price of a porch is higher than deck building costs. For a porch, you need pros with expertise in roofing, flooring, and other elements that a single-material project doesn't usually include.
find a deck builder for your project
How to Find & Hire a Deck Builder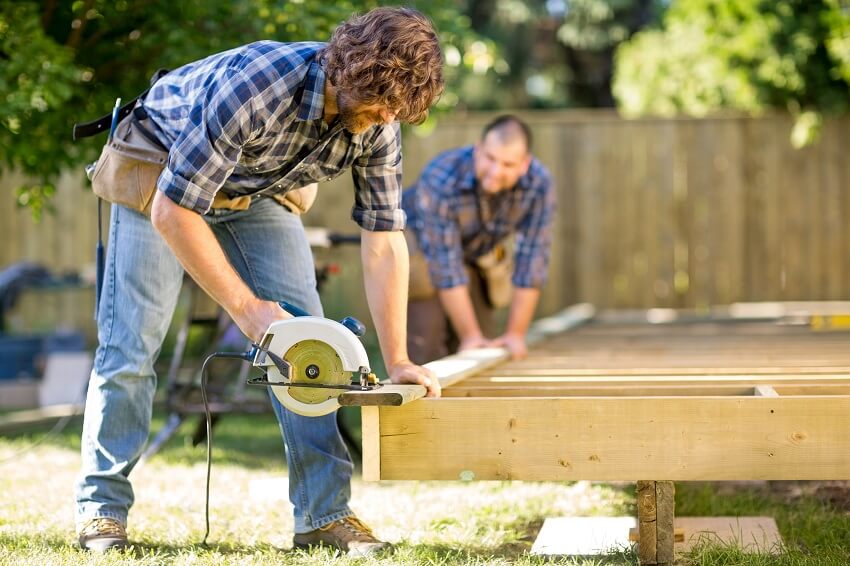 Once you know what type of expert you need, limit your search to your area. Here, you can benefit from being strategic. Check credentials and references, and ask the right questions.
Read Reviews & Rating
Online reviews and ratings give you a general idea about the quality of relevant professionals. These reviews should not be your only point of consideration but can help you develop a short-list of qualified experts in your area.
Check Licenses, Certifications & Credentials
Never hire a pro without insurance, and check with your municipality about licensing requirements. If possible, check their status with local consumer groups and their professional association such as Associated General Contractors (AGC) and the National Association of Home Builders (NAHB).
Insurance is necessary to cover any costs should something go wrong or should they fail to complete the project. At the minimum, a contractor should have general liability and workers' compensation insurance.
Check References
One of the most important resources you have when finding a builder is their past clients. Be sure to check the references you ask for. These clients have seen the contractor working first hand and can give you insight into efficiency, reliability, and budget.
References can also tell you whether they enjoy their outdoor space and how it's holding up, two of the most important success variables in construction.
Look for Project Samples
Checking references to help you find a builder is even more effective if you ask to see a sample of past projects. If they do good work, they'll be happy to show you both finished decks and those in progress.
From a client standpoint, seeing the actual product will give you a much better idea of how well each contractor matches decking designs to homes and landscaping. It will also give you an opportunity to inspect their craftsmanship.
Call Around & Ask Questions Before Hiring
Never hire someone without evaluating them thoroughly. Contact at least three different contractors to start and ask them all the same questions.
How much experience do they have?
Do they have a list of references?
Are they insured and—where required—licensed?
It helps to already know preliminary measurements and materials and ask for a general estimate on them from each builder. Even if your deck ends up doubling in size and completely changes in design, you'll have a cost baseline on which to compare builders.
You also need to understand their standing in the industry, and it helps to know the warranty they offer. Research more questions to ask a deck builder before making the call. 
Compare Quotes
Most builders charge by the project but keep materials and anticipated work time in mind as they do so. Compare the quotes you get from each contractor to see which of them best fits into your budget.
It also makes sense to compare each quote against a general average of the cost to build a deck, which might include:
Chemistry
Finally, make sure to hire a contractor you can get along with. Excellent work and solid references matter little if they rub you the wrong way. If there is a suitable alternative, choose the person you feel you can trust the most.
Deck building can take up to three weeks to complete, depending on the size of the project. You need to pick a pro that's right for your wallet, home and expectations. 
Speak with a Deck Contractor
FAQs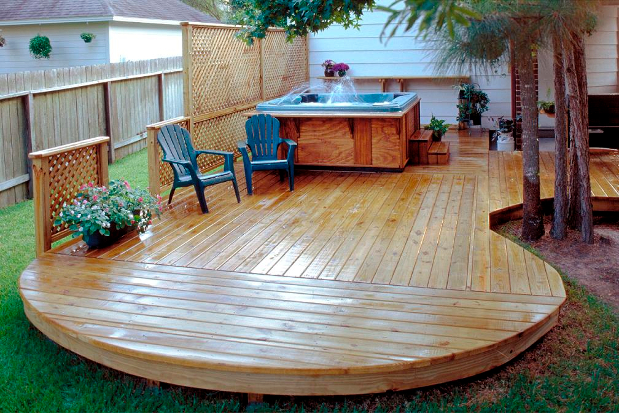 How Do I Find Cheap Deck Builders?
To maximize your budget, compare quotes of several builders that fit within your specifications. Don't be afraid to draw a wider geographic circle if the contractor is willing to travel without charging more. But affordability only matters if you get a quality deck out of it.
Cutting corners or simply finding the cheapest pro could result in significant problems. The materials used may be cheap and rot quickly. The support the surface provides might be unstable and dangerous. Always consider the long-term costs and benefits of quality work. Paying less upfront may actually be more expensive if you consider the cost of repairs.
What Material Should You Use for Your New Deck or Patio?
Deciding on which materials you should use depends entirely on the type of deck you're looking for. Composite works well for a simple surface exposed to harsh elements, while concrete is the standard choice for many patios. Your decking material options can range from wood to aluminum. Learn about the pros and cons of these materials to make the right decision.
When is the Best Time to Have a Deck Installed?
You can build a deck during any season, which is why choosing the right time for this project depends on your preferences:
Spring: get your deck ready in time for landscaping and to enjoy it throughout the warmer seasons.
Summer: use spring for the planning process, then get the project ready before it gets cold out.
Fall: Limit turf or landscape damage by building once most plants begin to recede.
Winter: make the excavation process easier, thanks to cold and firm ground.
Many deck builders prefer winter, which is also the season with the shortest waiting queues. Still, other seasons are far from impossible for this type of project.
What Should I Expect When my Deck Contractor Arrives?
Expect a thorough examination of the space, and the development of a project schedule. Delivery of materials might already have occurred or could be planned at this point.
Additional research about working with deck builders can help you understand what to expect from experts, and what they expect from you.
How Should I Prepare Before My Deck Installer Arrives?

Make sure the site of the deck or patio is clear of any landscaping and debris. The contractor will also call a utilities locator service to mark power, water, cable, and other services around the area where they will be digging. The cleaner the area your builder has to work with, the more quickly they can get started. Make sure they have space to park any construction vehicles. Find a dry space for materials that might need storage during the install. Finally, ensure clear access to the site through your house or property.
Can I DIY my Decking Project?
When it comes to the DIY vs. hire a pro decision for your deck, the answer tends to be clear. Only take it on yourself if you have significant expertise and experience. Without either, you risk building a faulty exterior space, leading to injury risks. Projects built without necessary expertise also break more quickly, making them more expensive in the long run. 
If you do want to take on decking as a DIY project, be sure to do your research. Learn about installing the posts and footing for your framing. Understand how to lay decking boards and build the railings and stairs you need for access and security.
Looking for a Deck Builder?
How to Hire a Deck Installer Near Me
Are you looking to hire a reliable builder that can complete your project beyond expectations? Check out available deck companies in your area to start the process.
No Comments Yet