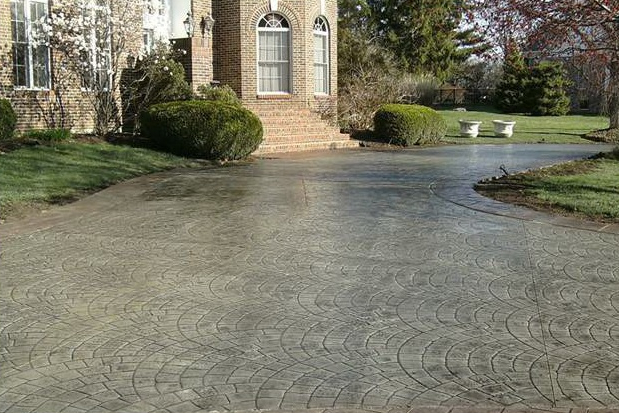 When most homeowners think concrete, images of plain, gray slabs often come to mind. What most homeowners don't realize is that the budding industry of decorative concrete resurfacing is revolutionizing the industry. Those drab slabs are being replaced and resurfaced with acid staining, decorative etching, concrete stamping, concrete dyes, acid etching, and concrete stenciling. If you're looking for a beautiful floor, wall, countertop, walkway, or driveway, then it pays to look into the wonders of concrete resurfacing.
What Is Decorative Concrete Resurfacing?
Decorative concrete resurfacing is the process of using new technologies and treatments to transform the finished look of pre-existing concrete surfaces. Just how the resurfacing is accomplished varies depending on what look you're looking for, however. The existing concrete itself can be treated, or you can actually lay down new surfaces over the old in order to get even more impressive results. Regardless of the method you choose, you'll be amazed at how these elaborate forms can completely change the appearance of your home.
Decorative Resurfacing Methods
As mentioned earlier, there is no preferred treatment when it comes to concrete resurfacing. In fact, often it's a combination of different methods that brings out the most of your pre-existing surface. Here's a list of the most popular techniques and a quick explanation of how they work their magic.
Ready to start your
Concrete Resurfacing

?Find Pros
Acid Stain and Acid Etching refers to the process of applying acid-based treatments to concrete in order to achieve surfaces that mimic natural stone, wood, and even leather. Acid etch-stain chemically reacts with the concrete itself so you won't ever have to reapply your finish later down the road.
Concrete Dyes are most often used in conjunction with acid stains and etching. These dyes can add a wide range of colors and patterns to concrete resurfacing projects when applied by a skilled professional.
Concrete Stamping refers to the process of stamping concrete surfaces with heavy molds to achieve looks and textures never before thought possible. Simple, straight lines can be stamped into the concrete to create a manufactured tile look, or rough textured molds can be applied that mimic the appearance of natural stone walkways. Even brick-shaped molds can be used along with concrete coloring to create faux brick borders that spruce up the look of old paths and driveways. Average costs for this method can be between $4,000-$5,000
Concrete Engraving is the process of engraving patterns into pre-existing concrete and then applying the appropriate stains and dyes to achieve a desired effect. Concrete engraving is especially effective for walkways, paths, and driveways, where a final product that resembles brick or cobblestone is the goal.
Contact a Decorative Concrete Resurfacing Contractor
The one downside of resurfacing concrete is that it's not a DIY job. It is tricky business that requires special equipment and tools, an intimate knowledge of the safe use of some pretty harsh and hazardous chemicals, and a lot of experience and training in the design aspects and possibilities of this exciting home improvement. If you think decorative concrete resurfacing is the answer for your old, bland surfaces, get in touch with an experienced contractor so you can kick back and enjoy the unrivaled beauty of newly resurfaced concrete.
3 Comments