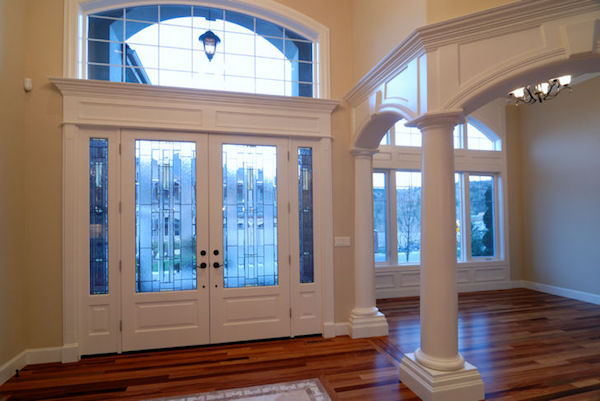 Few glass making techniques have a longer or more storied history than decorative leaded glass. Also known popularly as a stained glass, leaded glass has been used in homes and churches for hundreds of years to add color and tradition to any space. And while most homeowners think of gothic cathedrals and pictures of bible stories when stained glass is mentioned, there's an entire industry of stained glass manufacturers and artists that make designs to fit just about any style, home design, and personality.
Leaded Glass Styles
One of the big misconceptions about leaded stained glass is that it it's a relatively limited art when it comes to design. Nothing could be further from the truth. Leaded glass is capable of accommodating any design you desire, from more traditional religious and floral designs, to contemporary, abstract art deco. And if lots of color isn't your thing, leaded windows also come with clear glass in decorative lead frames, with frosted glass, or in a combination of stained glass and regular clear windows. Regardless of the nature of your home design, lead glass has the power to transform your home from something commonplace to something special.
Leaded Glass is Perfect Just About Anywhere
Few homeowners realize how much potential there is for using this decorative glass in their homes. In part this is due to the higher cost of large leaded window applications, but stereotypes about the craft also work against its use on a larger scale. Here's some ideas you might not have though of before.
Cabinet doors are a great place to install this decorative glass. Installed in cabinetry, this glass adds character, beauty, and texture to any cabinet installation. And the opaque nature of leaded stained glass means you can have glass door cabinets without having to worry about any messes hidden behind.
Bathroom windows are another excellent place to install stained glass. Again, the opaque nature of leaded stained glass, be it colored or not, makes it the perfect for areas like the bathroom where homeowners desire a combination of natural light and privacy. Bedrooms are great places for this glass for the same reasons.
Doorways and Foyers are another popular place to installed leaded windows. They bring privacy and class to any entryway, and they look absolutely stunning when the sun hits it just right from the outside.
Wet bars are popular places for stained glass installations. Don't forget, stained glass can be custom made to fit any design, including your name, your favorite sports team logo, or anything else you can imagine. Backlight that window with some low energy lighting and you've got a wet bar that will make all your buddies jealous.
Who to Call for Leaded Glass
You can talk to a stained glass supplier or artisan about ordering pre-manufactured pieces of decorative glass, or about custom making a window for you. Once you have the window ordered, talk to a window installer, contractor, or your supplier about making sure the piece is installed correctly. Leaded glass can be very heavy, and the bigger it is, the more expertise it is going take to install it properly. Hiring a pro is the only way to ensure that you won't have to worry about it once it's been put up in your home.
No Comments Yet