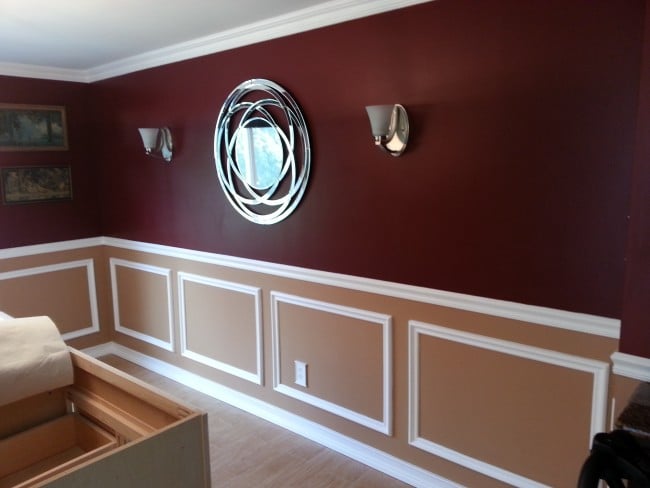 Whether it's uneven paint lines or rough drywall seams, decorative molding is a master at disguising the more unseemly and inevitable components of your home's interior. "Decorative" may make your mind associate molding with something ornate and over-the-top, but the truth is that the best decorative moldings are able to blend in with the room's visual appeal. Most of the time you won't even notice it, which is one of its main purposes: it's supposed to be unseen yet feel like a natural part of any room. That said, even etched, carved, or shaped trim can be more subtle than you realize. Trim highlights don't have to be attention-grabbing. So why make your edging a secret when you could use it as an accent instead?
Crown Molding is King
Decorative molding is simply elaborate trim that's been embellished; therefore, it no longer camouflages but becomes a part of the interior design. It comes in many different styles and materials and is mostly used to enhance the appearance of hum-drum interior trim. As opposed to concealing the material, many people choose to highlight it, literally bringing it out of the woodwork by putting it on display. And of the large selection, crown molding is probably the most popular choice. This profile molding adds dramatic relief to the edge of any surface and adds elegance to any space. Most trim comes in 6 foot lengths ranging in price and width depending on size, material, and intricacy. And crown molding can be expensive since it's often made from wood and is customized to an area, but it can also add value if installed correctly.
Decorative Molding Variations
Though crown molding is a common choice, you may have better luck by being creative in your installations. For instance, though most moldings are made from wood, there are also polyurethane products on the market, which are often cheaper, lighter, and tougher. Plus, compared to wood, since they're made from the same colored material all the way through, it won't need repainting, and it defends against moisture penetration. Also, beyond window casings and door frames, you may want to consider other decorative molding choices, such as wainscoting for a classic look. Install beaded or pearled trim for a small accent. Or surround a perimeter with chair rails (thin trim in the middle of a wall) that not only adds a delicate highlight but provides a bit of practical protection as well.
Creative Locations for Decorative Moldings
Besides the material and model you choose, decorative moldings are only as effective as their placement. So though wall joints (baseboards and ceiling edges) are a common location for them, you may want to get more innovation in their installation. For instance, countertops and cabinetry can really benefit from the flourish these products provide. If you put decorations on top of your cabinet (wine bottles or antiques), placing an ornamental edge around the top can lead the eye to these areas. Plus, adding an inlay to the bottom of a counter or cabinet turns a boring edge into a work of art. But don't forget about other unique spaces that may need some custom edging: arched windows, skylights, closets, fireplaces, borders for picture frames and mirrors, or possibly even furniture (armoires and entertainment centers) can be enhanced by its installation.
Decorative Molding Tips
Before choosing, it may be a good idea to consult a professional designer who can help select the best material, size, and location to fit the entire home: there's nothing more awkward than having a bold installation in a single area of the house since it could stick out like a sore thumb. Then, you may want to think about hiring a professional to put it up. Though it appears easy, the project involves a lot of exact measurements, cutting, and custom work, which, when left to amateurs, could raise the project's price if mistakes are made. So when hiring a contractor, make sure to tell them how many rooms they'll be working in, what kind of materials you'll be needing, and if there is any other kind of special requirements involved. These carpenters are also good to keep in mind for maintenance issues, especially around window frames since leaks can ruin or warp wood, which will then require special sanding, re-finishing, and painting that should be left to the pros.
Wood Paneling: Molding's Cousin
Molding isn't the only kind of woodworking wall accent. If you're thinking about installing molding because you're tired of the look of drywall but can't stand wallpaper, you might think about something more dramatic instead. Wood paneling is too often short-changed as a wall covering because it's seen as too stuffy. The truth is that with the right modifications wood paneling can work for almost any home. You can paint the wood paneling or use a lighter wood grain that will make your home feel more "modern" than "snobbish." Admittedly, it's a more expensive option than interior painting, wallpaper, and even moldings, but it's also a visually stunning, low-maintenance solution for wall coverings.
Ready to start your
decorative molding

?Find Pros
No Comments Yet