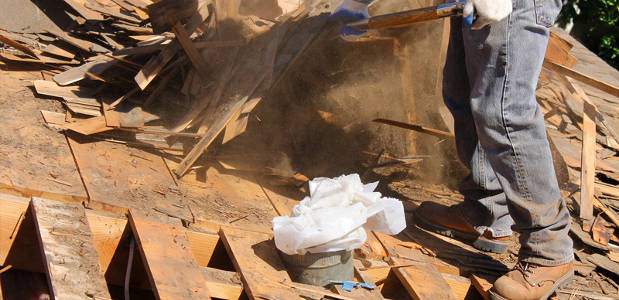 If you're in the midst of planning a major renovation to your home, you're probably only focusing on the final result: that new room addition, your new swimming pool, or a brand new floor plan. However, as you plan for the new, you'll also need to consider the old. For areas to be replaced with newer construction it's necessary to keep in mind the removal of preexisting structures. It's easy to skip this preliminary step since you're so focused on building things up, but proper preparation is crucial for the work to be successful. And tearing down the old stuff is the most important phase in any project. But demo work is a little more complicated than just destroying everything in sight. There's a method to the madness when it comes to structure removal, including obtaining permits, recycling materials, environmental cleanup, and proper site preparation.
Destruction Difficulties
Structure removal is more complex than it appears. Depending upon size and specifications, eliminating preexisting construction can get rather complicated. You need to make sure you're getting rid of enough materials to give yourself room, but you also need to make sure that you don't get carried away and tear out too much. Plus, what do you do with the scraps left behind? What if the material is difficult to remove (heavy concrete, tree stumps, or metal work)? And are you breaking the law and creating a hazardous environment by removing certain items? Plus, after it's removed, is the site ready to be built upon or are you simply left with a huge mess.
Demolition Services
If you encounter these problems, it may be a good idea to contact a demolition contractor to get a bid who is trained to take care of such matters. Though wrecking is their job, they actually use a lot of subtle science and skill as they destroy. They have the proper equipment to remove steel, cut concrete, dig up underground tanks, strip interiors, or even implode entire buildings. They can break up parking lots, clear debris after natural disasters (earthquake, fire, tornado, etc.), and they can do it all while keeping everyone safe and healthy. They can either handle complete or partial destruction, and they can also do it quietly, without disturbing other projects or current operations of a facility.
Red Tape Removal
One of the bigger benefits of a demolition service is their ability to cut through red tape. Some outbuildings may not require official permission to be destroyed, but other bigger structures need to pass state regulations, which means obtaining local approval and surveying permits. Plus, demolition contractors can take care of other authorizations, such as notifying electric, gas, and water companies. They can block off traffic areas and rent dumpsters. They can even inform your neighbors about possible inconveniences.
Ready to start your
Demolition Project

?Find Pros
Salvage Investment
Once tear out is complete, demolition contractors can take care of the leftover refuse. Often materials can be recycled, which not only helps the environment and reduces landfill overflow, it can also save you money. By selling off used light fixtures, door hardware, concrete and masonry, scrap metal, and rare wood, you may be able to get money back. In some cases, you could even make a profit with enough salvaging.
Site Preparation
But one of the chief responsibilities of demolition contractors is their ability to prepare a site. Not only can they remove debris and make it a clean, safe work area, they can also make it a healthy one. Environmental cleanup is the most important part of site preparation, and demolition services are often trained and certified to remove hazardous materials, such as asbestos and lead. They can perform biohazard remediation and conduct groundwater testing. They can even test the soil and replace it if necessary so that your construction project can be completed safely and successfully.
No Comments Yet