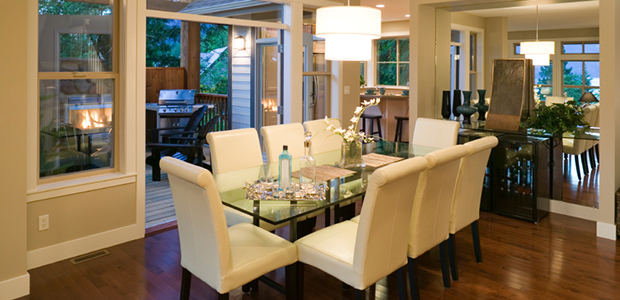 Fun fact: three out of four homeowners we surveyed said that they do not regularly eat their meals in their formal dining rooms. So where do they? 42% said that they dine in their eat-in kitchens, while 34% said they eat in their family room or in front of the TV.
Not surprisingly, more and more homeowners are ditching their formal dining rooms in favor of eat-in kitchens and expanded living spaces. We're guessing that you've probably entertained the idea at some point too. The question is: What should you do to the space?
Super-Size Your Kitchen
A popular option for those whose dining rooms flow naturally from the kitchen is to blow out the dining room to expand their kitchen's footprint. Given the fact that the kitchen is increasingly becoming the hub of activity, it makes sense to remodel this space to accommodate today's changing lifestyles. Whether it's adding an island or room for extra seating to creating an eat-in kitchen perfect for family gathering or building a gourmet kitchen complete with dual ovens, more counter space, and the cabinets you've always dreamed of, sacrificing your dining room to get a more functional kitchen is one sacrifice you'll be glad you made.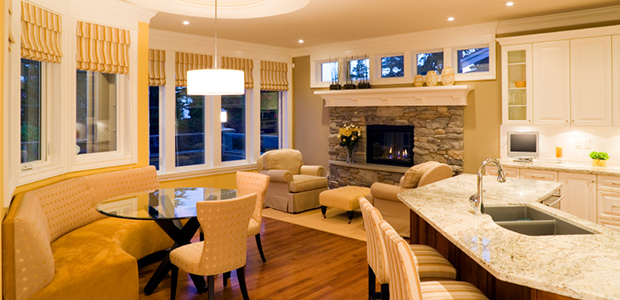 A kitchen island can cost you anywhere from $200 to $6,000. Portablemodels that provide basic counter space and a little storage underneath are a couple hundred dollars, whereas having a stationary island installed will cost closer to $1,000. If you add plumbing and electricity, expect it to cost you between $3,000 and $6,000, maybe more. Adding new kitchen cabinets provides you with another diverse price range. Pre-made cabinets from the store will cost anywhere from $50 to over $200 a unit. If you want custom cabinets, depending on the materials, the size of the kitchen, and the extras (like spice racks) you may end up paying between $12,000 and $40,000
Upgrading to a gourmet kitchen will take you at least into the $30,000 remodel range, with considerable potential to go tens of thousands of dollars higher. A powerful range and oven can cost $14,000 before adding in the $3,500 or more of added ventilation and ductwork it will require. The cost for extra counter space with granite countertops will depend on the square footage of counter you need to cover and how much the granite costs. You may only spend $30 or $40 per square foot, or you may end up closer to $150 per square foot. On average, granite countertops cost between $3,100 and $4,500 for the whole job.
Ready to start your
dining room redesign

?Find Pros
Go With the Flow
In older homes the formal dining room is often a separate, walled-in space. And while this helps create a more intimate space, it can also make a home feel compartmentalized and claustrophobic. Today it's all about the open floor plan. One of the best ways to open up your home and increase your living space is to knock down the walls that separate your living and dining rooms. Note: don't go knocking down walls yourself. Leave any structural changes to the pros.

If ditching your dining room means nixing the wall between the dining room and kitchen, creating that open floor plan will cost you, on average, between $1,400 and $4,600. When demolishing a wall inside your home, professionals will need to move appliances and possibly even plumbing. Once the wall has come down, you still need to factor in the costs associated with redesigning the flow of your new kitchen-dining room space.
Now you have the opportunity to change the entire feel of your home with new lighting, furniture, and paint! With so much new space, you may decide you want professional help to give your new floor plan the attention it deserves. The cost of hiring an interior designer depends greatly on a number of factors, including where you live, but a good baseline is between $50 and $200 per hour. An interior decorator will help turn your ideas about the new space into an exciting and stylish reality. Just remember that you still have to pay the cost of furniture, paint, and accents on top of the designer's hourly rate.
Load Up on Living Space
Family rooms are great for getting everyone together to watch movies. They're not so great when you want to relax with your book or get some work done and everyone else wants to watch TV. Transforming your underused dining room into a sitting room or home office is a great way to boost the form and function of your home without spending a ton of cash. Just remember to make sure you have the right lighting and proper electrical setup in place.
Ready to start your
dining room redesign

?Find Pros
When turning your dining room into a home office or sitting room in which you plan to run computers, high-def televisions or multiple phone lines, you may need to upgrade your electrical panel. After all, the last thing you want is to overload your system and blow fuses all the time. For this, you need a professional electrician. Upgrading your electrical panel will likely cost you between $670 and $1,650. If you have a large family or are thinking of running a business from your home, a computer network is a handy solution, and will only cost you between $190 and $600 to install.
Converting your dining room into a home office or sitting room isn't just about computer networks and proper electricity. You also want it to aesthetically look like a home office, which means new paint and new lighting. The ambient light fixtures in your dining room, which probably include an overhead light or chandelier and a lamp or two, won't be bright enough for working and studying. Depending on the type of fixtures you choose, new lighting will cost you within the range of $150 to $990. Finally, give the room a new coat of paint and some new window dressings before moving in your office furniture to give the room a professional feel.
Ready to ditch your dining room? We can help you find the designers, architects, and home pros that can help you find the solution that makes the most sense for your lifestyle, layout, and budget.
No Comments Yet