WAIT TO ENTER DAMAGED BUILDINGS
Stay out of all damaged structures until local emergency officials have expressed that it's safe to enter.
WEAR PROPER SHOES AND CLOTHING
Wear long sleeves and pants – as well as gloves and work boots or sturdy shoes – to avoid injuries from stray nails and other hazardous debris. Wear protective clothing if available.
SHUT OFF GAS AND ELECTRICAL POWER
If you suspect that there is damage to your home, shut off electrical power, natural gas and propane tanks to prevent fire, electrocution and explosions. Use battery-powered flashlights to see in the dark. Don't use candles.
CLEAN UP HOUSEHOLD SPILLS
Immediately clean up any household spills that may pose a hazard – including medicines, bleaches, gasoline and other flammable liquids. Inform local authorities and call a trained professional to clean up chemicals and other potentially dangerous spills.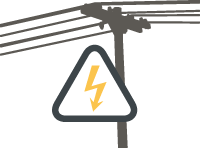 STAY AWAY FROM POWER LINES
Stay away from downed power lines, and report them to the police and your utility company as soon as possible.
No Comments Yet