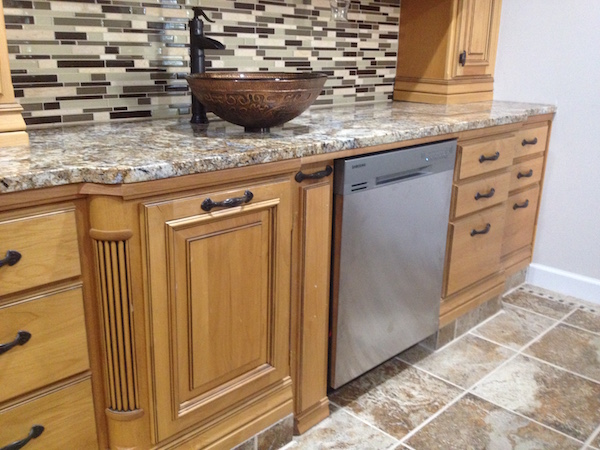 Dishwashers can come into all sorts of trouble. Plumbing clogs are another huge problem…from an inadequate rinse cycle that soap scum on your dishes to a puddle of water at the bottom of the dishwasher. If your hot water heating isn't running properly, you may not have sufficiently hot water to wash your dishes or you may be needlessly wasting energy and money. Meanwhile, an electrical problem can cut power to the unit altogether. Dishwasher repair is all too common and too commonly a huge headache for homeowners. Whether your problem is small or large, we can help you find someone in your area who can fix your dishwasher or, if needed, install a new one for you.
Easy Fix Dishwasher Repair
The first thing you'll want to do is check the easy stuff. Few things are as embarrassing as having an appliance repairman come to your home only to flip a switch and watch the dishwasher start up. Check all switches, plugs, and circuit breakers. This includes wall switches and selection options on your dishwasher panel. If the dishwasher is running but isn't draining right or getting your dishes clean, look for any clogs in easy to access pipes and valves. If you think your water is running fine, but the dishes still aren't getting clean, check your hot water system as well. Cold water often won't get your dishes clean. If you've checked out these simple things and your dishwasher still isn't functionally properly, it's time to call in a professional.
Dishwasher Repairman
Another reason to check for simple things that may be wrong with your dishwasher is that, even if you can't fix the dishwasher on your own, you should have a better idea of what's going on. You'll be able to answer questions readily when a repairman asks you what the dishwasher is doing. Helping the repairman identify what's wrong with the dishwasher may keep him or her from needing to make an extra trip to the hardware store. While you should find out how much, if anything, the repairman will charge just for showing up at your home, few repairmen give quotes on the phone until they know the extent of the problem. In fact, you should probably be wary of any repairman who guarantees a repair price before seeing your dishwasher.
The Cost of Dishwasher Repair and Replacement
Naturally, the cost of dishwasher repair will vary enormously depending on the nature of the problem. Moreover, HomeAdvisor doesn't track data for dishwasher repair, specifically. Yet, even our figures from appliance repair tell an important story. From homeowners across the country, our data suggests the average cost of appliance repair is $170, quite possibly less for dishwashers. If you price what a replacement dishwasher will cost, you can see that the it's-probably-time-for-a-new-one mentality is often premature. It's usually worth it to at least get a diagnosis and professional estimate for your broken dishwasher.

Dishwasher Installation
By the time you factor in all the costs of repair and how old the dishwasher is, it may be time to simply have the dishwasher replaced. Dishwasher installation isn't the most difficult DIY project in the world but it does require at least some basic electrical and plumbing knowledge and enough carpentry skills to properly size the opening for your new dishwasher. The good news is, if you know what you're doing, dishwasher installation shouldn't take more than an hour or two. If you're replacing an old dishwasher, installation may be considerable easier than installing a new one from scratch, although the new dishwasher may be a different size or require slightly different connections. Washer installation costs can be found on our Appliance Installation Cost Guide.
Dishwasher Installation and Your Local Handyman
To find someone to install your dishwasher, the dishwasher manufacturer may be able to recommend someone in your area or a local handyman may be able to take care of it for you. One benefit in talking to a local handyman is that you can make sure the manufacturer (or the contractor they recommend) isn't over-charging on installation. Plus, you may have other small home improvement projects on your to-do list. If you hire a handyman to come in for the day to take care of several projects at once, you can usually save some money on the labor cost.
No Comments Yet