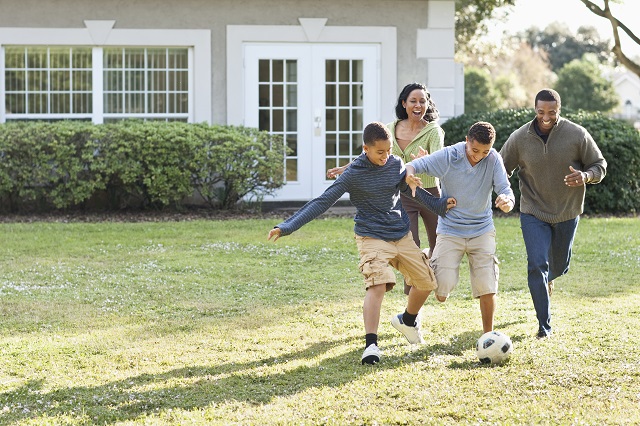 Whether you are a soccer enthusiast who enjoys a pick-up game with friends or the parent of a rising star who wants to make it easier for your child to hone their skills, a backyard soccer field can bring the game you love to your very own home. While building your own sports field may seem like a pipe dream, it's not as far-fetched an idea as you may think. While you may not be able to recreate Old Trafford, there's a pitch possibility for nearly every space and every budget.
So, if you're kicking around the idea of creating the field of your dreams, keep reading. Once you know how much it will cost, what materials you'll need, and whether it's even allowed where you live, you'll be able to decide whether it makes sense to build the pitch you have always wanted right outside your back door.
Cost & Materials
Don't let the newly-completed Audi Field's $400- to $500-million price tag discourage you. After all, you're not going to be accommodating the DC United and 20,000 of their biggest fans. For a backyard pitch, expect to spend anywhere from a few hundred dollars to perfect an existing patch of grass to $16,000 or more, which includes lot clearing, irrigation, and rolled sod. Your exact cost will depend on a variety of factors, namely the size of your field, the materials and equipment you choose, and the amount of labor you hire to help.
Size
The larger your field, the more it will cost to build. Most people don't have the room to install a regulation-size soccer field on their property. The good news is that you don't need 8,000 square feet to practice dribbling, shooting, and defending. While the smallest recommended size for a soccer field is 15 yards wide by 20 yards long, it is possible to make smaller spaces work. For two-goal fields, follow a 0.625:1 width-to-length ratio. For half fields with one goal, the width should be 1.25 times the length.
Materials
The surface you choose to play on is one of the biggest cost factors when it comes to building your own soccer field. As a general rule, natural grass requires the least investment up front. Expect to pay about $.05 per square foot for seed or between $0.08 and $0.45 per square foot for sod.
Sod or seed, be sure to choose a type of grass that is traffic tolerant with a good consistency and damage repair rate. If you live in the north, most experts recommend Kentucky bluegrass blended with 10 to 20 percent perennial ryegrass, because it establishes quickly and fills well when damaged. If you live in the South, Bermuda grass is the best choice. You can over-seed it with perennial ryegrass for year-round use.
At $2 to $8 per square foot, artificial turf costs significantly more upfront to purchase and install. Traditional turfs, made from nylon, fall at the lower end of the price range. More advanced artificial turfs, made of plastic fibers and infilled with sand and rubber particles, fall at the higher end.
Artificial turf enthusiasts agree that the additional expense of installing artificial turf is offset because it is more durable and requires less effort and expense to maintain. Additional benefits of artificial grass include:
No recovery time
Year-round use
All-weather use
No pesticides or herbicides
Equipment
Once you've marked the field, all you really need is a soccer ball and a goal to start playing. Depending on your budget, you can enhance your experience by adding a few additional features. Strategically-placed flood lights will allow you to fit in a practice session before the sun comes up or make up stoppage time after the sun goes down. As with all electrical work, this is a project best left to a professional, so hire an outdoor landscape and lighting contractor to design and install flood lights.
Another add-on that can make your soccer field more enjoyable is a fence. Installing a fence will add an additional $1,500 to $4,000 to your budget, depending on the linear footage and material of your fence, but it allows you to spend less time chasing balls and more time scoring goals. This will also give you some privacy and protect cars in the driveway and windows along the back of the house from rogue corner kicks.
Labor
If you are able-bodied and relatively handy, it's possible to do most, if not all, of the labor required to build a field yourself, especially if you enlist the help of a few friends. While this approach will save you money, you should consider how long it will take, whether you have the proper equipment, and how much expertise is required to do the work.
Of course, there are advantages to contracting a pro to complete your backyard pitch. You won't have to rent or learn to operate expensive equipment, and the project will likely be completed more quickly. As an added bonus, contractors can typically provide the materials for the project as well. Perhaps most importantly, a professional possesses the know-how and expertise to complete the job safely and to a standard that most homeowners can't match.
If you do choose to hire a professional, here is how much you can expect to pay for each service, including labor and materials:
Legalities
There are no laws on the books that will prohibit you from adding a backyard soccer field, but there may be local codes pertaining to certain elements of your field, like floodlighting and fencing. You may also need a permit for the construction. Check with your code enforcement office at the city or county level about both before you begin.
If you're part of a homeowner's association (HOA), your contract will undoubtedly include a section about the recreational use of your property. If you live in a historic district, you may be subject to more restrictions. If either of these applies to you, be sure to check with the board before you break ground.
Soccer is becoming more popular. More and more people of all ages are spending time driving to and from the soccer field for practice and games. Just imagine all of the extra time you could spend on the field if you cut out that commute. A backyard soccer pitch is not out of reach, but it does require a detailed plan. Now that you know what the project entails, it's time to get off the sidelines and get in the game.
No Comments Yet