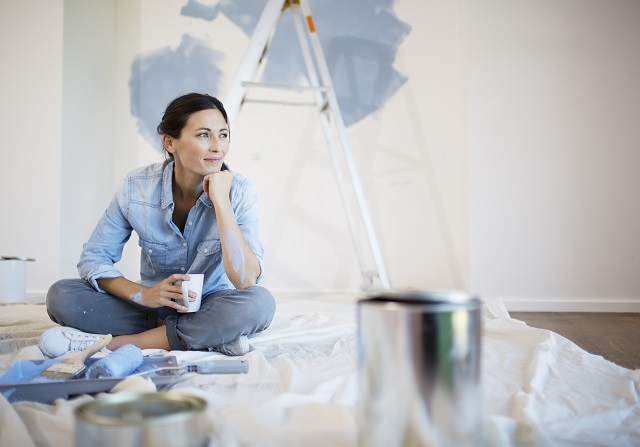 Self-care isn't just spa days and staycations. Self-care is about more than occasional relaxation. It's about overall wellness and creating a routine that prioritizes your mental and physical health. That's why it's an important practice for everyone, especially DIYers.
The truth is: no one is immune to the consequences of ignoring their well-being. If you're tired, stressed, out of shape, or even just hungry, you are more likely to make mistakes, overlook small details, and push yourself too far. If you're on top of a ladder, operating a table saw or swinging a sledgehammer when that happens — well, you can see how that might be a problem.
Whether you are a homeowner on a mission to update and renovate, a landlord with a plan to tackle a few maintenance projects, or a renter looking for ways to make your temporary space really feel like home, safety and self-care should be a top priority. So, put the hammer down, back away from the paintbrush, and take a few minutes to follow the steps below.
Begin with the End in Mind
Start with a good night's rest.This will reduce fatigue, improve your stamina, and sharpen your attention.
Then, sit down for a well-balanced breakfast to stabilize your blood sugar, improve your focus and concentration, and provide the energy you need to get the job done.
You should also stay hydrated and try not to overdo it on the caffeine.
While these steps may seem trivial, they are an integral part of keeping you safe and healthy as you work — especially when you consider that the first few hours of your workday are the most dangerous.
While you're working, take frequent breaks. A few swigs of water every hour or so can go a long way to helping you stay hydrated, and snacks between meals can keep you energized and focused.
Speaking of meals, plan when you'll break to eat before you start working. You can even set a timer to ensure you don't get too busy to notice you haven't eaten for too long.
Gear Up
Treat yourself to the accessories you need to stay comfortable and safe for the duration of your project, starting with a pair of closed-toe shoes. Whether you're painting a wall or digging a ditch, you'll want something that cushions your step to reduce pressure on your joints. If you are working with heavy equipment, pick a shoe or boot with a steel toe for protection.
You should also dress appropriately for the weather and the environment. No matter what the temperature or cloud cover, don't forget your sunscreen.
For hot, sunny days spent outdoors, equip yourself with a hat and cool, breathable clothing.
Cold weather requires lots of layers, but be careful not to restrict your range of motion.
Most around-the-house DIYs are worth a raincheck, but if you're cleaning the gutters during a drizzle, wear a poncho to keep yourself dry and be sure your ladder and shoes are slip-resistant.
You'll also need the right personal protective gear and the best equipment for the job at hand.
Safety goggles
Gloves
Ladder
Hard hat
Joint braces or pads
Apron or coveralls
Sharpened mower blade and anything that's not held together with duct tape will not only help prevent accidents and injuries; it will make your job easier and improve your results. So, instead of "rigging something up" or "making something work," buy or borrow the right tools.
Get Fit
Did you know that DIY projects around the home are a great workout? Carrying paint cans, climbing up and down ladders, and hammering nails increases heart rate, burns calories, and builds muscle mass. If you're going to spend a day doing all those things, you should prepare for it the same way you would for a cardio or weight-lifting session at the gym. So don't forget to stretch.
A few simple stretches will help prepare your muscles for all the bending, lifting, and squatting you're about to do. You should also learn the proper techniques for doing so to prevent injury. Of course, accidents happen. If you begin to experience pain, stop working. Mild muscle soreness, aches, and other discomforts are not unusual after a hard day's work. However, extreme pain could indicate a more severe problem, and you should visit your doctor to get checked out.
Educate Yourself
Self-education is a vital part of both self-care and DIY home repair. The chances of injury or property damage decrease drastically if you have the training for the job. But you don't need to complete a degree or apprenticeship to take on most projects. You just need to do some research. Find a method that works best for you:
Pick up a book at the library.
Pull up a YouTube video online.
Take a class at your local community college.
Ask a professional at a nearby home improvement store.
Know When to Go Pro
Finally, self-care is about acknowledging when you've reached your limits. In the case of home repairs, that means calling in a pro for jobs that are too dangerous to do yourself, like those that involve:
No Comments Yet