Published October 2016
In a first-of-its-kind survey, homeowners from across the nation weighed in to tell HomeAdvisor how their home's location influenced their happiness. After digging into the data, HomeAdvisor found that of the four major life stages of homeowners, Empty Nesters are the happiest and Married with Children are the least happy. Find out why below!
Table of Contents
Young Singles
Happiest, for Now, Living in Affordable Communities Close to Work
Happiness Rank: Third of Four
Young single homeowners report higher levels of happiness than married homeowners with children but lower levels of happiness than empty nesters and married homeowners without children. These homeowners are moving into neighborhoods they can afford for now, but they don't plan to stay in the same neighborhood for the long term — which may explain why one-third have performed no home renovations. Young singles value location and want to live close to work, but location is only part of the equation.
"Disproportionate numbers of the new urbanites are 20- to 34-year-olds," says Richard Florida, author, urbanist thought leader and contributor to Urban Land magazine. "Urban living provides them with thicker job and dating markets, opportunities to share rent with roommates, and plenty of things to do in their off hours, from bar-hopping to attending graduate school."
"Cities tend to facilitate the most efficient living, particularly because they offer the best multiunit housing opportunities, retail access, transit options and walkable communities," adds HomeAdvisor Economist Brad Hunter. "But it comes as no surprise that young singles are increasingly choosing to buy and improve homes in suburban areas. Urban real estate prices are on the rise, making the suburbs all the more attractive to younger would-be homeowners."
Young singles, Hunter says, will likely report higher levels of homeowner happiness — and more plans to remain in their homes for the long term — as their incomes and aspirations become better aligned.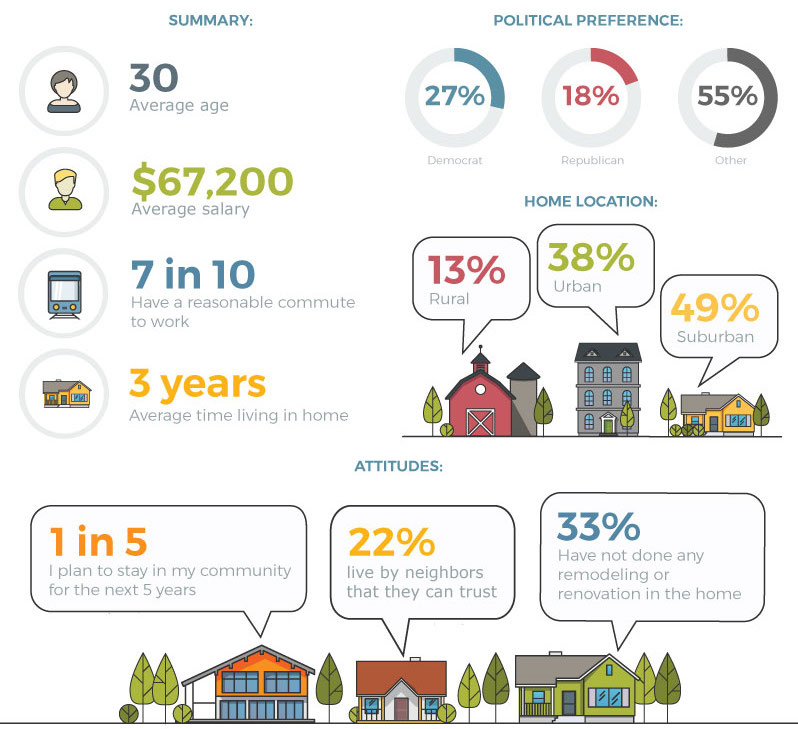 Married Without Children
Happily Turning Current Houses Into Long-Term Homes
Happiness Rank: Second of Four
Married homeowners with no children take a great deal of pride in their homes. According to HomeAdvisor data, homeowners falling into this life stage category most frequently submit service requests for professional help with landscaping, lawn care and housecleaning projects. Typically, married homeowners with no children have settled into homes they like in communities they know they will enjoy for some time to come. What's more, dual incomes and a lack of dependents afford them the chance to make the improvements necessary to turn their current houses into their long-term homes — particularly with the recent upturn in the U.S. economy.
"With the recent upturn in the economy, consumers are finally starting to embark on the home improvement projects they were putting off during and immediately following the downturn," said HomeAdvisor Economist Brad Hunter. "For a while now, consumers have been frugal, delaying major remodels and even putting off smaller home improvements and repairs. But now that things are looking up, homeowners — particularly those with accrued equity and access to other financial resources — are spending more time and money sprucing up their homes."
Indeed. As presented in HomeAdvisor's 2016 True Cost Report, times are ripe for home projects. A recovering labor market has provided homeowners equity that may be leveraged to further boost the enjoyment and monetary values of their existing properties. Consequently, homeowners who would otherwise upgrade to a more desirable home are choosing to stay put and make necessary repairs and improvements.
"Home improvement spending continues to benefit from the last years' upswing in housing market conditions, including new construction, price gains and sales," reports Chris Herbert, managing director of the Joint Center for Housing Studies of Harvard University. "Strengthening housing market conditions are encouraging owners to invest in more discretionary home improvements such as kitchen and bath remodeling and room additions, in addition to the necessary replacement of worn components, such as roofing and siding."

Married With Children
Improving Interim Housing, Putting Their Families First
Happiness Rank: Four of Four
When it comes to home and community, married-with-children homeowners are currently putting their families' needs ahead of their own desires. In fact, while these homeowners are making a number of home improvements to increase the value and comfort of their homes — with roofing and gutter, handyman and tree service projects topping their home improvement to-do lists — most married-with-children homeowners do not plan to stay in their current homes for the long term.
The presence of children provides a lift to home improvement spending, according to the Joint Center for Housing Studies at Harvard University. As reported in the center's 2015 report titled Emerging Trends in the Remodeling Market, "among homeowners between the ages of 45 and 64, married couples (with or without children) spent about the same on DIY projects as single homeowners, while married owners with children spent significantly more on discretionary projects. Interestingly, according to the Home Improvement Research Institute, heavy project planners (those planning six or more projects in the next three months) are, on average, married and in their mid-thirties — and more than 70 percent have children under the age of 18 living in their households.
The fact that married-with-children homeowners are sinking money into homes that they consider temporary likely has much to do with their reportedly low levels of home happiness, says HomeAdvisor Economist Brad Hunter. "These homeowners are putting their dream homes on hold in order to provide the best possible environment for their families right now. They will likely report higher levels of happiness down the road, when they're better able to satisfy their own objectives."

Empty Nesters
Enjoying the Trifecta: Location, Home and Community
Happiness Rank: One of Four
Empty Nesters report the highest levels of happiness, largely enjoying the locations, comforts and communities associated with their homes. These homeowners are actively making thoughtful home improvements, living next to neighbors they enjoy, and choosing communities with convenient access to their favorite activities.
According to the Urban Land Institute's America in 2015 report, 93 percent of war babies and members of silent generation are satisfied with their current homes. Further, according to a recent Freddy Mac study, 64 percent of homeowners over age 55 report being "very satisfied" with their current homes, 59 percent report being "very satisfied" with their communities, and 54 percent report being "very satisfied" with their quality of life. More than 60 percent of Freddy Mac respondents said they would prefer to age in place, and roughly one-quarter indicated that they would need to make major renovations to keep their homes accessible while one-third said that they would pay for improvements by refinancing their mortgage or taking out a second loan or home equity line of credit. An overwhelming majority — 90 percent — agreed that people their age should own a home.
"It stands to reason that empty nesters report the highest levels of homeowner happiness," says HomeAdvisor Economist Brad Hunter. "An empty nest provides homeowners the opportunity to reevaluate their existing homes and make the kind of improvements or changes that will allow them to live the most active, fulfilling and independent lives possible for years to come. What's more, at this more advanced life stage, these homeowners typically have the financial wherewithal to move into preferred homes and communities or complete high-quality home improvements."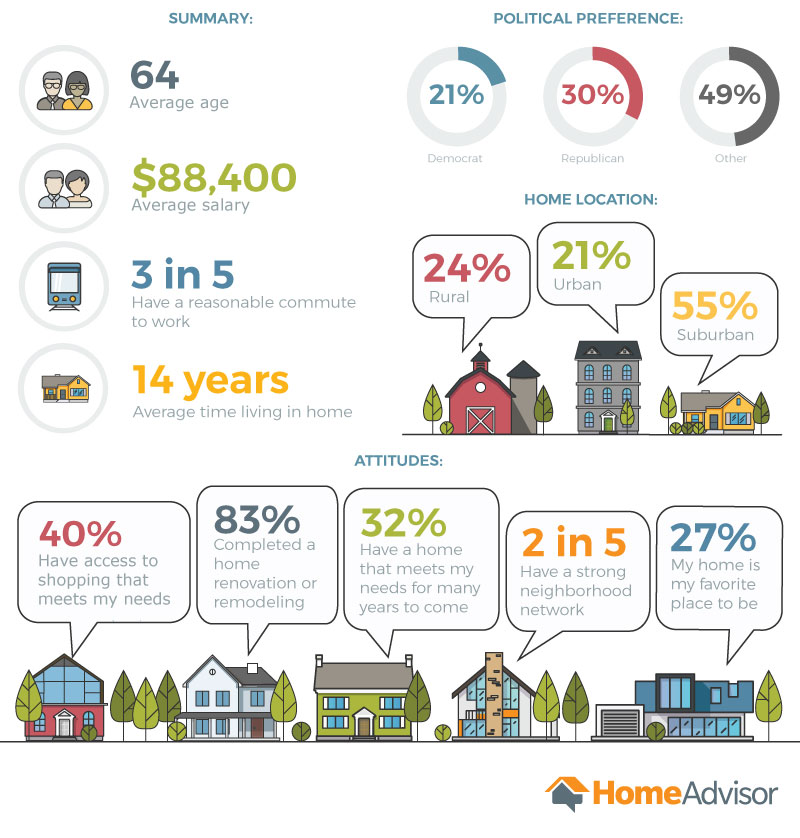 Add this infographic to your site:
Click the text below.
Copy the selected text.
Paste the code on your website.
No Comments Yet