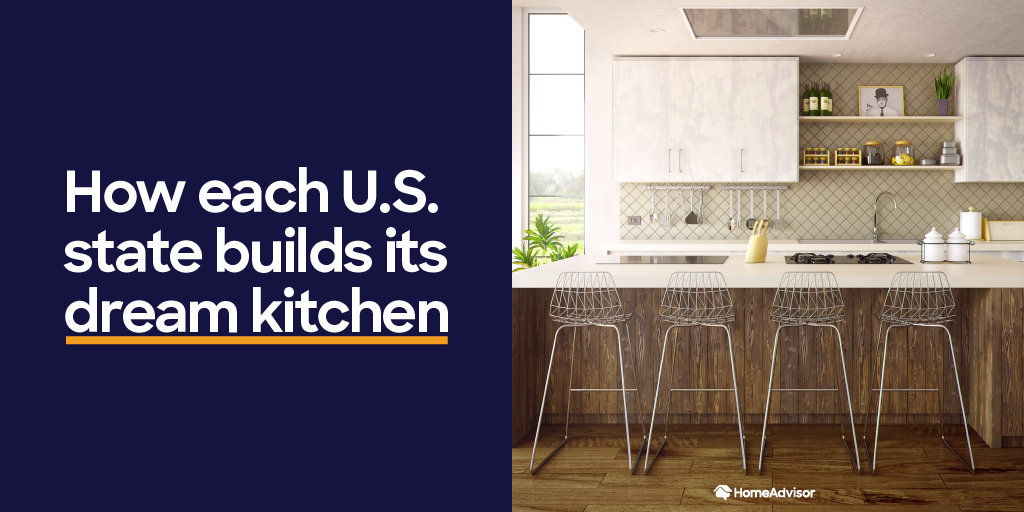 The kitchen is the heart of every home—the coveted space where we brew morning coffee, experiment with air fryers, master new recipes, and congregate for an evening meal. It's so essential that over half of Americans will not purchase a home if the kitchen doesn't meet their expectations.
But how would Americans design their dream kitchens? Perhaps their "forever kitchens" include designer-approved features like a butler's pantry, mosaic tile backsplash, or waterfall countertops. Maybe they crave the convenience of a pot filler faucet or a double oven. To find out, we went straight to the source, surveying 3,000 Americans to gauge what their dream kitchens would look like.
Key Takeaways
Stone tile backsplash, marble countertops, natural wood cabinets with a light to medium finish, hardwood floors, and stainless steel hardware are the dream kitchen design elements chosen by the majority of survey respondents.
Runner-ups include ceramic tile backsplash, granite countertops, white cabinets, stone tile floors, and brass hardware.
The majority of Americans (71%) do not want wallpaper in their dream kitchen—just a solid paint color.
Over half of Americans (52%) say their dream kitchen would be two-toned.
Thirty-nine percent of Americans would not purchase a home without a kitchen island.
Sixty percent of Americans would sacrifice sex for a year for their dream kitchen.
One in 5 Americans would give up their pet for a year for their dream kitchen.
The average American is willing to pay $21,215 for their dream kitchen renovation.
Dream Kitchen Mood Board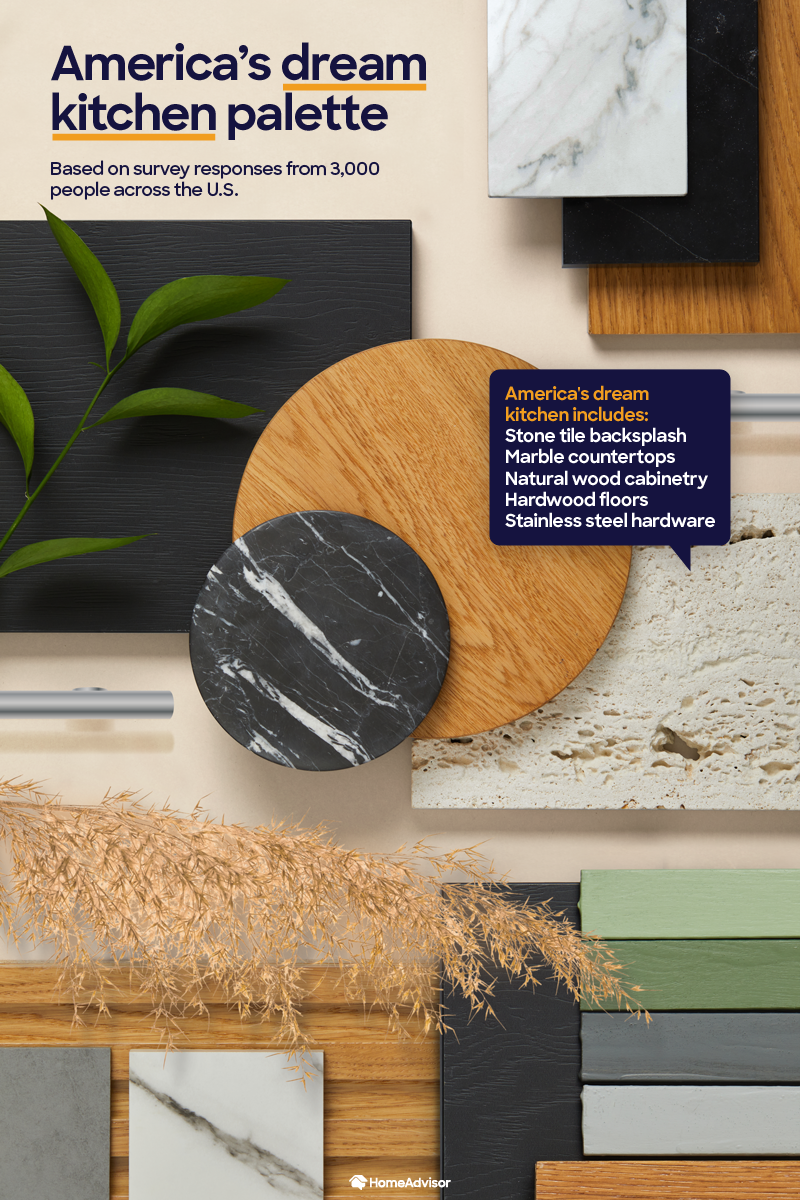 With a robust design and quality materials, a luxury kitchen nourishes us in multiple ways. So, if you were to whip up the perfect recipe for the average American's dream kitchen, it would include stone tile backsplash, natural wood cabinetry, hardwood floors, and stainless steel hardware, according to respondents. Design elements coming in second place include ceramic tile backsplash, granite countertops, white cabinets, stone tile floors, and brass hardware.
Residents in Each State Build Their Dream Kitchens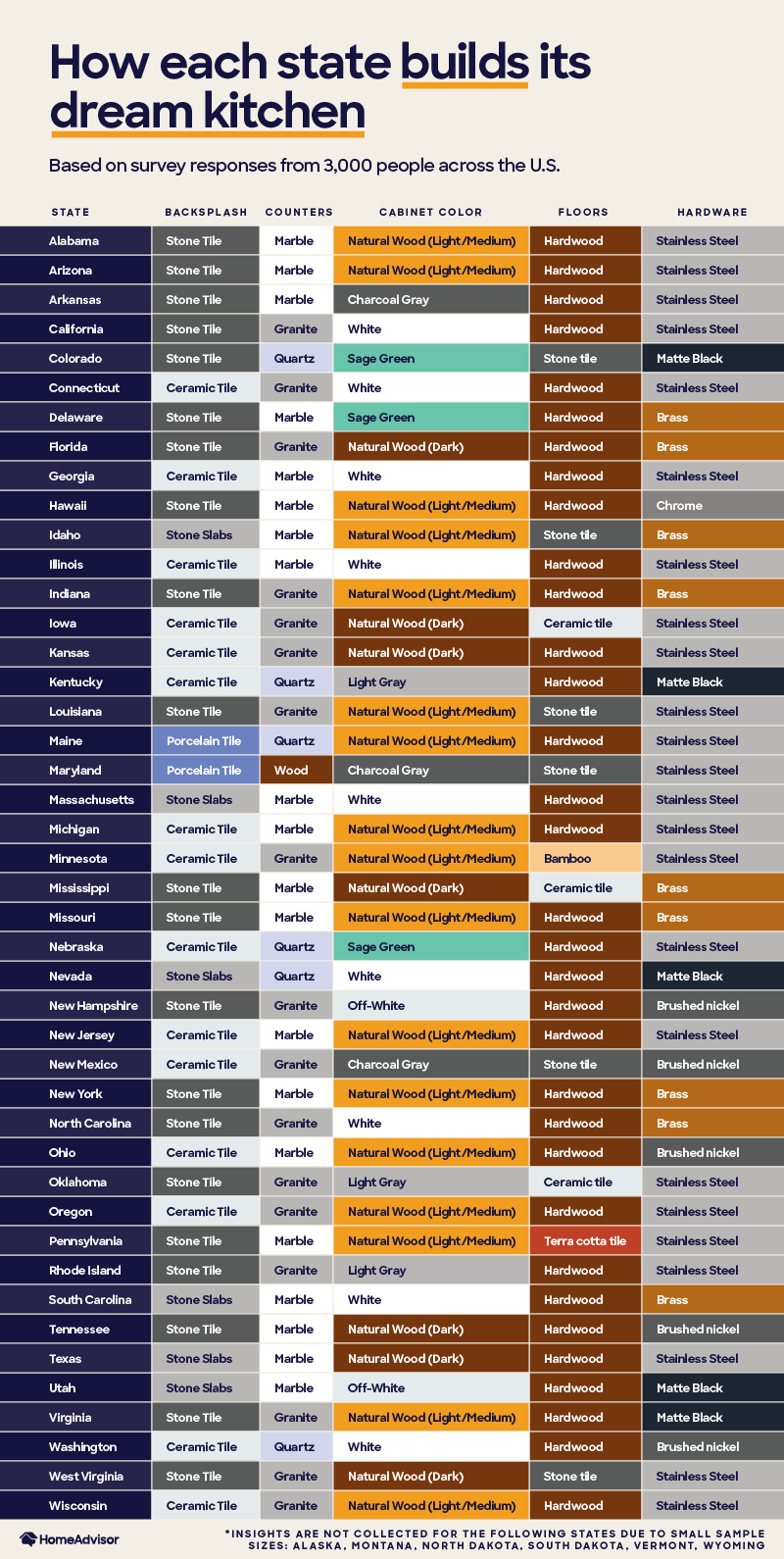 Have you ever seen a kitchen, so beautiful in both form and function, that it takes your breath away? Between the pile of interior design books on your coffee table, your Pinterest addiction, and binge-watching the latest season of "Fixer Upper," many of us already have our dream kitchen built in our minds.
According to survey results, marble is the countertop material of choice for residents in 20 states, from Arizona to New York. Marble is a natural stone, making each piece uniquely designed by nature. When paired with a stone tile backsplash, it provides a high-quality, timeless look for any dream kitchen style.
Residents in 33 states would include hardwood floors in their dream kitchen, and it's no wonder. Stylish and sustainable, hardwood floors not only look amazing but hold up against the hustle and bustle of this high-traffic area. In contrast, Connecticut, Idaho, Louisiana, Maryland, New Mexico, and West Virginia residents would prefer stone tile floors in their dream kitchen for a touch of rustic charm.
Natural wood cabinetry, known for its rich and luxurious coloring, is a household favorite among Americans. The versatile look fits a traditional, contemporary, or modern kitchen. Its contrast works beautifully with stainless steel appliances, making it a match made in heaven.
Dream Kitchen Must-Haves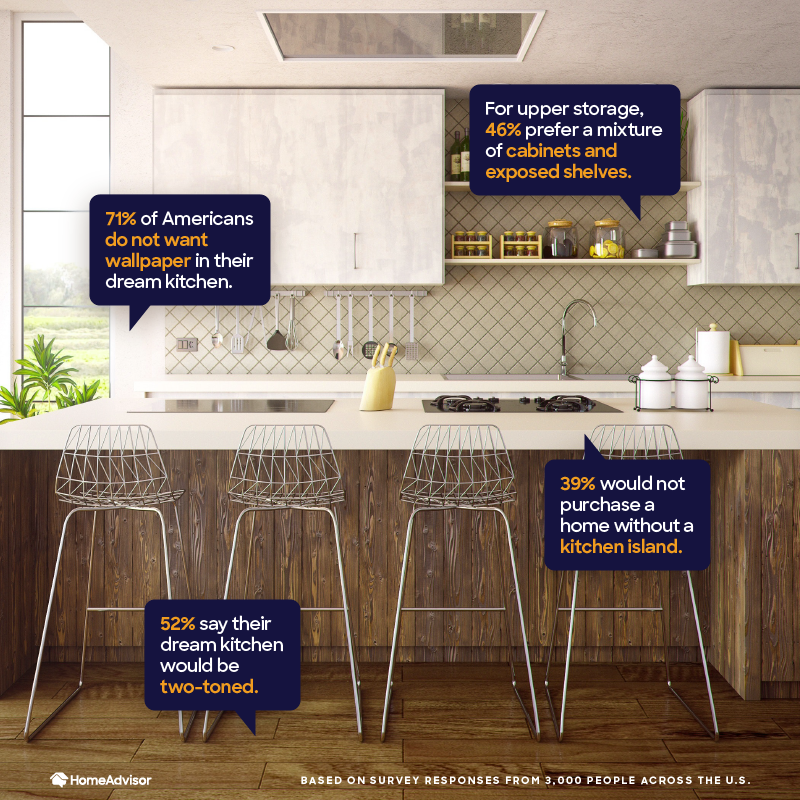 From immaculate countertops to every stainless steel appliance under the sun, it's only natural to want a top-of-the-line kitchen, but like anything else, each person has their list of dos and don'ts. Here's how respondents weighed in:
Do: Two-Toned Kitchens
Fifty-two percent of Americans' dream kitchens would be two-toned, where the upper and lower cabinets feature different paint colors—think white cabinetry on top and sage green on the bottom.
Don't: Kitchen Wallpaper
Seventy-one percent of Americans would opt for a solid paint color over wallpaper in their dream kitchen. For those open to wallpaper, botanical prints and subtle, geometric prints would be the patterns of choice.
Do: Mix Open Shelving and Cabinets
Gone are the days of one-size-fits-all cabinetry. Almost half of Americans prefer a mixture of cabinets and exposed shelves for their upper storage.
Do: Kitchen Island
For some, a kitchen island is non-negotiable. Thirty-nine percent of Americans would refuse to buy a home that doesn't have a kitchen island. We tend to agree, considering the additional seating and extra cooking space.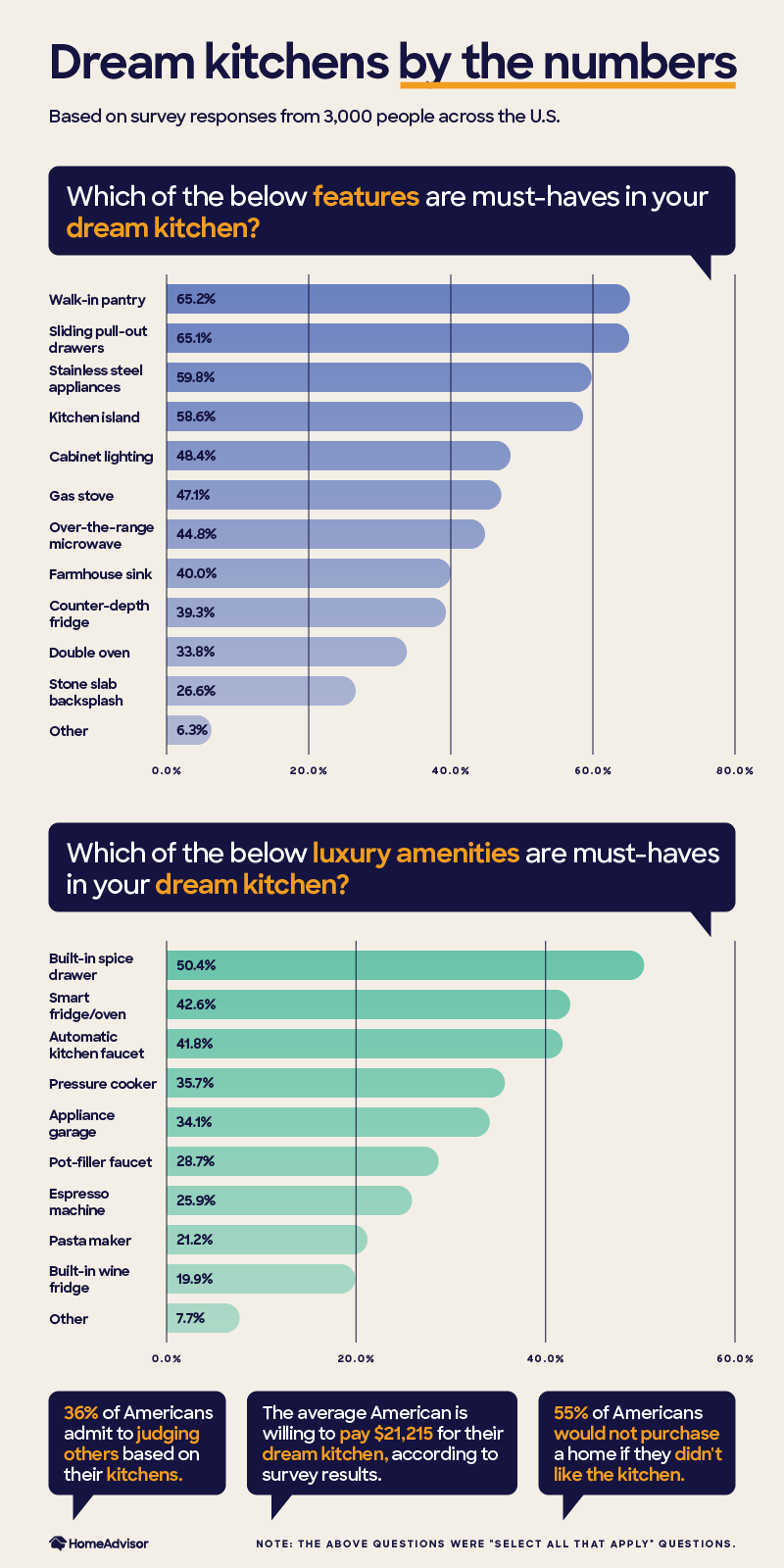 Whether your dream kitchen design is modern or farmhouse, most Americans agree on two things: the features and amenities. Spacious walk-in pantries, sliding pull-out drawers, stainless steel appliances, a kitchen island, and cabinet lighting are the top, must-have features in dream kitchens. For those who love to cook, these features allow you to master a new recipe and entertain guests. Further, must-have luxury amenities include a built-in spice drawer, a smart fridge/oven, an automatic kitchen faucet, a pressure cooker, and an appliance garage.
Most of us spend countless hours decorating, cleaning, and preparing our homes to create a welcoming environment for our guests. It's OK to admit to feeling judged when having people over. According to survey results, 36% of Americans admit to judging others based on their kitchens' appearance, no matter how much prepping they do.
Before any kitchen remodeling begins, most start with a budget. Our survey found that the average American is willing to pay $21,215 for their dream kitchen. At the same time, another 55% prove that kitchens do sell homes and wouldn't dare to buy a home if they didn't like the kitchen.
How Far Would You Go for Your Dream Kitchen?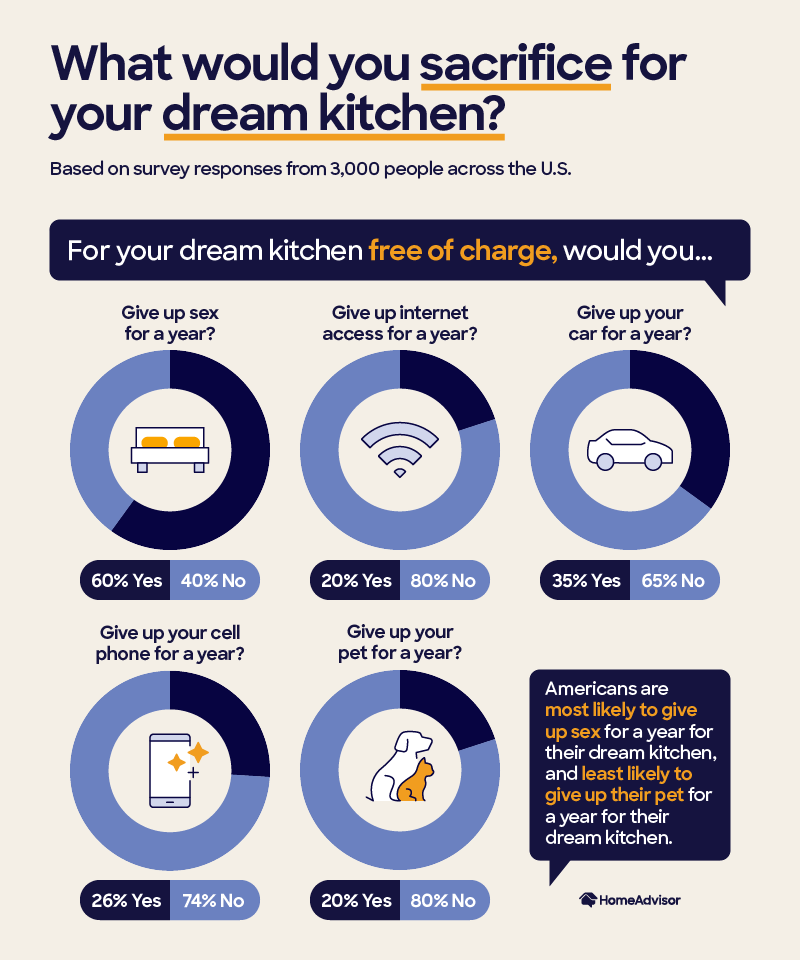 Plenty of Americans have daydreamed about their dream kitchen. However, you don't see many people fantasizing about the sacrifices they would make to acquire it. To receive your dream kitchen design free of charge, you're going to have to make some sacrifices. The question then becomes: what are you willing to give up?
If you're anything like the 3,000 people we surveyed, you'd likely be willing to give up some of life's luxuries. Sixty percent of Americans would give up sex for a year for their dream kitchen, and 35% would sacrifice their car for a year. However, not everything is negotiable. Eighty percent are least likely to give up their fur baby and internet access for a year.
Closing Thoughts
If money were no object, what would your dream kitchen look like? Designing your dream kitchen can be fun, and it isn't as hard as you think. HomeAdvisor can help make your kitchen remodel dreams a reality. From replacing cabinets to painting to staining, we've got your kitchen redesign needs covered.
Methodology
We surveyed 3,000 Americans across 44 states from June 15–18, 2022, to uncover how residents in each state would build their dream kitchens. We asked respondents in each state to tell us which types of backsplash, countertops, cabinetry, floors, and hardware they would handpick for their "forever kitchens." We asked supplemental questions to learn which design elements are most commonly featured in Americans' dream kitchens as well as what lengths Americans would go to for their dream kitchens. Survey insights were not collected for the following states due to a low pool of respondents: Alaska, Montana, North Dakota, South Dakota, Vermont, and Wyoming.
No Comments Yet