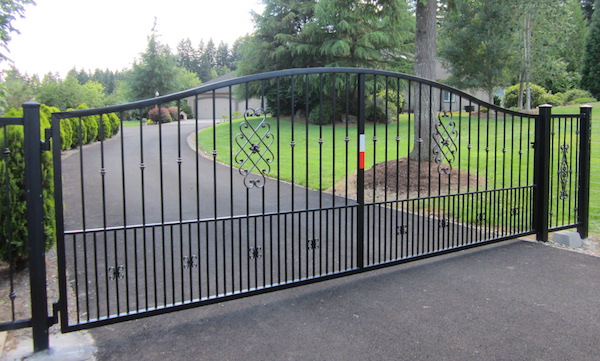 Driveway gates offer security, privacy, and elegance. They'll prevent your child's basketball from rolling out into the street, and unwanted salespeople from knocking on your door. With the majority of burglaries being moment-of-passion crimes, driveway security gates are also the best deterrent for home burglars—whether they hint at or actually include further security.
Style, Space, and Comfort
Driveway gates can be as simple as a hand-moved wooden gate attached to stone pillars. This is a simple, rustic option that many people use in the country to either hold back livestock or look as if that might have once been the purpose. For the urban and suburban areas, a more modern approach is typically used. Driveway gates come in many styles. Some are meant merely as a way to stop unwanted cars from entering your property, others are attached to privacy fences or security fences that run around the whole property. Like a fence, driveway gates are made from any material, with the most common being iron, steel, or wood. They come rustic or grand, painted or gold-plated. But whatever you choose, simple or extravagant, you will find that it adds elegance either way. The choice is more in deciding what style matches your own home's style.
Automatic Gates
Electric gates are most often made of wood, aluminum, or steel. Aluminum is generally the least expensive, followed by wood. Some custom hardwood gates are very pricey; and those who want to bypass steel and go for true wrought iron (very rare, as most products marketed as "wrought iron" are actually steel) should be prepared for a phenomenal product, as well as a large bill.
Your gate opener should be as tough as the gate you purchase, and equally suited to the situation. A heavier gate will require a more heavy-duty gate opener; getting the wrong opener for the job could lead to property damage. There are many options that an automatic gate can come with such as a sensor that will open the gate on your way out as soon as you pull up to it, various entry security features, and in some cases, solar cells to recharge the opener's battery. Interested homeowners should discuss these options with the dealer before installation, as they are usually less expensive to put in with the gate rather than after the job is done.
Security
Like a garage door, most driveway security gates open with a touchpad or remote control. With this, naturally comes an intercom system, to allow visitors to reach you the same way one might reach another in a city condominium. Beyond those two simple, more obvious inclusions come the security additions. Intercoms come with touchpads so that you can give out an entry code to friends and family (be careful with this code, of course, and change it with regularity), they also come with video relays for you to see your guest or for you both to see each other. Security cameras allow you to see (and record for added security) all cars that come up to your gate. Motion sensors can send a signal to warn you of people at your gate, or they can be set to turn on a light at the gate door. There are many options, though the most important one is always the presence of the driveway security gate itself.
Curb Appeal
Driveway gates set your home apart from the rest, bringing an extra level of grace to the look and feel of your property. They are not just for security, they are for your exterior design. Pillars offer a perfect backdrop for either intimate or intricate landscape design. This presentation welcomes friends into your home while also deterring unwanted guests.
There will be more added benefit that seems counterintuitive. Driveway gates have the effect of adding usable space. The corners of your yard suddenly become places you do not shy away from when you add any sort of fencing. You will notice that your driveway becomes a fine place to play rather than a hazard. In all, these gates can add both function and beauty to your home.
No Comments Yet