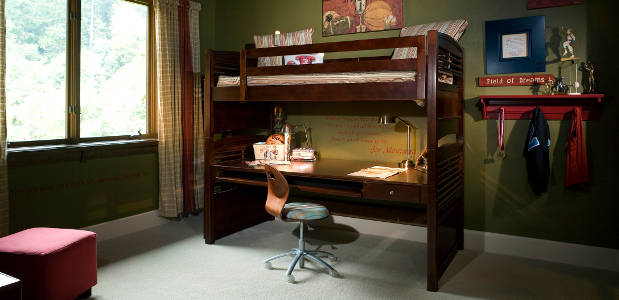 For an adult, a loft bed is a practical way to save floor space. A kid loft bed is, on the other hand, often put up for fun as well as function. Kids just seem to like the idea of having a bed up high and having a ladder that leads them there. A child loft bed is generally easy to install and relatively inexpensive to purchase, and it's sure to please both parents and kids alike.
Kid Loft Bed Kits
Other than having a professional come in and build a custom model, buying a kit is the easiest way to erect a kid loft bed. The kit will most likely include everything you need to put the loft and ladder together, though you will probably need to supply a few common tools (and in some cases, the mattress).
Safety is a big issue when kids are involved. Make sure that the kit you purchase comes with a railing. Sleeping children are notorious wigglers. The railing will protect them from wiggling their way off the side of the bed.
Child Loft Bed Plans
Moms and dads, who are capable carpenters, might enjoy taking a more active role in the bed building process. Those with a will to work wood should check out some loft bed plans. The plans can be found online for a few bucks or even for free.
Using plans to build will require a fair amount of cutting, hammering, and the like. Most designs are fairly simple, and the project might be a good one to share with the kids (who are often thrilled to play a role in building something they will use). For parents who don't have access to various saws, lots of places that sell lumber will cut the wood to your measurements at a small charge.
The price of the whole operation, even if you don't cut the lumber yourself, will be less than buying a kit. The finished product will be something you and your kid can be proud of putting together, and the quality will often be better than purchasing an inexpensive kit bed.
Ready to start your
Loft Bed Assembly

?Find Pros
Custom Beds
The custom built route, for a loft bed and just about anything else, will produce the finest product, but will also be significantly more expensive than other options. The difference is that the parents' only work will be telling the builder what they want. Since it will be a bed for a child, however, he or she would certainly get a kick out of having some input in the design, too.
A custom built loft can have any option you can imagine, and the builder will most likely have some suggestions you might not have thought of otherwise. Additionally, you will be getting a bed the quality of a fine piece of furniture. Though it will cost more, it will be worth it. A custom builder will also be able to create a bed that is anchored to a wall or ceiling, which will create even more floor space.
One thing to consider before spending the money for a custom job is how fast kids grow. While a smaller bed will be cute and just his or her size, a bed large enough for them to grow into probably won't be significantly more expensive. Building a new one once they grow a few feet, on the other hand, will be.
No Comments Yet