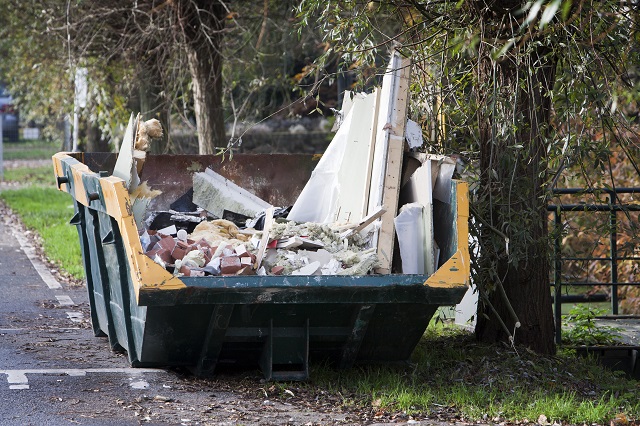 It's never too early to begin planning how you will dispose of waste from paint, drywall, concrete and other home renovation materials. Safe disposal is about more than tossing an empty paint can into the garbage. Make sure you remove these construction waste in an environmentally-friendly way.
Why? Because more than 30 percent of the waste in a landfill comes from home renovation projects. You may be able to save thousands by recycling, reusing, or selling the materials or rubble.
Committing to sustainability in your home renovation means you should commit to making sure the way you dispose of your renovation debris is sustainable as well. Buildings make up about 40 percent of the energy and materials used around the world, so being environmentally considerate during your home remodel can have a much bigger impact than you may have imagined.
When you're remodeling a home, you may be excited to get out with the old and in with the new. Whether painting a bathroom with turquoise tile from the 1970s or pulling up linoleum that has carried generations of grit and grime, you might be tempted to just toss the old into the dumpster and focus solely on the new. However, there are many benefits to disposing of your renovation waste in an eco-friendly way. This guide will explain green ways to:
Recycle materials
Dispose of paint, paint thinner and hazardous materials
Save money by reusing items that you might otherwise throw out
Benefits of recycling home renovation materials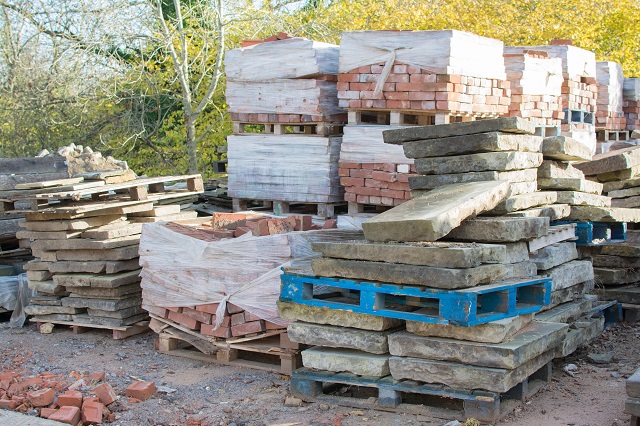 Recycling debris from a home remodeling project is not only good for the environment, it's also good for your renovation budget. What you recycle can constitute a tax write-off, and some companies will pay you for the materials. From shingles to bricks, approximately 85 percent of all construction waste can be recycled, which means those numbers can add up. There are many ecological and economic benefits of recycling, instead of trashing, renovation debris. Some ways you'd make an impact include:
Reducing the amount of waste in landfills.
Reducing the carbon footprint of building roads by recycling concrete.
Creating bio fuels by recycling clean scrap wood.
Hiring recycling companies to remove your debris — typically at no cost. Other waste removal services cost around $240
Supporting an environmentally-friendly or sustainable company.
Offsetting some of the costs for your rebuild.
Removing carpet intact so that you can donate it through the Carpet America Recovery Effort, which strives to advance market-based solutions that increase landfill diversion.
Choosing a contractor that is certified in sustainable construction who understands the importance of recycling and can make that a priority.
You can take recycling a step further — not only can you recycle your unused materials, but you can also buy building materials made from recycled goods. This way, not only will the disposal of your renovation waste be environmentally-friendly, but the new projects will also have a green mark for years to come.
Environmentally-friendly chemical disposal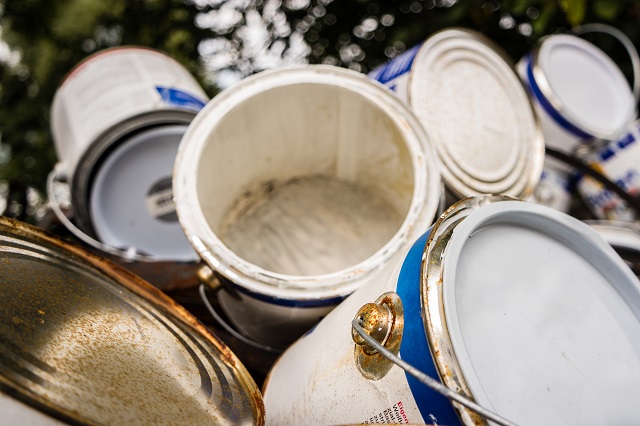 Nothing sticks out like an eyesore in a garage or shed like stacks of unused paint cans. Only three states have buyback programs for paint purchases, which means unless you live in Oregon, California or Connecticut, you'll have to decide how to dispose of or store any extra paint you have after a remodeling project ends.
So, what do you do with a half-gallon or even several gallons of paint sitting in your garage after a bathroom or kitchen remodel has completed? Here are a few tips to help you make sure you remove paint waste in a way that is easy for you and safe for the environment:
Buy eco-friendly latex paint that doesn't contain any volatile organic compounds, has low biocides and is made from natural pigments.
Donate any unused paint to your local Habitat for Humanity, community theater or even a neighbor.
Avoid using oil paint, which is very toxic for the environment. Latex paint is the safer choice.
Try not to buy more paint than you need. If that means you may need to make an extra trip to the home store to buy a few more cans, think about the positive impact you're having instead of the inconvenience of an extra trip.
Recycle the steel cans of all the paint containers you empty.
Reuse lighter shades as a base coat for darker paints in future projects.
Paint isn't the only liquid waste you might have to dispose of during a home remodeling project. It may not even be the most hazardous. Here are a few more eco-friendly disposal tips for other liquids and chemicals you may use:
Follow the disposal tips from the manufacturer.
Hire an eco-friendly removal company to take away the remaining waste.
Store them in their original containers, and make sure they aren't at risk for corrosion.
Never pour hazardous chemicals down the drain or dump them in the grass.
Know which chemicals are hazardous and how your city or county requires disposal.
Being conscientious about how you dispose of paint and hazardous waste has a huge impact on the environment. Paint that is not properly stored or disposed of can leak out of trash cans and into groundwater. Using paint hardener or, as some people suggest, kitty litter, can harden the leftover paint, making it solid and therefore safer to dispose of.
Ways to reuse materials in your home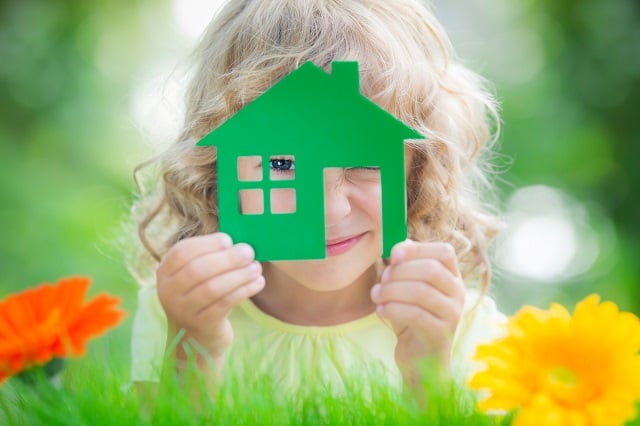 There is a difference between demolishing and deconstructing a home, and one of the major impacts is cost. The national average cost of house demolition is $18,000, while deconstruction comes with a hefty tax write-off. Demolition requires you to safely dispose of any hazardous materials before starting a complete tear-down and complete rebuild. Deconstruction is like reversing the construction process, enabling you to examine all the used building materials to decide if they need to be tossed out or donated, or if they can help with the rebuild. Obviously, that means deconstruction can be an eco-friendlier way to renovate your home. Here are a few ways you can reuse the materials already in your home for building projects:
Dismantle cabinetry instead of tearing it down. You can reuse the wood in constructing new cabinets or donate them to local nonprofits.
Paint old hardware to revitalize doors, cabinets and furniture.
Remove drywall sheets intact so you can use them if you're building new interior walls.
Reuse nails and screws in the building of new cabinets, doors and frames.
Use reclaimed wood from your deconstruction to create tables, chairs, doors, railings and porches.
When you consider what areas you can refresh instead of completely replacing, you'll be able to understand how you can reuse materials from your deconstruction process. Talk with your contractor and share your goals to get his or her input on ways to re-purpose building materials in the remodeling process. Check out your local reclamation yard for used materials at a savings. Ask if they would pay for any of the materials you won't reuse on your own renovation.
Home renovations are exciting times, but can also be tiring and stressful, especially if the project has taken longer than expected. Keep your renovation short by hiring a demolition service near you that specializes in deconstruction and green waste removal to help save time, money, and the environment.
No Comments Yet