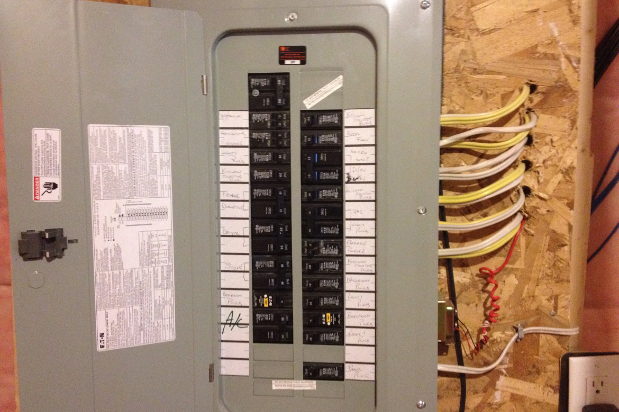 According to the U.S. Fire Administration, "During a typical year, home electrical problems account for 67,800 fires, 485 deaths, and $868 million in property losses. Home electrical wiring causes twice as many fires as electrical appliances." One of the most misunderstood areas of the home and home safety, almost every homeowner has some misconceptions about how their electrical system works. Getting a better understanding of the possible dangers lingering behind your walls and around your electrical sockets may just save your home and your household.
Electrical Fires: Invisible, Odorless, and Deadly
"An electrical fire rarely gives off a smell," says Clarence Williams, licensed electrician and founder of W M Electrical Services in the greater Washington D.C. area. "It doesn't smoke so the smoke detectors don't go off right away." Faulty electrical wiring heats up and will begin to smolder, often taking a year or more to finally ignite. There are no warnings that an electrical fire is about to start. Worse yet, they can be some of the trickiest fires to extinguish once they get going. For one home Williams had serviced, the homeowner had hooked up the electrical wiring for two wall sconces backwards. The wall spontaneously burst into flame, nearly taking the house with it.
Myths about Electrical Wiring and Safety
1. Fuses and Circuit Breakers: Fuses and circuit breakers protect the wiring and electrical circuit, not the circuit itself or the appliances and loads they're connected to. This one is huge. Williams says he's even talked to some electricians who were mistaken about the role of fuses and breakers. This means that if a current is high enough to damage the wiring, the fuse or breaker will detect this and open the circuit. However, unacceptably high currents can cause insulation damage and overheating that threaten to either damage electrical appliances connected to the circuit or cause combustible materials near the wiring to ignite. Rather than simply relying on fuses and circuit breakers, you need to ensure that wiring is properly sized and appropriate appliances are put on separate circuits.
2. Old Homes Need Electrical Upgrades: When homes are built, strict building codes and a professional, licensed electrician all but guarantee a safe electrical system in the home. "Even a home built in 1900," Williams says, "should be perfectly safe today, if nobody has tampered with the wiring." Of course, since most people can't live without a microwave and other modern appliances, almost no home goes too long with its original wiring. Most problems with electrical wiring occur when these upgrades aren't done right. Microwaves, computers, space heaters, and air conditioners are the biggest culprits, but any appliance, even toasters, may require an electrician to alter your electrical wiring.
One common problem was the unfortunate habit—somewhat common during the 70s—of using aluminum wiring. Aluminum wiring will expand and contract when heated and cooled, causing loose connections that are extremely dangerous. To maintain the safety of your home, find an electrician near you to retrofit your aluminum wiring with copper "pigtails" that prevent these loose connections.
Ready to start your
Electrical Wiring

?Find Pros
3. Extension Cords are Safe: Many homeowners know that different extension cords have different electrical ratings and capacities. Few actually heed the requirement that their extension cord be rated to match the appliance it's plugged into. Extension cords running to computers, air conditioning units, and space heaters, and any major appliances must be able to handle the load. Otherwise the extension cord will heat up, causing the entire circuit to become unsafe and potentially able to create an electrical fire. Particularly, dangerous is the habit of running an extension cord under rugs, furniture, or anything else that will capture this heat, instead of allowing it to dissipate.
The Golden Rule
These myths are important to debunk for homeowners, but they don't compare to this single piece of advice: Don't, don't, don't do it yourself. Asked what the most common cause of faulty electrical wiring, Williams says without hesitation, "People trying to do it themselves, and people passing themselves off as licensed electricians." Plumbers and handymen are the most common posers, but as a homeowner, you absolutely must check to make sure the person you hire has the necessary licensing. The cost to wire your home correctly is well worth the extra peace of mind.
The DIY culture is a natural extension of American know-how, pluck, and the shortage of qualified contractors in the home improvement industry. Many homeowners turn to the Internet for information about their projects. This won't cut it for electrical work. In fact, many electricians refuse to dole out advice about projects online not to protect their profit margins, but to avoid getting sued by a homeowner who misinterpreted the information. When it comes to electrical work in your home, perhaps the best wisdom comes from Socrates. If you know nothing else for sure about your electrical wiring, know the fact of your own ignorance and hire a licensed electrician.
3 Comments