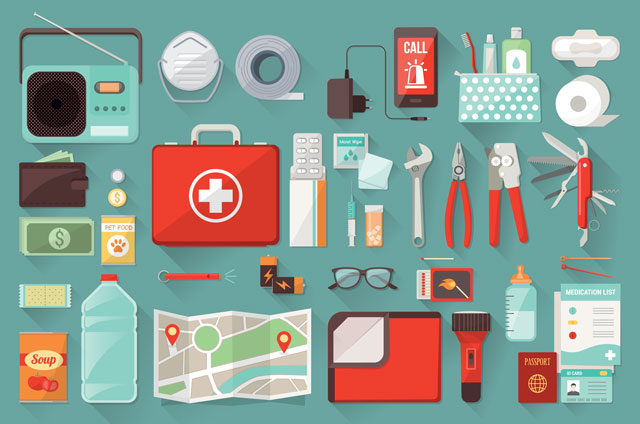 Protecting loved ones from injury is the top priority when a disaster strikes. A major event such as a storm or a fire generally brings a high degree of confusion and chaos along with it. It's also common for items to be in short supply in the wake of a disaster. Stores often close because they run out of goods. Emergency responders may be overwhelmed and unable to reach people who need help. By planning in advance, before a disaster response is needed, you can have supplies in place. Emergency preparedness and home modifications can help provide security to a family.
Federal Emergency Management Agency Preparation Guidelines
The American Red Cross and other agencies can assist families with creating a disaster plan. Citizens can contact local officials to become informed about the typical issues that may affect people in a specific area.
Community Hazards: Communities tend to have specific man-made and natural hazards that occur more frequently. These hazards may include earthquakes, tornadoes, hurricanes, and events associated with power plants and refineries.
Community Disaster Plans: Residents can inquire about local community response plans, emergency shelters, and evacuation plans. Ask about plans in place for specific areas where family members spend time, such as places of work, schools, and day-care centers. Anyone without access to private transportation needs to find out about community transportation available.
Community Warning Systems: Local authorities will have a means of warning residents about an impending disaster. Residents should find out how they will get information before, during, and after a disaster. Local emergency stations on the radio and television are one option so is a NOAA weather radio.
Make a Disaster Plan
Schedule a family meeting to explain potential disaster dangers and to prepare the family to respond as a team. This meeting should also include any caregivers. A disaster plan should include the following components:
Designate an Out-of-Town Contact Person: Choose a friend or relative who lives out of town to be a contact person. Everyone should contact this person to let them know their status and location after a disaster. Make sure every family member has this person's phone number. Give the contact person information such as insurance policy numbers and copies of important papers.
Choose a Meeting Location: If family members separate, they should meet at a specific location after a disaster.
Make a Communication Plan: Give important phone numbers to every family member so everyone can contact each other after a disaster. Teach children how to make emergency phone calls.
Designate Escape Routes: Create several escape routes in case of fire, and make sure everyone knows them. Instruct everyone to go to the lowest level of the home and away from windows if a tornado occurs.
Make a Floor Plan: Create a floor plan of every level of a home that includes windows, doors, stairways, large furniture, disaster supplies, fire extinguishers, utility shut-off points, and collapsible ladders.
Make an Alternative Plan for Special Needs: If family members have special needs, make a plan to ensure that these people have assistance.
Plan for Pets: Make a plan to evacuate with pets, if necessary. If shelters don't allow pets, animals may need to be boarded elsewhere.
Disaster Planning Actions
Families can take care of specific issues prior to a disaster to ensure that they are ready to respond accordingly. Some actions involve the purchase of and installation of tools or detectors that will enhance safety or enable a proactive response. Some actions involve gathering information. Other actions involve gathering supplies.
Utilities: Learn about when and how to turn off utilities such as water, electricity, and gas. If you need tools to turn off gas and water, keep these at the shut-off valves. Turn off utilities if you suspect damage.
Fire Extinguishers: Purchase fire extinguishers for every level of a home and ensure that all family members know how to use them.
Smoke and Carbon Monoxide Alarms: Purchase and install these detectors on every level of a home, including near bedrooms.
Insurance Policies: Purchase policies to cover against property loss. Check coverage to ensure that it will cover all potential damage.
First Aid and CPR: Take classes to learn first aid and CPR.
Home Inventory: Take inventory of possessions to enable an insurance claim after a disaster. Store home inventory information in a secure location such as a safe-deposit box.
Vital Records: Store family records such as marriage and birth certificates, passports, wills, deeds, Social Security cards, and financial records in a safe-deposit box.
Home Hazards: Reduce common home hazards by repairing defective electrical wiring or fixing a leaky gas connection. Repair cracks in home foundations and ceilings to prevent them from further damage in the case of a disaster. Schedule professional chimney maintenance to prevent heat and smoke damage to your home. Store chemicals such as pesticides, weed killers, and flammable items away from heat sources. Install furniture straps and hooks to keep bookshelves, cabinets, and appliances in place against wall studs.
If a disaster happens, know that disaster restoration services are available to help and can report and work directly with your insurance company while you get your day-to-day life back to normal.
Create a Disaster Supply Kit
Assemble a kit of supplies and items to take along if an evacuation. A supply kit eliminates the need to search for supplies in a crisis. Store the kit in a portable container near the door and review the contents regularly. Assemble the following supplies:
Three-day supply of nonperishable food for every family member
Three-day supply of water for every family member
Manual can opener
Battery-powered radio or television with extra batteries
Flashlight and extra batteries
First aid kit with instruction booklet
Hygiene items: moist towelettes, toilet paper, hand sanitizer
Waterproof matches
Extra clothing and blankets
Kitchen tools and utensils
Whistle
Photocopies of credit cards and identification
Cash: small-denomination bills and coins
Special needs items: glasses, contact lens solution, hearing aid batteries, medications
Infant supplies: diapers, bottles, formula
Tools and a map of the area
Pet supplies
Cold-weather gear: jackets, hats, mittens, scarves, sleeping bags, extra blankets, sturdy shoes, pants and long-sleeved shirts
Vehicle supplies: maps, white distress flag, windshield scraper, tire repair kit, flares, jumper cables, tire pump, shovel, tire chains, sand
Warm-weather supplies: sunscreen, shade items
Maintain the Plan and Kit
Review the disaster plan every six months to ensure that it remains up to date. Quiz family members periodically to ensure that everyone knows what to do in an emergency. Conduct regular escape and evacuation drills with family members, having everyone meet at a designated spot outside. Restock food and medical supplies in the disaster kit to keep items fresh. Discard expired items. Test smoke and carbon monoxide detectors twice each year, replacing batteries as necessary. Test fire extinguishers, following manufacturer recommendations for recharging them. Replace smoke and carbon monoxide detectors every 10 years.
Additional Resources
No Comments Yet