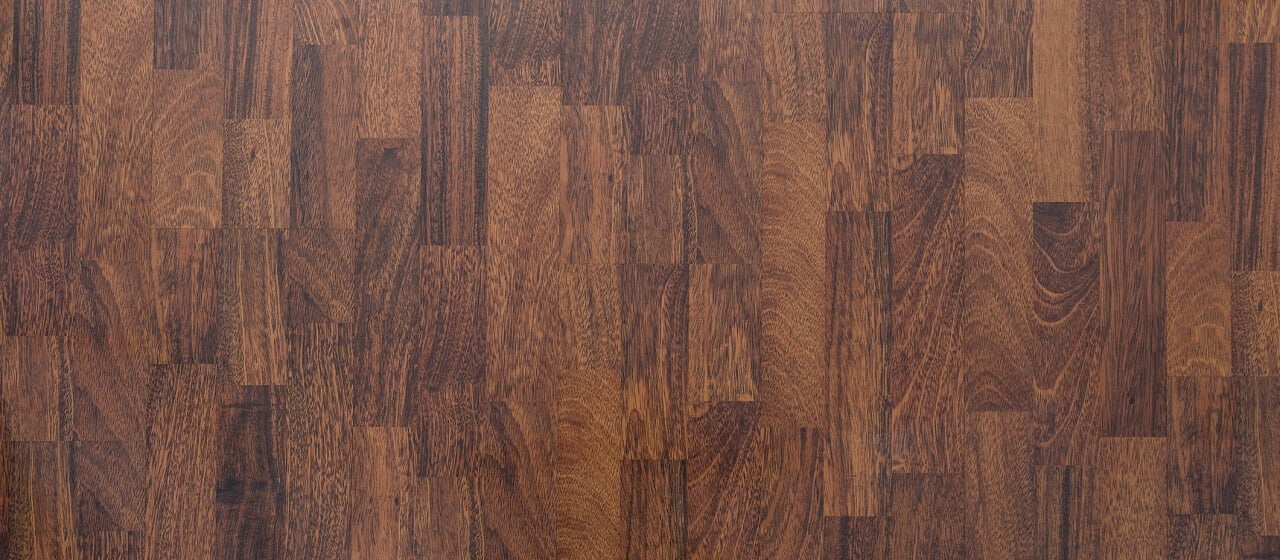 Left: © bradleyhebdon / iStock / Getty Images Plus / Getty images.
Right: © Tuomas Lehtinen / Moment / Getty images.
Is engineered hardwood the same as laminate? No, it's not. While both are popular human-made flooring materials, there are significant differences. Engineered wood is topped with a veneer of real hardwood, so it's hard to tell this flooring from solid hardwood. Laminate's top layer is a printed photograph of wood so it doesn't look as realistic, but it's more affordable than engineered flooring and is available in a broader range of colors and prints.
Let's explore the key differences between engineered hardwood and laminate.
On This Page
What's the Difference Between Engineered Hardwood and Laminate?
Both materials are composites. They are made of multiple layers compressed and adhered to one another. Due to their construction, engineered wood is closer in size and density to solid hardwood, while laminate is much thinner, with an average thickness of around 12 mm or 0.47 inches.
Engineered Hardwood
Engineered hardwood is comprised of multiple thin base layers of high-density fiberboard, plywood, or unfinished hardwood. A hardwood veneer of up to 1/8" adheres to the topmost layer, then each plank receives layers of stains and sealants. It isn't as prone to warping or moisture damage as solid wood and, unlike laminate floors, homeowners can refinish engineered wood a few times.
Laminate
Laminate flooring isn't entirely synthetic. It consists of a moisture-resistant, stabilizing base layer and a core of compressed layers of high-density fiberboard, often set in resin. A photographic layer sits on the top, and the planks receive a final coat of resin for added durability. The printed layer can look like wood, stone, tiles, pebbles or virtually anything else.
Because the top layer is only a print, laminate flooring isn't a viable candidate for refinishing or repairing. Instead, you must replace each damaged plank.
Engineered Hardwood vs. Laminate: Which Is Better?
| Laminate is Best for… | Engineered Wood is Best For… |
| --- | --- |
| Cost | Appearance |
| DIY Installation | Resale Value |
| Dog & Cat Owners | The Environment |
| Durability | Repairs |
| Maintenance | Moisture Resistance |
| Radiant Heating | Radiant Heating |
Whichever room you're installing flooring in, laminate and engineered flooring are both viable options, although each has characteristics that make it better suited to specific applications. Laminate, for example, is inexpensive, easy to clean and a good option for dog and cat owners. Engineered wood, on the other hand, is moisture-resistant, compatible with under-floor heating and can increase the resale value of a property.
Appearance
The Best Appearance: Hardwood
Appearance is a key factor in material choice. However much you're investing, you want to love the final product.
Engineered Hardwood
Pros
Almost impossible to tell apart from hardwood
Exotic wood species are less expensive because the veneer is thinner than solid hardwood
Cons
Requires regular cleaning and maintenance to prevent dullness
Laminate
Pros
Can mimic any species of hardwood
Appearance getting closer to hardwood due to improvements in manufacturing
Cons
Looks artificial due to high-gloss appearance
Cost
Cheapest Initial Outlay: Laminate
Your initial outlay obviously influences your material choice. However, you should also account for ongoing costs. For example, laminate is cheaper per square foot initially, but engineered flooring can withstand several rounds of refinishing, whereas laminate must be replaced if it gets worn or damaged. Long-term, engineered planks are likely to be a better value.
Engineered Hardwood:
Laminate:
Laminate costs $1-$5 per square foot, not installed
The better the print layer, the higher the cost
Care and Maintenance
Easiest to Maintain: Laminate
You want a floor that's easy to clean and care for on a daily basis. Luckily, both materials are reasonably easy to maintain with a bit of basic care.
Engineered Hardwood
Pros
Wood is smooth and won't trap dust
Easy to clean with a damp mop
Cons
Furniture pads should be used to prevent scratches
Regular waxing necessary to maintain shine
Laminate
Pros
Easy to wipe clean
Doesn't trap dust; good for people with allergies
Won't scratch as easily as natural materials
Cons
Top layer can bubble and distort with the use of hot steam mops and power cleaning
Improper cleaning can shorten lifespan
Durability
The Winner in Toughness: Engineered Hardwood
Durability is a vital consideration. Even if you're opting for budget materials, you want your floor to last and keep looking its best for as long as possible.
Engineered Hardwood
Pros
Stronger and more water-resistant than hardwoods
Suitable for refinishing multiple times to extend lifespan
Lifespan of 20+ years with care and maintenance
Cons
Made from natural products, so not completely immune to moisture
Laminate
Pros
Compressed layers are strong
Ideal for high-traffic areas
Cons
Limited quality: Doesn't last as long as hardwood floor alternatives
Cannot be refinished
Installation and DIY
The Winner for Easy DIY Installation: Laminate
While DIY installation is possible, for the best results, opt for a professional. Take a look at the unique installation challenges of both materials.
Engineered Hardwood
Pros
Click and snap planks make installation easier
Glue and nails can secure thinner planks
Cons
Installation over concrete slabs is challenging and labor-intensive
Not suitable for novice DIYers
Laminate
Pros
Easy to install
Can "float" over existing floors
Cons
Could require the use of a table and chop saw
Underlayment and vapor barrier need to be added if laying on concrete slabs
Moisture Resistance
Best for Basements and Bathrooms: Engineered Wood
It's not just kitchens and bathrooms—anywhere you might want to mop the floor or enjoy a beverage is at risk of moisture damage, so factor this in when making your decision.
Engineered Hardwood
Pros
Tightly compressed layers help block moisture
Doesn't swell and buckle
Has the look of hardwood but without the risk of warping and water damage
Cons
Contains natural materials that can potentially rot and grow mold
Joints are prone to water damage
Moisture can seep into planks if seal is damaged
Laminate
Pros
Moderate protection from moisture if installed properly
Less likely to grow mold
Cons
More prone to water damage, especially when installed as a floating floor
Moisture can seep into the space between the laminate and the subfloor
Water can penetrate exposed seams
Repair
Best for Ease of Repair: Engineered Wood
Your floors will inevitably take damage from claws, furniture, feet and more. Here's how easy it is to repair each type.
Engineered Wood:
Thick veneer can withstand multiple rounds of refinishing
If veneer is less than 2mm thick, it is unsuitable for refinishing and requires replacement
Laminate:
Quick to remove for replacement
Cannot be refinished
Environmental Impact
The Greenest Option: Wood
While both are composite products, the construction process, sustainability and wider environmental impact are all increasingly important considerations for many homeowners.
Engineered Wood:
Contains a high percentage of natural materials
Veneer is sliced (not sawed), which produces less sawdust and waste
Reuses plywood and fiberboard
Laminate:
85% of laminate flooring is recyclable
Laminate is LEED Certified
Pets
The Winner for Pet Owners: Laminate
Pets: They're cherished family members, but their claws and their antics can wreak havoc on your floors. Here are important floor considerations for your four-legged friends.
Engineered Wood:
Engineered wood is loud when pet claws clatter across it
If claws eventually damage it, engineered hardwood can be refinished
Laminate:
Resists pet scratches
Toilet accidents must be cleaned immediately to avoid moisture damage
Radiant Heating
Ideal for Radiant Heating: Engineered Wood
Radiant heating keeps your flooring fantastically warm to the touch and efficiently heats your home, but it isn't suitable for all flooring types.
Engineered Wood:
Most engineered wood is durable enough to withstand temperature change
Always check with the manufacturer before purchasing
Thinner planks work better with radiant heat
Laminate:
Gapping may occur when heat is on
Laminate flooring does not conduct heat efficiently
Only specialized laminate is compatible
Resale Value
The Best Product for Your Home's Value: Engineered Wood
While neither product will increase the resale value of your home as much as solid hardwood, new flooring definitely makes an impact.
Engineered Wood:
20+-year lifespan
Has a classic appeal
Can increase the value of a property almost as much as hardwood flooring
Laminate:
A high-quality laminate can increase the value of a home slightly
Poor quality laminate can bring down a home's value
Which Is Best for Your Home?
Whether laminate or engineered hardwood is best for your home depends on what finish you're looking for, your budget, and which rooms you're planning to renovate.
Bathroom Flooring
For the bathroom, neither of these products are ideal as both are susceptible to water damage. Instead, choose something from the best bathroom flooring materials. If you absolutely must decide between engineered wood vs. laminate for the bathroom, go with engineered wood as the seams are less exposed and it's overall more moisture-resistant than laminate.
Kitchen Flooring
Engineered wood is the better option in the kitchen because it adds more long-term value. It can also be refinished and, if you care for it properly, it stays beautiful for 20+ years.
Living Room Flooring
Engineered wood mimics hardwood so closely that it's the best choice for your living space. This room is likely the biggest and most used space in your home, so you want a floor that adds beauty and character. If you're on a budget and want to really enhance one room, this is where to put your money.
Engineered Wood vs. Laminate vs. Other Materials
Choose a type of flooring that enhances your home, fits your budget and is well-suited to your lifestyle and the room you're remodeling. See how laminate and engineered wood stand up against other popular flooring products.
Vs. Hardwood
Hardwood costs more than laminate but is similar in price to engineered wood. This flooring can be refinished many times and often increases resale value more than laminate or engineered planks. They also have a longer lifespan if cared for properly.
Vs. Vinyl
Vinyl floors cost less than engineered wood but are on a par with laminate. Vinyl, like laminate, can look similar to wood but can also mimic other natural products, ceramic tiles or can have its own unique design that doesn't look like anything else. Similar to laminate, vinyl won't add long-term value to your property, but it is a good budget-friendly option.
Top Engineered and Laminate Flooring Brands
| Top Laminate Brands | Top Engineered Flooring Brands |
| --- | --- |
| Shaw | Armstrong |
| Top | Anderson |
| Armstrong | Bruce |
| Pergo | Columbia |
| Bruce | Mohawk |
| Mohawk | Somerset |
5 Comments