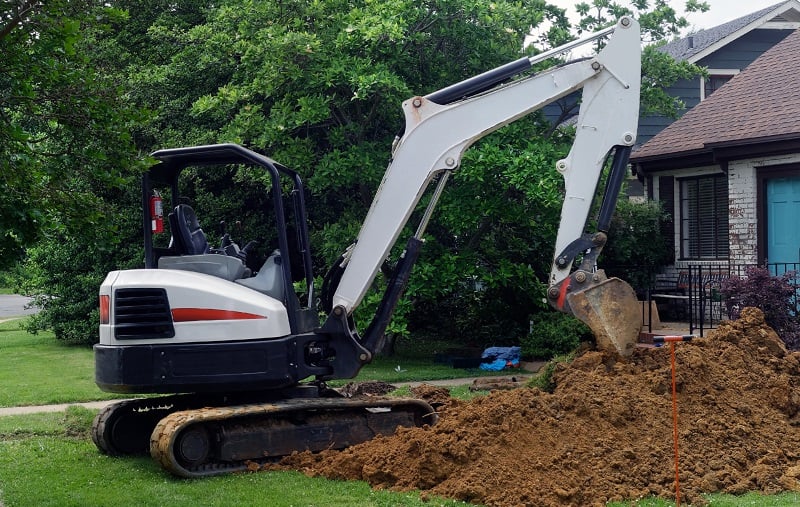 Excavation contractors dig, move and grade the earth using heavy machinery for various construction projects. The most common jobs include trenching, grading and landscaping. Trenching includes installing wells, sewers, utilities, and foundational supports. Excavation contractors usually subcontract as part of larger projects. This means your general contractor takes care of all hiring and project management.
This guide covers everything an excavation contractor does, what to expect and why you need one for almost any construction project.
On This Page:
What is Excavation Work?
Excavation work is the movement of rock and dirt to create a space for construction work to begin. It includes digging holes, grading land and leveling for:
Foundations
Roads, driveways and sidewalks
Sewer lines
Pipes
Drainage
Landscaping
Before any project starts, the landscape must be moved, graded, and made ready to architectural and engineering specifications.
Preparing the Land for Excavation for House Construction
One of the most common applications for a dirt mover is readying the land under and around the site of a new home. Excavators move in once all zoning, permits and engineering plans get completed. Before any hole is dug, a couple things happen to prep the site:
They work closely with other experts, such as permit services, utility companies, and land surveyorsin order to prepare for the dig.
They clear the area of any troubling obstacles, such as trees, logs, roots, brush, or boulders.
Site Excavating or Digging
Once a project has been approved, surveyed, and staked out, it's ready for excavation. These pros can help:
Trench for foundations, pools and utilities. They'll also backfill around any concrete work.
Grade and smooth the soil. Happens after any foundations are poured and backfilled. It's necessary for correct drainage away from buildings and for driveways, sidewalks and landscaping.
Demolish any pre-existing structures. It takes a lot of delicate skill and restraint to remove obstructions while preventing damage to necessary surroundings.
Haul away dirt and debris.
Return to Top
Landscaping, Grading & Excavating
Beside prepping for homes and roads, you'll often find them working to transform the land around existing structures for grading and landscaping.
Grading the soil preps the site for foundations and driveways and reduces the chance for future water problems. Creating proper drainage is essential. They grade the land in preparation for all landscaping installations. Often, an earth moving company takes care of all the engineering required for drainage.
Additional Excavation Work
House demolition costs $3,000 to $25,000. The same machinery needed to move dirt also works to tear down and move away old structures.
Cut and Fill. Cut and fill means moving earth from a high area to fill in a lower area. This levels out large stretches of land in preparation for road construction. Essentially, they're leveling out a hill and using that dirt to fill in small depressions or valleys.
Land clearing costs $1,200 to $4,200+ depending on the area you need cleared. It includes clearing the land of all trees, shrubs and even small human-made structures. Often used in preparation for new farm land, parks, parking lots and other structures.
Return to Top
Excavation Services
Once the landscape is prepped, it's time to start digging. By using an excavator (a large crane-like piece of equipment) these professionals can burrow into your land.
These earthmovers can help cut out driveways, curbs, gutters, and trenches. They work closely with utility companies to trench for electrical, telephone cable, and water lines, as well as preparing the ground for well or septic systems.
Pool Excavation Contractors
Pool excavation often proves to be one of the more difficult jobs. However, it's a specialty that most pool installation professionals either sub-contract out or do themselves. A few things these pros consider while pricing out jobs include:
Retaining walls. Once a pool is installed, the pro fills in and compacts the dirt around the outside of the walls. This process of backfilling must be done correctly since it helps support the walls of the pool. Unlike a basement, this hole is filled with water, creating extra pressure. They'll need to carefully consider soil composition and address any erosion issues.
Costs go up as accessibility goes down. The job takes far longer when pros can't position large earth-moving equipment, like a backhoe, near the dig site. Manual digging or with small excavators takes far longer. Weigh fencing costs and landscaping costs against the added price of manual earth removal.
Foundation & Basement Excavators
Excavation contractors are sometimes employed to dig out foundations and basements. Basement excavation costs vary, but most homeowners pay between $1,300 to $4,500. If you're building a new house, this service is included in the overall price.
Larger companies that specialize in foundations often do both the excavation and concrete work. This varies by location and often both jobs are subcontracted out to specialists. Installing foundations costs an additional $4,000 to $12,000.
Once the foundation is finally formed, the dirt movers will fill in around the outside of the walls, called backfilling. This helps support the structure. When done properly, it's also critical for correct drainage around your foundation.
Return to Top
Residential House Excavation Contractors
On rare occasions, you'll want to put a basement or foundation under an existing structure. It's one of the more expensive operations, usually running from $20,000 to $50,000 or more. Raising the house off the foundation costs$3,000 to $9,000 alone.
The process involves jacking up your house, bracing it and then digging a hole underneath.
Once the hole is prepped, a foundation professional comes in and pours the foundation.
After the concrete sets, they'll lower your house and tie it to the slab.
Driveway Excavating
The concrete contractor you hire often does all the excavation for driveways. In some rare cases, where large amounts of dirt needs to be moved, they'll subcontract with a specialist. However, most driveways only require small, rentable equipment like a skid loader.
Drainage Excavator Professionals
Drainage excavators often work with landscapers and outdoor architects. Proper drainage happens both on the surface and under the ground. Drainage tiles, layers of rock, gravel and clay, and human-made drain pipes all take part in keeping your basement dry and your yard from washing away.
Installing drainage systems costs$1,800 to $5,000+. There are a few types of systems to consider when looking for a drainage installation professional near you. These include:
Trenches and Channels.
Catch Basins and Storm Drains.
Yard Sloping.
Backhoe Operators
A backhoe with an operator is one of the most commonly contracted services. It's a versatile machine that can trench, dig foundations, prep for pools and level the land.
Return to Top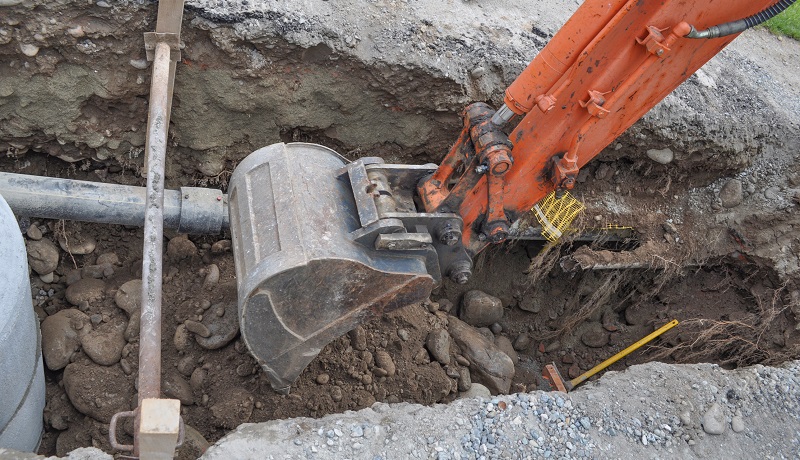 Trench Digging Services
While most companies provide this, some smaller operators specialize in this type of work. Trenches are long and narrow with varying depths.
Trench digging costs $400 to $1,200. You'll need it for a variety of projects, which include:
Foundation footings.
Utility lines.
Sewage and drainage pipes.
Water pipes.
Keep these tips in mind when looking for services:
Laying sprinkler systems: most landscapers do this themselves.
Don't employ a trencher for utilities without first contacting the utility company or city. Often, they'll want to oversee this process.
Hiring Excavators
Hiring a home builder and excavator for any type of work should be done with care and conversation. Interview several pros and check previous work. For larger projects, expect the general contractor to take care of all earth moving subcontracting.
Start by finding an excavation contractor near you.
Excavation Contracts
Never get work done without a solid, straightforward contract. They'll offer you certain services for a set price, including:
Supplying equipment and operators.
Digging the dirt and rocks.
Moving or hauling debris and earth away.
Grading and spreading dirt.
Demolishing and clearing the land as needed.
Contingency Clause: states that anything outside the scope of the agreed upon services comes at an additional cost. This includes things such as boulders and natural springs
Until you open it up, the ground is a bit of a mystery. While an experienced digger can give you best guesses as to what they'll find, expect contingency clauses in a contract.
Liability Clause. The contract should also list liability for mistakes. In most cases, the contractor is liable for mistakes. However, it gets tricky if you're the general contractor.
If you're acting as the general contractor, remember to:
Get certified plans from an engineer or architect.
Get all necessary permits.
Acquire insurance.
Survey the land.
Call the dig line.
Questions to Ask When Hiring an Excavation Contractor
Are you licensed and bonded?
Do you carry insurance?
Can I see examples of your past work?
Do you have any references I can check?
Do you belong to any trade organizations?
Do you do the work yourself or subcontract it out? This is not necessarily bad, but make sure they use the same subcontractors each time for consistent quality rather than just hiring the lowest bidder.
Some question to discuss with your pro for planning, grading and landscaping:
Which way will the storm water flow and how will it affect the property?
How will drainage systems affect neighboring property?
What is the soil composition and how will that affect deadlines, drainage and cost?
Where will future structures, like a driveway or pool?
Where are erosion barriers, like retaining walls and plants, needed?
Return to Top
FAQs
What is the definition of excavation?
The term "to excavate" literally means to unearth, lay bare, or hollow out. Excavation is the act of moving dirt.
What do excavation companies do?
Excavation companies offer full-service earth moving operations for every type of project. Unlike independent contractors who have limited machinery, these companies have a fleet of various vehicles to get any project done.
What do dirt contractors do with the earth after trenching?
They'll either haul it away or spread it around following landscaping designs. It's far cheaper to keep the earth on site than have it hauled away.
How much do excavation & trenching contractors cost?
Excavation contractors cost $1,500 to $5,000 or $50 to $300 per hour, depending on the equipment needed.
When is the best time to hire an excavator?
The best time to hire an excavator is during your local offseason. Usually, late fall, before the ground freezes but after the main construction season is over. Early spring and winter make great offseason opportunities to find deals and get the work done quickly.
Return to Top
1 Comments