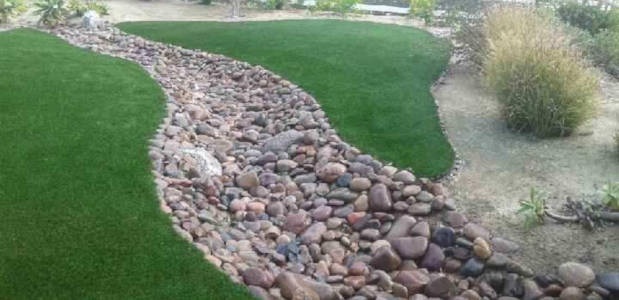 When fall is fast approaching and winter rains are not far behind, it is a good time to start planning your landscape improvements to solve drainage problems that might have surfaced last winter, clean up any mess left by last year's water, and create an attractive new yard that will help prevent property damage in the future.
Q: Poor drainage in our back yard caused a lot of water damage to our house last winter. What can I do to avoid this problem in the future?
A: The problem most often can be tackled by a landscape professional to determine the best solution. This usually includes grading of the property to divert water away from the house, underground and surface drains, and sometimes removal of obstructions such as a poorly sloped patio.
As long as you are tearing your yard up anyway, consider hiring a professional landscape designer. With proper planning, you can incorporate attractive features to improve your yard far beyond simply installing a few drains.
A dry cobble creek accented with boulders will not only handle the drainage, but will also give you an interesting focal point in your yard that requires no maintenance.
Sometimes terracing helps control a slope's drainage, also giving you planting beds that are nicer looking and easier to maintain than a hillside.
A badly poured concrete patio can be replaced with properly installed attractively designed, colored, textured and/or multi-leveled surfaces to create a much more appealing place in the yard to gather with friends and family.
Proper planting of shrubs and trees that help to control erosion can be selected with aesthetics in mind to give you a colorful, low maintenance yard as well.
Q: My yard always looks so drab, dreary and boring once the summer flowers stop blooming. I have nothing to enjoy in the fall or winter. What can I add to my yard?
A: Fall is the best time of the year to plant because it's the best growing season. Winter is the time of year to transplant when shrubs and trees are dormant. So now is the ideal time to develop a landscape design to make changes in your yard.
A quick lift can be provided with several plantings. Some of the following plants are good suggestions:
Euryops pectinatus, a bright yellow flowering evergreen shrub, will bloom all 12 months, right on through the winter. It needs a warm, sunny spot and three to four feet of space to grow. It is especially nice to see when so many other plants are dormant.
Cercis occidentalis (Western Redbud), a favorite small tree of mine, provides interest all year. In spring it is covered with magenta flowers, in the summer bright blue-green foliage combine with magenta seed pods, in the fall the tree turns light yellow or red and in winter the bare branches are beautifully patterned and especially pretty when lit at night. The Western Redbud thrives in a dry location after watering the first two years.
Scaevola (Mauve Clusters or Blue Fan Flower) is my favorite ground cover. Its tight growth and low mounding habit really keeps the weeds out. Its rich small evergreen leaves display a mass of tiny purple flowers January through November.
Hollies come in so many varieties as ground covers, shrubs and also trees. Most are evergreen, rich in color with bright red berries and wonderful for decorating your home at Christmas.
Of course, nothing is prettier than a camellia to display lots of winter flower color. They come in an array of colors and sizes, but do need some afternoon shade in our hot summer climate.
To liven up your outdoor living in the winter months, perhaps the addition of a portable spa would be nice, both for relaxing and entertaining. It can be incorporated in a multi-level deck with built-in planters.
Another feature which provides hours of family fun would be the addition of a fire pit. It can be constructed by a landscape contractor or purchased inexpensively at a home outlet store. It's great to huddle around a warm outdoor fire on a cold winter evening.
A professionally designed landscape plan will break down the steps needed to refurbish your yard, from deciding whether to prune, move or eliminate overgrown shrubs to selecting the right plants according to color, growth patterns and maintenance concerns.
Whether you hire professionals to do the installation or intend to do some or all of the work yourself, a plan will keep you on track and save you from wasting time and money on costly mistakes.
Ready to start your
Landscaping Project

?Find Pros
If you plan to make more extensive changes, such as adding or moving decks, patios, gazebos or even a pool or spa, a plan is essential to doing things right. Even if you don't plan to start the actual work until next spring, working with a professional landscape designer now to incorporate all your needs and desires will give you a real jump start over others who don't even think about their landscaping until the trees start to bloom.
Your landscape is an extension of your home, and improvements not only make your living environment more enjoyable, but increase the property value as well.
Kathy Maynard has been matching homeowners with home improvement contractors since 1990 and has written scores of articles advising homeowners how to find, hire and work with reputable service professionals. She also authors Weekend Warrior, a weekly home improvement column in The Sacramento Bee.
No Comments Yet