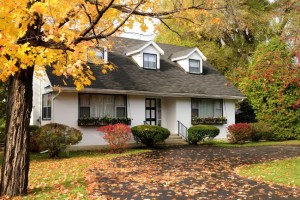 The summer season is quickly simmering away and fall will be here before you know it. Before you head out to snatch up the first pumpkin spiced latte of the season, take a few moments to prepare your home's landscape. Fall is a season of vivid colors and is a perfect time to spend mornings and evenings out in your yard sipping on something warm while bundled up in a light jacket. With a few great landscape ideas, your yard can become an autumn oasis.
Fall Foundation
The very first thing that you should know about landscaping in the fall is that you should focus on the colors and textures of your project. Even the smallest of spaces can look quite large with a few well placed large shrubs and small trees. Focus on layering trees and shrubs to give the impression that your yard stretches on for miles. Japanese maples are great for just this occasion.
It's also a good idea to plant a few evergreens around the edges of your yard. They're great for privacy and for giving the rest of your landscape a lush backdrop. One word of advice with evergreens is that it's best that you select those that will grow to the right height for your lawn. For instance, an Australian pine only reaches about 15 feet tall and eight feet wide while a fernspray false cypress reaches ten feet tall and four feet wide.
Paint Your Home
Don't only focus on your yard when it comes to landscaping. The fall time is a great time to give the exterior a fresh coat of paint for $1,500 to $3,600. If the paint on your home is fine, consider taking care of any areas of chipped paint that you might have and repairing your siding for $250 to $919. It would be a shame to have a spectacular landscape only to have a home that's in desperate need of a new coat of paint.
While you're at it, you can also add a few plant or window boxes to your home. Some of the advantages of including such boxes with your landscaping design are:
Giving texture to the exterior of your home
Bringing color to your brick, siding, or colored exterior
Adding greenery to homes that don't have much in the way of open grounds
Develop Good Plant Habits
While you're picking out your plant selection for fall landscaping, pay special attention to plant habits. What this means is focus on the shapes that plants have as they grow. Some have a narrow, upstanding shape while others develop a gentle downward curve. Consider mixing and matching plant habits to give your yard a hint of intrigue and allure.
If you want to add a pattern to your fall wonderland, repeating plant shapes is the way to go. If there are taller trees in the background around your yard, you can copy those shapes to blend the background and foreground together better. To break up the pattern a bit and add some interest, use repeated plant shapes but change up the colors here and there. Great options for color include blue-silver spruce, blue-green pine, and deep green arborvitae.

Ready to start your
fall landscaping

?Find Pros
Don't Forget About Hardscaping
Make sure that you leave some room for hardscaping this fall season. Sidewalks, rock formations, pavers, fountains, and stone retainer walls are all great options. If you do decide to balance your soft landscaping with hard landscaping, go for something that is functional, offers safety or security, and adds to the overall beauty of your property. Two great things about adding a fountain — which costs anywhere between $964 and $4,072 to install — is that it can make you feel more secluded and it also blocks out noise coming from nearby streets.
If you find yourself hard-pressed to make a decision regarding the type of hardscaping to include, stone is a popular choice because it doesn't take too much work to take care of and fits in well with nearly every style of landscape. Should you be able to find a type of stone that is native to your particular area, all the better. Don't be afraid to include more than one type of stone to add variety.
Keeping Up Appearances
No matter how much you might enjoy the sight of leaves drifting lazily through the air as they fall from the trees, that's no excuse for you not to rake up the fallen leaves in your yard. When you go out into your yard, those fallen leaves can become slippery and pose as a safety risk to you, your family, and your guests. Something else to think about is that those fallen leaves can be concealing something that requires your attention, such as a sidewalk that needs to be repaired. Take out some time every week to rake up your lawn.
You'll also want to make sure that you keep up with pool maintenance during the chillier months of the year. Just because you don't plan on swimming in your pool doesn't mean that you don't have to keep the chemicals balanced and the water free of bugs, leaves, and various debris. To make things easier on you, clean your pool whenever you rake up the leaves in your yard.
A Plant for Every Season
To save yourself some time and money on landscaping, include plants that look fantastic in your yard no matter what season it may be. Great examples include:
Hydrangeas
Pagoda dogwood
Fothergilla
Ninebarks
Viburnums
Plan Ahead
Before you throw away all of those leaves that you're raking up, think about making them into a compost pile. Compost piles don't take up much space and make great fuel for your plants and soil for next year. Besides ground leaves, you can also add grass clippings, vegetable trimmings, small branches and sticks, and loose flower petals.
Before you trade your shorts and flip-flops for jackets and boots, spend some time out in your yard developing your fall landscape. Rather than traveling to see the most beautiful autumn locations, you can take a look outside your window and admire the majesty of the changing seasons.

Ready to start your
fall landscaping

?Find Pros
No Comments Yet