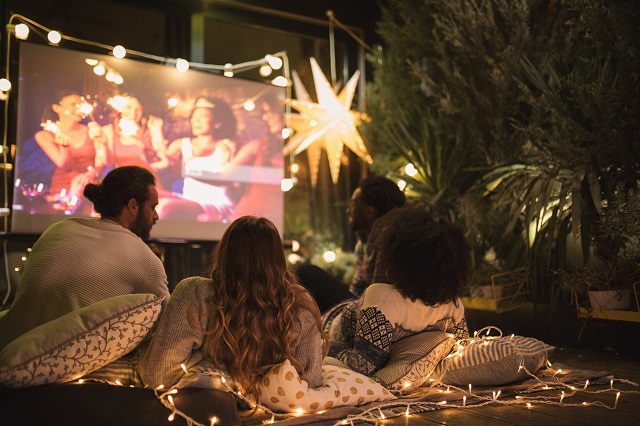 It's easy to transfer your 16-millimeter memories to a DVD or another digital device these days. There are a lot of advantages to consolidating your analog library. You can play them anytime you want, edit them, add music to them, and share them with family and friends via email or social media.
Perhaps you're not after the convenience? After all, a roll of 16-millimeter film to an enthusiast is like a vintage vinyl album to a music connoisseur. The draw is not the high-definition picture or the special effects. It's the opposite. True lovers of the medium are drawn to the cracks and pops, the scratches and skips, and the imperfectly projected memory of a forgotten history or story.
To watch the film in its original form, you'll need a minimum of three things: a projector, a screen, and the right setup. Depending on what type of experience you're going for and how much time, money, and energy you want to spend procuring and creating your at-home film fest, you have a plethora of options.
Projectors
The only way to watch 16-millimeter film without digitizing it is to use a projector. While there are some modern applications for the film, unlike instant film and vinyl records, this particular technology has yet to make a comeback in the consumer world. In other words, a quick search on Amazon.com won't yield an endless list of compatible projectors the way it will instant cameras and turntables.
Due to the age of the film and the outdated technology, you'll need to search a little harder to find a suitable unit. Your best bet will probably be a vintage model that has been taken care of or has been rebuilt. You can start with sites like eBay and Etsy, which are full of models from top manufacturers of the time, like Keystone, Kodak, and Bell and Howard.
Within the category of 16mm film, there are several different types of projectors. So, in addition to ensuring you purchase one that works, you need to find one that will play your specific roll of film, based on the following criteria:
Pitch – Long-pitch and short-pitch perforations are spaced
Perforations – Single-perf film is perforated on one side, double-perf on both sides.
Type – Is your film standard, super, or ultra? Each class has a different image size and/or aspect ratio.
Sound – Some 16mm film has built-in sound, indicated by a visible soundtrack on one side of the roll. Your projector will need built-in speakers to play it.
Screens
Technically, an old, white sheet hung on the wall will work as a projector screen. While inexpensive and quick, a wrinkled, lumpy bed covering is far from the ideal movie-going experience. Luckily, there are a variety of ways to acquire a high-quality screen. Regardless of your budget, you have options.
Paint one. If you have a free wall, you can paint a projector screen on it. Pick your shade based on the number of lumens your projector uses, and be sure to fix any flaws before you begin. You should also measure your projection box to match the dimensions of the image that you'll see, and add a black box to increase contrast.
Stick one up. Try removable wallpaper or a stick-on decal. These are available to buy pre-cut in various sizes and ready to peel and stick to the wall. Again, measuring the ratio is important to get the projection to fit.
Pull one down. A traditional projection screen tucks away nicely, which both protects the surface and keeps it out of the way. You can choose a manual or electric version, on a stand or mounted to the wall or ceiling. Just make sure you have enough clearance in your desired space.
Blow one up. You read that right. Inflatable screens are now available for indoor and outdoor use. Simply blow it up when you need it, and deflate it when you're done. Most of these models utilize an electric air blower to continuously fill the unit with air, which may be noisier than you'd like.
Pop one up. If you are looking for a truly mobile screen, try a pop-up version. It is slimmer than the blow-up model, and it doesn't require any electricity. You can fold it up and take it anywhere.
Setup
Just as important as finding the right equipment for your at-home film fest is creating the perfect space for it. You don't have to have a professional-grade home theater, which is excellent news since most people don't. Of course, you can always build a home theater or hire a home theater pro to install one, if that's the vibe you want. Depending on what type of experience you want, you might not need much at all.
Here are a few basics when it comes to setup.
Seating
The type of lounge furniture you need will depend on the audience you plan to serve and space you're using. If you're interested in hosting a full-on film fest, you may want to take your event outdoors. You can rent seating to go with your oversized blow-up screen, or you can ask attendees to bring lawn chairs. If you're looking for a more intimate event with a few friends, your existing living space will probably do. Comfy couches (like these famous ones from movies and TV shows), floor pillows, and other lounge seating will do nicely.
Sound
If your film has sound, you may need to plan to amplify your projector's built-in speakers, especially if you expect a crowd. Hiring a home theater and audio specialist can help you with this step. If your film doesn't have sound, however, you might want to select a soundtrack of your own to play in the background.
Whether you choose a Bluetooth speaker or a more professional option will, once again, depend on the crowd and your wallet. Either way, try to minimize ambient noise (like car engines, weather, or appliances) if you can. Don't forget to set your cell phone to silent!
Storage
If you plan to enjoy your film reel collection for a long time, you'll need to store it in a cool, dry, and breathable environment. Aim for 40 degrees Fahrenheit and 40% humidity. Consider investing in a mini fridge specifically for film storage. Just be sure to remove all plastic and rubber parts from the reel before storing.
Snacks
Last, but not least, don't forget to put out a casual concession stand. Novelty popcorn poppers can be affordable and easy to find online or at your local home goods store. Don't forget the drinks to refresh salt-parched palates. Create a buffet of sweet snack options to make it a full movie-going experience.
Whether you're hosting a one-night, vintage event or want to watch home videos with your kids and grandkids, a 16mm home movie setup is an easy and affordable project. With a little bit of planning, the right equipment, and a bucket full of extra-buttery goodness, anyone can enjoy a little bit of cinematic history.
No Comments Yet