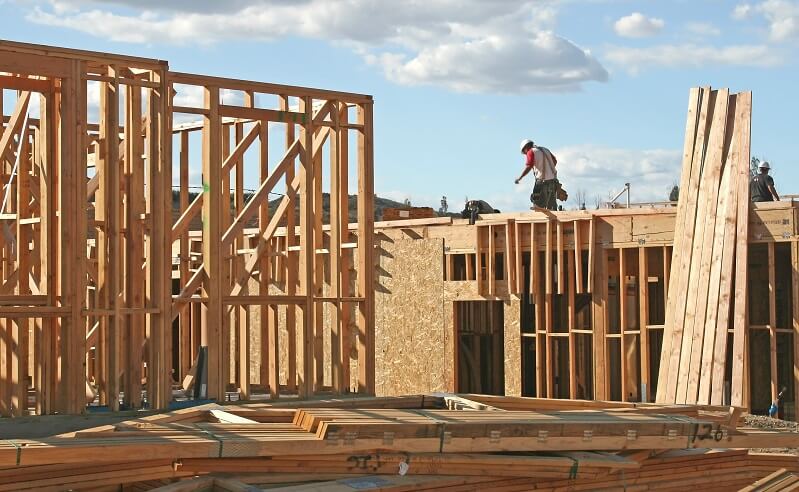 Finding a Builder to Build a House
An experienced professional can help you design and construct the home of your dreams. This guide will help you find and choose the right one.
On This Page:
What is a Home Builder?
The term "home builder" can apply to any contractor involved in constructing residential housing. However, the type of builder you need depends on the type of house you want and how big a role you want to play in the process.
Home Builders for Hire
Home builders provide turnkey services. An in-house crew of professionals works with the client on every aspect of the project, from design and development to construction and installation. The only exceptions are jobs like plumbing, electrical, or HVAC work. In these instances, a builder will sub-contract a licensed pro.
Builders spread their profit over every part of the process, which allows them to roll all charges into the purchase price of your home. This means homeowners can finance the home builder's service as part of their mortgage or builder's loan instead of paying for it out of pocket.
Hiring a General Contractor
General contractors (GCs) hire and manage the pros who construct your home. They are also in charge of acquiring permits and materials. Most clients use their own architect to design a floor plan and hire a GC to implement it. Clients typically sign a contract that includes a fee of up to 20% of the project cost in exchange for the contractor's services.
GCs schedule the project in stages and employ subcontractors at the appropriate times to help complete the project on time and on budget. Typical residential construction subcontractors include:
Grading
Finish Carpentry
Doors, Windows, & Siding
Framing
Cabinetry & Casework
Countertops & Tile
Flooring
Landscaping
Roofing
Concrete & Foundation
Masonry
Electrical
Plumbing
HVAC
Security System
Project Managers or Construction Management Companies
Project managers and construction management companies charge a fee to oversee the construction process. Independent project managers are typically local and can provide on-site services. However, management companies may be national corporations with limited personnel in your area.
Either of these options will cost less than a general contractor.
Typical Service Offerings

| Project Manager | Construction Management Company |
| --- | --- |
| On-site management | Remote assistance; some on-site supervision |
| Hiring subcontractors | Hiring subcontractors |
| Getting materials | Financing options |
Architects, Draftsman, & Structural Engineers
Architects, draftsman, and structural engineers turn a client's ideas into an actual blueprint. While the work they do is similar, each of these professionals play a separate role in the construction design process.
Architect
Design buildings and structures
focus on appearance and function
involved in a project from start to finish
Draftsman
Creates technical drawings to scale using computer-assisted design (CAD) software
produces blueprints and 3D models
Structural Engineer
Ensures design will function as intended
confirms plans meet regulatory and safety standards
Most projects need a combination of the three areas of expertise. A general contractor or builder will typically employ the necessary services as part of a client's contract. In this case, the overall price of the project quoted by the general contractor will include the cost to hire an architect or engineer.
Check out our guide with tips on how to design your own house>.
Consult with a House Builder
Custom Home Builders
Custom home builders typically construct a one-of-a-kind house to a client's specifications on his or her own land. They handle every aspect of the process, from site preparation and land development to building and landscaping.
Custom-built houses can be any size or style and can feature amenities the homeowner chooses. Some builders offer a variety of base floor plans, along with a catalog of features and finishes at a variety of price points. Clients can select and customize aspects of their home.
Alternatively, a client may employ an architect to design a floor plan from scratch and utilize a custom builder more like a general contractor.
Building a Spec Home
Spec home builders buy a lot, build a house, and sell it. If the house sells during construction, a buyer may choose to change the existing floor plan or add custom features and finishes. Like custom homes, spec homes range in size, style, and price.
Constructing a Production House
Also known as tract home builders, they construct several single-family units, condominiums, or townhomes. Price, size and style will be similar within a subdivision or neighborhood. Buyers select limited customization options from a menu of allowable upgrades.
Modular Home Manufacturers
Modular home manufacturers will build your unit at their facility while a contractor prepares the site, saving you time and money on the construction process. Because of the controlled building conditions and standardized construction techniques, many builders offer warranties on the structure of the modular unit.
Find the Right Pro For Your Home Build
How Much Do You Pay a Builder to Build a House?
Homeowners pay an average of $285,000, or about $150 per square foot, to build a home. The cost to build a house is always more than the cost of labor and materials alone, since you are paying a builder to oversee the project.
How to Find & Choose a Home Builder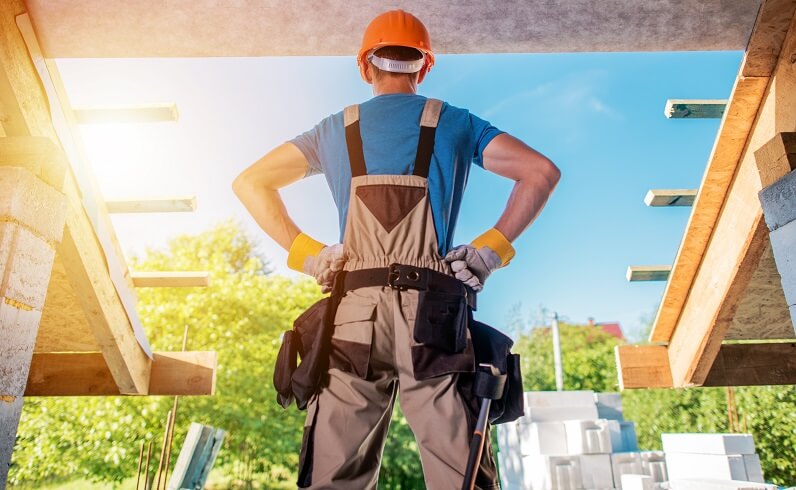 No matter what size or style of home you want, a reputable, licensed builder is a must. Before you begin your search, figure out how much you can afford. Most companies will require proof of pre-approval from a bank or mortgage lender. Then you should follow these steps.
Pick your niche. Most pros specialize in a certain price range or type of structure. Look for a company who has experience in the one you want.
Make a must-have list. Be clear about your must-have features to be sure your prospective builder can provide them.
Verify experience. Ask how long the company has been in business and how many homes they've built. You can also ask to see examples of their work.
Read Ratings & Reviews to Pick a Reputable Home Builder. Online reviews can be an early indicator of how well a company treats its clients. While they are not always a true representation, real people's opinions can help you hire a qualified contractor or avoid a fraudulent contractor.
Check credentials. Ask for proof of licenses and insurance information. Licensing requirements vary depending on your location and the size of the project. Check state-by-state licensing requirements. Then verify your prospective specialist has the right ones for the size and scope of your project. Call the issuing insurance agencies to verify the information is accurate and up to date.
Ask about warranties. An insured third party should provide home warranties. That way, even if your pro goes out of business, you're still covered. You should also ensure the builder will transfer warranties for fixtures and appliances purchased as part of the contract.
Take a tour. The best example of a company's work is one of its existing units. Tour a model unit and a job site, and pay attention to materials, workmanship, and safety.
Examine relationships. Most lenders, real estate agents, suppliers, and other industry professionals work with builders they like and trust on a recurring basis. These relationships can help you make a reputable shortlist.
Don't rush. Do your research. Take your time finding a person or company you can work well with.
Get Started On Your Home Builder Search
Questions to Ask When Building a New Home
In addition to the 15 questions you should ask any contractor, you should also cover the list of questions below when building a new home. Many of them can be asked over the phone, while others are best for an in-person site visit.
Will you provide references? Ask for references from customers, vendors, suppliers, and subcontractors. Call every single one.
Do you guarantee your work? Building codes don't always cover everything that's important to you, like downspout drains that can lead to wet basements. Ask your builder what happens if their work isn't up to your standards, even if it passes inspection.
How will you determine allowances? To prevent you from spending thousands of dollars out of pocket for fixtures and finishes, the contractor needs to set allowances in line with your price point from the start.
What type of wood do you use? Different types of wood have different strengths and applications. Using the wrong species can lead to structural problems. Engineered wood is the standard. Steel framing is another, more expensive option typically reserved for commercial applications.
Do you use copper or plastic plumbing? There are advantages and disadvantages to each material. For example, copper is more likely to burst in freezing temperatures. Make sure they give you reasons for the option they suggest.
How do you case your windows? Do they offer only a standard, flat option, or will they allow you to select a custom, extended windowsill?
How do you size your steel beams? Custom beams can mean fewer posts in the basement or a more open floor plan. Their response should indicate they are knowledgeable and open to those options.
How do you design a garage? Is it heated square footage? Does it feature installation? Do you offer hot- and cold-water hookups? Do you require a post in a large garage? These features require expertise and the willingness of the contractor to do the work.
Will you hire an expert to install tile? Tile is a difficult and expensive option, so you need to be sure the right person installs showers and drains. Otherwise, they may leak.
What kind of warranty do you offer? Ask about term length, what it covers, and exclusions.
Can I get that in writing? From warranty terms to discounts, every detail of your agreement should be in your contract.
Looking for a Good Local Home Builder?
Finding the right home builder near you requires patience. Do your research and ask the right questions to ensure you work with a reputable individual or company that you can trust with your investment.
Get Quotes from Home Building Pros
No Comments Yet