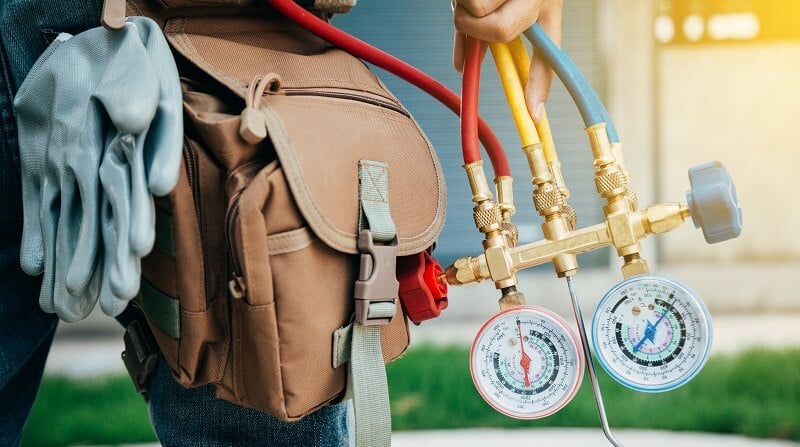 Reviewed by Bob Tschudi, Home Building and Remodeling Expert.
Looking for a HVAC Specialist?
If your home's climate control system fails, you'll want the problem fixed quickly. Should you tackle the job yourself or hire a pro? Since heating and cooling systems have extremely complex equipment, it's best to leave this task to a licensed, certified professional.
In this guide, we'll explain the benefits of hiring an HVAC contractor, offer tips for finding the right pro and provide questions you should ask potential contractors.
On This Page:
Heating and AC Contractors
HVAC is an acronym for Heating, Ventilation and Air Conditioning. That's a rather broad field of expertise, and some professionals specialize in specific types of equipment while others perform only installation instead of repairs or routine central AC maintenance.
For example, some homes have a central air conditioning unit and a heating source while others have a heat pump that handles both heating and cooling. While central AC and heat pumps are quite similar, the contractor you hire may depend on a few key differences.
Heating Contractor vs. AC Contractor
HVAC technicians are qualified to install, repair or maintain central air conditioning and heat pumps. However, since there's a wide variety in technicians' specializations and certifications, you'll need to ask each contractor if he or she is qualified to work on your specific equipment, such as humidifiers or heating sources.
For example, if you have a very unique piece of equipment, such as a cast-iron furnace, it's best to seek out a specialty furnace repairman. Geothermal or solar systems also require the skills of a highly specialized technician.
Installation Technician vs HVAC Repairman
While most contractors perform both repairs and installations, some specialize only in one area. Some vendors may not perform installations at all, offering only air conditioner service and repairs. Along with installing the equipment itself, the installation process includes:
Determining the correct size to meet the demands of your home,
Installing ductwork using mastic sealant or metal-backed duct tape to make it airtight,
Setting the proper airflow rate to heat and/or cool your home,
Calculating the right amount of refrigerant to facilitate heat transfer.
Since installation is much more involved than repairs, smaller, one-man shops may not offer it as a service, instead focusing only on HVAC repairs and maintenance.
Independent Service Providers vs. Professional Companies
HVAC contractors come in all shapes and sizes. While you can expect repairs and maintenance from both independent service providers or professional companies, the scope of their services may differ.
Professional Companies are more likely to offer:
Installation services,
24-hour availability,
Routine maintenance programs,
Wider variety of serviced or installed brands,
More specialty certifications,
Duct-work cleaning and maintenance,
Humidifier installation and service.
Independent Service Providers may offer:
Specialization in a specific brand or type of equipment,
Consistency in service provider,
Personalized working relationship,
Potentially lower rates.
Commercial vs Residential HVAC Specialists
Commercial and residential systems are fundamentally the same, but contractors may specialize in one type of system over another.
Commercial HVAC units are usually:
Located on a building's roof instead of the ground,
A packaged system rather than a split system,
Modular instead of self-contained,
Complex to drain,
More focused on ventilation instead of only heating and cooling.
Residential central air and heat pumps are usually:
Made up of a split system, meaning one component is outside the home and another inside the home.
Easier to drain with only one or two external drains.
Intended primarily for cooling and/or heating. Windows handle ventilation needs.
Because of the inherent differences in the two systems, some providers specialize in either commercial or residential heating and cooling systems. When you're ready to hire a pro, be sure to ask if he or she is qualified to service the system at your home or commercial facility.
Find the Right HVAC Pro For You Project
How to Find and Hire a Reputable HVAC Expert
Here are some things to do when you're ready to hire a heating and cooling contractor.
Check Contractor License
While the specific type of contractor license required for HVAC pros will vary from state to state, be sure the contractor you select has the appropriate licensure on file with local and state agencies. Also, in some municipalities, there are limits to how much electrical work an HVAC contractor can do (so you might need to get a licensed electrician as well).
Promotional materials and providers' websites will usually list the license number. Most states have an online directory, allowing you to search for contractors by license number.
Ask for Referrals
Ask any pro you're considering hiring to provide contact information for previous clients. Local trade associations may be another referral source.
The Tradesman International website is a good place to connect with local trade association chapters. You might also consult friends and family when seeking a pro.
Consult Online Ratings and Reviews
Online reviews can be a good judge of a service provider's quality. Reviews are a good place to determine if the contractor shows up as scheduled and completes the task in a timely manner.
Look for HVAC Certifications
Certificates indicate a provider has demonstrated expertise for the job.
North American Technician Excellence (NATE) is the largest certification program for HVAC technicians. Techs can earn installation and service certifications in multiple areas.
HVAC Excellence Certification includes many types of certifications, including Employment Ready certifications to Professional Technician and Master Specialist certifications.
EPA 608 Certification is for all technicians who maintain, service, repair or dispose of appliances that contain regulated refrigerants like air conditioners. Technicians must also have an EPA certification to buy refrigerants.
Start Your Search for an HVAC Pro
HVAC Questions to Ask When Hiring a Professional
Here are some questions to ask potential contractors.
Can you provide references?
Are you insured (at a minimum, they should have general liability and workers' compensation insurance)?
What are your certifications?
How many technicians are on staff?
Will you respond if my system goes out on a weekend or after hours?
How often should I have my air conditioning unit serviced?
Are you experienced with the brand or type of system I have?
Will you provide a written, itemized estimate?
Will you conduct an in-home evaluation rather than providing an estimate over the phone?
Do you offer payment plans?
What is the cost to install a humidifier?
Do you offer warranties or work guarantees on repairs?
Are tax incentives or rebates available for my project?
Do you offer a service contract program for routine maintenance?
How much does it cost to clean ducts and vents?
How long will installation take?
Start Your Search for an HVAC Pro
FAQs
Are You Supposed to Tip an HVAC Installer?
It's not customary to tip an HVAC installer or repair person, and some companies may not allow technicians to accept gratuities.
Professionally trained technicians are usually well paid, so they don't expect a tip. However, if they went above and beyond the call of duty, feel free to offer a tip in appreciation for a job well done.
HVAC work involves restoring heat in cold weather and air conditioning in hot weather, so HVAC contractors appreciate warm drinks/coffee and/or cold drinks/bottled water.
Do I Have to Rehire the Same Heat and Cooling Pros That Installed to Do Repairs?
No, you don't have to use the same company that installed your system to repair it. But you should consider two things before deciding.
Warranties that come with the newly installed equipment may be void if another company performs maintenance or repairs.
The company that initially installed the system is familiar with it and may be able to diagnose a problem much quicker than another vendor.
Do I Have to Hire an HVAC Expert or Can I DIY?
Do not attempt do-it-yourself repairs on your heating and cooling system. Many of its components, including electricity and gas, could pose hazards for an untrained professional.
These systems also utilize refrigerants that require a special EPA certification to handle. That's why it's best to hire a pro to repair, maintain or install your heating system or air conditioner.
Need a Good HVAC Technician?
Hiring an HVAC technician will help maintain your home at a comfortable temperature all year long. These tips will help you find the professional who's right for the job.
Looking for an HVAC Professional?
1 Comments