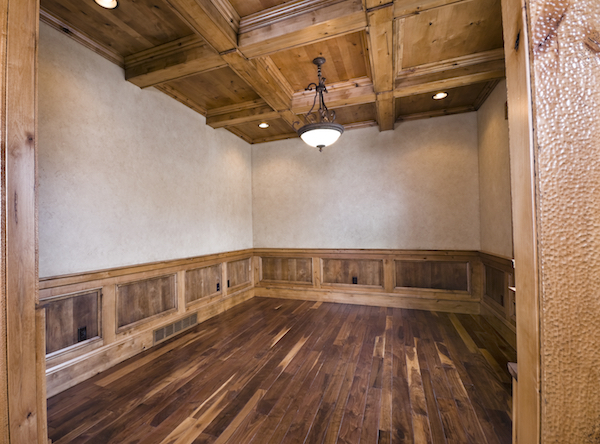 Anytime you're undertaking a major home improvement project, it feels good to get the dirty work done. Of course, when you're finished with that, there's always the lingering need to install trim work and wood casings in order to finish up the job and make it look professional and presentable.
Trim Work 101
Moldings, also called "trim work," are both functional and decorative in your home. Although they give a room distinctive style and detailing, they also serve a purpose. Trim work hides the joints between walls and floors, ceilings, doors, and windows that have been left exposed by rough carpentry and building techniques. Many different patterns and styles of trim work are made from a variety of softwoods and hardwoods, so the most important thing is finding trim work that is going to best match the overall design aspect of your home. If you're feeling creative, these woods can be used in combination as built-up-moldings to create intricate patterns in your trim work design.
Moldings: Materials
Trim in older homes may be made of plaster, particularly cornice and crown moldings, or any of the several hardwoods or softwoods that are still popular in building materials today. New trim is sold at lumberyards and millwork shops, and visiting these businesses is the best place to see the wide selections available to you. Hardwood moldings, which will need to be stained and finished, are naturally the most expensive. If you're on a budget, look for paint-grade pine or fir moldings made from short pieces that are finger joined together. Doing so can save you a lot of money when it comes to adding up the costs of your finish carpentry.
Composite Trim Work
A range of ready-to-paint, highly decorative trim made from high-density polymers, are also available if you're looking for a more budget friendly material. Polyurethane trim doesn't expand and contract, warp, decay, or require heavy maintenance. And, because intricate polyurethane moldings are made as single-piece units, they're also cheaper to install than real wood or plaster alternatives.
Ready to start your
finish carpentry

?Find Pros
Wood Casings
Wood casings are the trim that surrounds your windows and doors. Any time you install new windows or doors, the frame is left exposed and needs to be covered. Aesthetic reasons are what drives most people to invest in wood casings, but they also serve more practical purposes. Window and door casings provide an extra protective barrier that keeps wind and weather out of your house, improving the energy efficiency of your home and, ultimately, saving you money.
Talk to a Finish Carpenter
Carpenters who specialize in finish carpentry are probably your best resource when it comes to choosing someone to install trim in your home. Along with more specialty jobs, this is the work they've been trained for. If your building project has advanced to the point where finish carpentry is in order, talk to your contractor about finding the right person to get the job done.
No Comments Yet