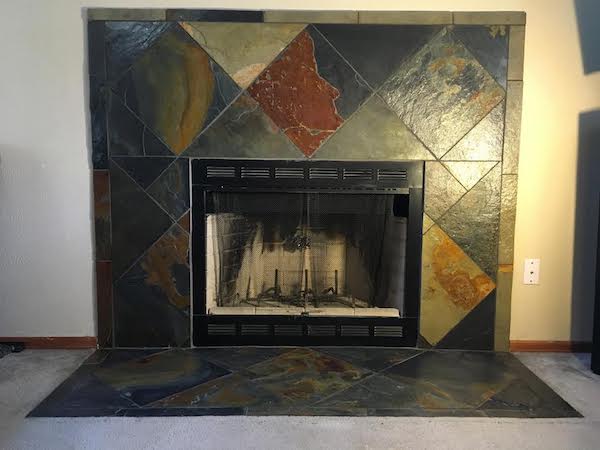 A fireplace can be a welcome addition to just about any room. Aside from the practical benefit of providing supplemental heat, there's just something inherently soothing about sitting by a fire, be it wood or gas. There are many different types of fireplaces available to today's homeowner; whether you like the traditional and rustic appearance of brick or mortared stone, the convenience of gas operation, the cost-effectiveness of a prefabricated fireplace, or the classic elegance of cut stone, there's probably a fireplace out there to satisfy your tastes and keep your wallet happy, too.
Fireplaces and chimneys can be a liability, however, if they aren't properly installed and maintained. Chimney fires have been responsible for some pretty devastating property damage over the years. Getting regular inspections and cleanings is a must for safe operation, and having your fireplace built or installed the right way doesn't hurt, either!
Fireplace Depth for Custom Masonry Units
As there is no standard fireplace, achieving proper fireplace depth is something that needs to be done on a job-by-job basis. With a custom brick or stone fireplace, any depth is okay as long as the smoke can be directed and angled properly for the smoke to exit up through the damper. Fireplace depth that is too shallow hinders smoke from escaping properly and is not recommended for this reason.
Prefabricated Fireplace Depth
Of course, a zero clearance fireplace, also called a prefabricated fireplace, has a built-in box that comes from the factory. About 16 inches deep is quite common, and will generally work well in any setting. If you're installing your prefabricated fireplace yourself, it might be a good idea to have a professional to consult with in order to make sure that your installation is a safe one.
Benefits of Prefabricated Fireplaces
A prefabricated fireplace is generally a lot easier and less expensive to put in your home than a traditionally built fireplace. One of the nicest things about prefabricated fireplaces is that they will come to your house with all the right specs. Height, depth, and width of the unit will be properly proportioned. The only thing that will require some calculating is the height of the chimney and the flue size. If these two elements aren't properly proportioned, however, you're likely to have a room full of smoke to go along with your less than relaxing evening.
About Creosote
Creosote is a gummy, tar-like substance that can build up in your chimney (in wood burning fireplaces) over time. Depending on how often you use your fireplace and the type of wood you burn, creosote build-up can happen pretty quickly. If left unchecked, when you use your fireplace, creosote can ignite and cause a chimney fire.
Thankfully, removing creosote regularly will greatly reduce the risk of this occurring. Homes that burn wood on a daily basis might need to have their chimney cleaned several times a year, while households that only burn wood once or twice a season will probably be okay with an annual cleaning.
No Comments Yet