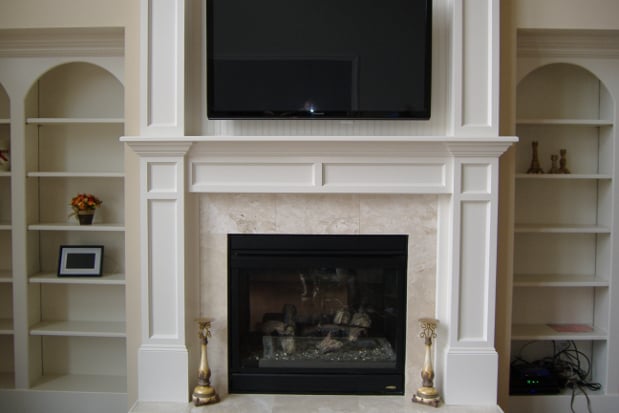 Bathroom and kitchen remodels are great, but they can also be incredibly expensive. There are other ways to improve your home. One way that doesn't require a second mortgage is a fireplace remodel. The fireplace is one of the coziest, visible, and practical areas of your home. A remodel is great to vamp up your old fireplace that may be serving you well functionally, but could do so much more with a manageable investment of time and money. Fireplace remodels cost considerably less than the $800 – $3,200 that most homeowners spend on a brand new fireplace installation. There's also more than one way to renovate a fireplace, and by considering the current condition and its use, you'll be able to determine what your fireplace really needs.
Changing To Gas
You may have loved your wood-burning fireplace. You may still love it, but you may also realize that it's no longer worth the trouble. Despite being a renewable resource, wood is still getting more and more expensive. Gas isn't cheap, either, but it may be a better alternative than pricey wood at your local grocery store. Gas fireplace inserts cost about $400, but the cost of installation can run much higher. Of course, you can find wood for a lot cheaper than it's being sold at the store down the street, but this requires buying in bulk, hauling the wood to your home, and finding a place to store it.
In addition, gas-burning fireplaces burn a lot cleaner and a lot safer. In some areas where air pollution is an issue, you may be limited to when you can burn your wood. Plus, burning wood in your fireplace can lead to crackling that throws sparks into the surrounding area. This may lead to a fire hazard and, at the very least, requires constant attention and maintenance.
Ready to start your
Fireplace Project

?Find Pros
Remodeling Your Fireplace Surrounds
A fireplace remodel can mean many things. Even replacing or upgrading your fireplace surrounds can take on many levels. A new and/or improved mantel can greatly enhance the look. Hiring a customized wood working contractor can do amazing things for your fireplace surrounds for a fraction of the cost of a typical home remodel. Replacing your brick fireplace with marble is a more costly proposition, but will also create an unmatched quality installation. Even more peripheral accessories can be a great source of fireplace remodeling ideas. Simply by adding wall sconces on either side, you can create a truly relaxing and romantic atmosphere in your living room, family room, or den.
Finding a Contractor for Your Fireplace Renovation
Depending on what's best for your fireplace, you may need to hire different kinds of contractors. Wall sconces mean an electrical contractor. Marble is a masonry contractor. Mantels can be any number of contractors, depending on the material you want. If you're tackling your project from multiple angles, we may be able to find a fireplace remodeling contractor who can "do-it-all," or we can set you up with multiple contractors, each of whom can tackle one small aspect. Whatever your needs are, there's a good chance the contractor you need is out there. By discussing your ideas with a contractor, you can get a firmer handle on exactly what this remodeling project can do for your home and the best way to go about it. As with any home project, make sure you get a clear and detailed written estimate before the work begins. This will help you and your contractor stay on the same page and make your home improvement project go off without a hitch.
3 Comments