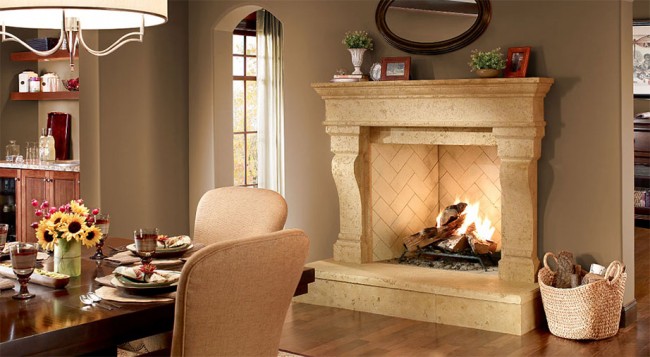 So much attention is given to the fireplace when selecting fireplace design that often the fireplace surround is forgotten and neglected. It's an understandable phenomenon. Should you choose a masonry fireplace or a ventless model? Do you want wood burning or natural gas? These are all certainly important decisions to make, but the part of your fireplace that is going to get noticed more than anything else isn't the color of the flame burning behind the glass, it's going to be the surround itself.
Why a Fireplace Surround is so Important
A fireplace surround is not an aspect of your home design that you want to take lightly. Fireplaces are naturally focal points in any room where they are installed. Light draws people in, the subtle movements of flickering flames and shadows catch the attention of visitors, and people naturally gather around it as a cozy, comfortable heat source. With all that attention and activity, it's important that your fireplace surround is equally enticing.
Choosing a Fireplace Surround
Choosing the right surround for you and your home is really as much a matter of taste and design as anything else. As you determine the right material for your surround, be sure to take into account larger design trends in your home. If your home tends toward the modern and sleek, you might want to consider a concrete surround for your living area. Concrete can be molded into just about any shape you desire, and the smooth curves and stunning designs that are possible are perfect for a contemporary design.
On the other hand, if you've chosen a more classical design for your residence, you might look into more traditional materials for your surround in order to match the sense of tradition and class that runs throughout your home. Wood, marble, granite, and other stone surrounds will go a long way towards communicating an air of sophistication, style, and elegance. Cast concrete (also called pre-cast stone) can also be an excellent choice, since impressive designs can be incorporated into the surround itself.
Feeling a Little More Rustic?
Of course, you may be looking for something with a little less flash. If so, brick surrounds have always been popular and will continue to be so. And if you're looking for something even a little more primitive, think about a more natural, stone fireplace surround masonry constructed from natural rock.
Whether you're thinking 20th century chic or 17th century log cabin, there's a surround out there to match your decor. Talk to a fireplace specialist, a stone or brick mason, or a contractor who specializes in mantels and surrounds, about getting the perfect fireplace surround for you.
Ready to start your
fireplace surround

?Find Pros
No Comments Yet