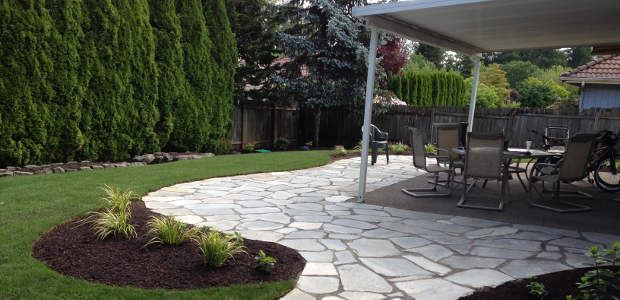 Some major home renovations can be frustrating, expensive, time-consuming, and, in the end, not give the best returns on your investment. However, something as simple as a flagstone patio can be reasonably-priced, add more resale value to a home than the construction costs, and will provide immediate enjoyment to the homeowner and his or her guests. The organic look of the stones fits nicely with any residential environment, matching the more rural setting of a home or adding a cozier quality to a more urban setting.
Available in a number of different colors, it has excellent aesthetic compatibility and its composite design allows the patio to be any size or shape you desire. It's the perfect patio to fit around a garden or to allow for a small, grassy area within the stones. If you're thinking about putting in flagstone or you want to do something to improve your home but don't know want to do, this is where you should start.
Dry v. Wet Construction
One of the basic questions you'll have to answer is whether you want the patio to be set in sand or a concrete mortar. Laying the patio in sand is known as dry construction. This process is easier and cheaper, but yields a patio that will need maintenance or repair over time. Placing the stones in concrete results in a permanent patio that requires no maintenance. Do-it-yourselfers tend to choose dry construction for simplicity, while homeowners who hire a service professional tend to opt for wet construction. Not only does a permanent patio require no upkeep from the homeowner, it also goes a lot further in adding resale value to your home.
Ready to start your
Flagstone Patio

?Find Pros
Stone Costs
Another thing to keep in mind when choosing which type of flagstone patio you will install is that dry construction requires thicker, wider stones to gain stability, while extra concrete, which is cheaper than the flagstone, can provide the stable base the patio needs. Flagstone prices can vary widely depending on location, thickness, type, and color. As transportation costs rise, location is becoming more and more important, but for adequate stone for a patio of about 100 sq. ft. you can pay anywhere from $200 to well over $1,000. On the other hand, the better stone you buy the more durable the patio will be and the more visually appealing it will look. For an additional cost, stones can also be cut to a standard size that will create a more refined look and allow for easier installment.
Add a Flagstone Walkway
The perfect complement to a flagstone patio is often to put in a flagstone walkway. Since flagstone has a more rustic appearance, many homeowners who choose these patios live in a rural area or have secluded properties. Many homeowners know the difference between what it means to have a yard and what it means to have property. Have you ever said, "Our yard ends here, but the property actually goes back another 200 feet?" If overgrowth or trees keep you from extending your yard to the end of your property, a flagstone walkway can allow you and guests to walk through your entire property and enjoy its natural landscape without extensive landscape construction.
No Comments Yet