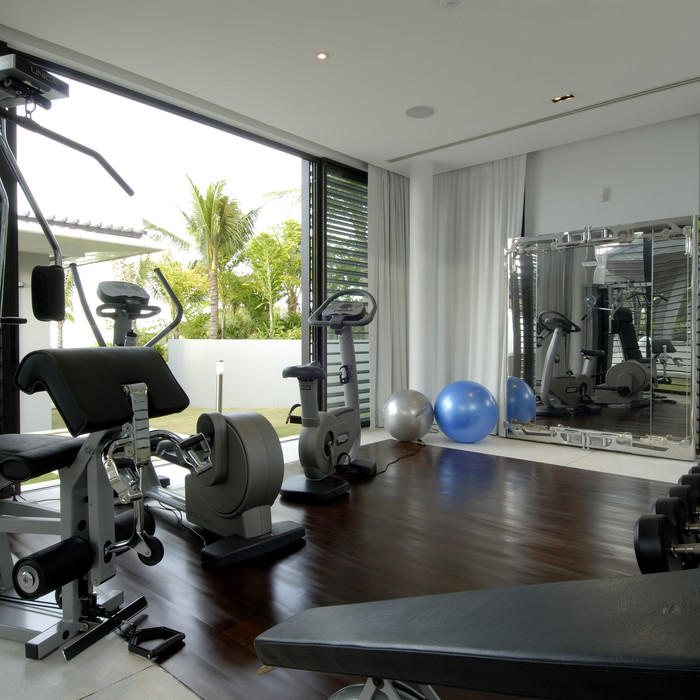 Transitional Home Gym by DesignMine Private Gallery

Home gyms are the way to go if you want privacy and solitude while working out, and can be cheaper in the long run after your initial investment for equipment and assembly. Building a home gym can be simple with the addition of a treadmill, stationary bike, weight bench, and exercise ball in a room in your house. But there are other factors to consider and include to build a safe and comfortable environment for the equipment and your desired form of exercise.
The most important aspect of a gym is the flooring. There are numerous things you need to consider while choosing the flooring material for your gym: the kind of heavy equipment you are going to use, where the gym will be set up, and the kind of exercises you plan to perform in the space. Gym flooring needs to be extremely durable and strong. A few ideas for flooring materials available are outlined below.
Carpet
Carpets are the cheapest and most popular option available. Commercial grade carpet tiles are recommended for home gyms since they are durable and easier to install. On the other hard, if your gym is situated in your basement, the carpet will be damaged in the occurrence of a flood.
Pros:
Cons:
If your carpet is not in the form of tiles, you will need professional help for installation.
Absorbs moisture.
Rubber
It is the most commonly used flooring material for commercial gyms. They are water resistant, easy to maintain, and can withstand the weight of most equipment. Rubber is quite heavy so DIY installation can be tedious. It's recommended that you hire a pro to help lay the flooring.
Pros:
Easy to maintain.
Water resistant.
Cons:
Increases temperature of the room.
Very heavy.
Foam
If your fitness routine includes yoga, pilates, and other floor-based workouts, you can opt for foam flooring. They provide a cushioning effect, making it the most comfortable choice for floor workouts. Eventually, you will find that foam loses its decompressing abilities. Hence, it is not recommended to use foam flooring if your gym consists of heavy equipment or weights.
Pros:
Lots of varieties to choose from.
Easy on your body when you do floor exercises.
Cons:
Short-lasting.
Cannot be used for heavy equipment.
Vinyl
They come in the form of flexible, interlockable tiles and are easy to install. They are easy on the eyes and come in a variety of styles to choose from. Vinyl is capable of handling cardio-level rigour, but if you are going to be doing a lot of weight training, you might want to reconsider this choice.
Pros:
Easy to clean.
Moisture resistant.
Cons:
Cannot absorb impact.
Behaves like regular flooring instead of cushion-styled flooring which makes it unusable for weight training or floor exercises.
Cork
Cork is emerging as a popular choice for gym flooring. It has a unique look and can bear the impact of moderately heavy objects with ease. But it might not have what it takes to handle heavy weights. Choose cork flooring only if you workout with lighter materials for shorter periods of time.
Pros:
Eco friendly.
Looks attractive.
Cons:
Cannot absorb heavy impact.
Cannot be used for a long time.
Utility Grade Wood
Utility grade wood handles weights extremely well. However, if you drop heavy weights on it, it will splinter on impact. Professional help is necessary for laying utility grade wood flooring. Even at the purchasing stage, you will find that the material is not visually pleasing.
Pros:
It is heavy duty and made to handle wear and tear.
Cheap.
Cons:
Splinters very easily.
Not as good looking as foam tiles or vinyl flooring.
No Comments Yet