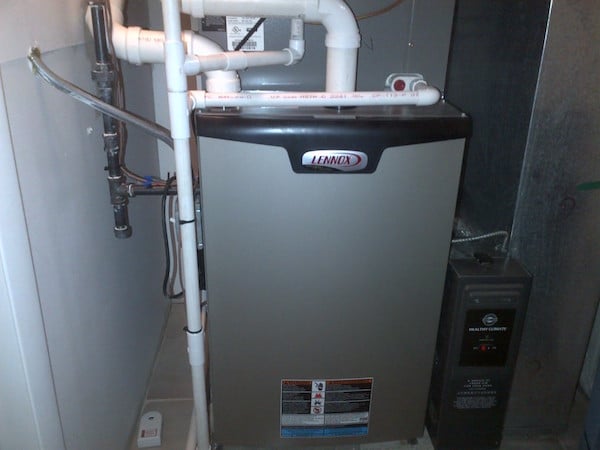 One of the most common central heating systems, forced air heating systems are present in nearly 35 million American homes today. A forced hot air furnace draws the room air through duct work to a furnace, where the air is filtered and heated. The warmed air is then blown back into the rooms through other duct work. The system's duct work is usually metal wrapped in insulation to help keep in heat. In some cases, flexible duct work is preferred.
Note: If you're thinking about replacing pre-existing duct work with your new heating unit, you should have the duct work inspected and tested for asbestos.
Forced Air Heating System Options
It goes without saying that not all forced air heating systems have the same performance standards. The first thing you need to decide is how much you're willing to spend on your heating installation and what your priorities are. Noise level, energy efficiency, comfort level and overall convenience are all important considerations that can vary widely between different heating units.
Take a moment and think about what you've most liked and disliked in your heating system in the past. Are you easily irritated by noise? Do you hate seeing that utility bill every month? Do you feel like you have cold toes and suffocate in the winter? How long and harsh is the winter where you live? This will help you decide which forced air heating system to choose.
Furnace Design in Forced Air Heating Systems
Furnaces come in "upflow," "downflow" and "horizontal" models designed to accommodate basement, attic or limited-space installation. The terms mean exactly what they seem to mean. With older gravity furnaces, the heated air is delivered by natural convection, not by a blower. The warm air simply rises through the ducts to heat the rooms above. The larger your home, the bigger the furnace you'll need. Larger homes will probably also need multiple zones to create relatively even heating throughout your home. It's probably best to talk to a HVAC contractor before determining the best design for your home.
Ready to start your
forced air heater

?Find Pros
Installation and Air Quality
An electric forced air furnace can be combined with a humidifier and an air filter. The air filter can be particularly important if someone in the house has problems with allergies. Filters can be electrostatic, electronic, or pleated media. These filters are critical to managing energy-efficiency and indoor air quality. A home that has become too well-insulated may have sacrificed a degree of ventilation. A well-designed system will effectively balance the need to create a well-insulated home while still allowing an appropriate exchange of air from outside the home. A tightly constructed duct system, a well-maintained furnace flue and a quality air filter will help keep your forced air heating system running at its optimal performance level.
No Comments Yet