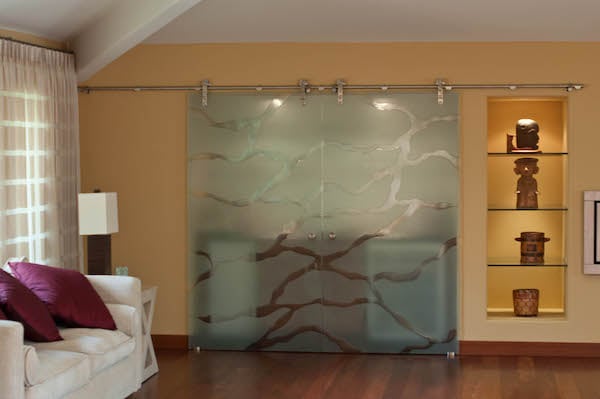 Frosted glass is not just for shower doors anymore. Sure, the bathroom still tops the list of living spaces where frosting is used by homeowners, but there are a number of other places in your home where this glass can provide light, privacy, and great looks, as well.
Frosted Glass: Manufacturing and Uses
Frosted glass is glass that has been etched with acid, or sandblasted, in order to create an opaque, yet translucent, surface. The resulting product provides a measure of privacy while still letting light through. It's an especially effective glass and window solution in areas such as bathrooms, powder rooms, and shower areas, where some level of natural light is desired, but where privacy from the outside world is a primary concern, too.
Frosted Glass where You Least Expect It
While shower doors and bathroom windows take the cake, the light, reflective, and contemporary look of this style of glass has spurned its migration into other areas of the home as well. If you're designing a contemporary home, here are a few cutting edge ideas that you might want to consider.
Frosted glass furniture, especially tables, desks, and wall shelving, is an excellent compliment to the sharp lines, and no-nonsense color schemes of contemporary interior design. You can buy furniture and shelving pre-made, or, if you're looking for something a little more unique, you can search out a custom furniture builder experienced working with glass surfaces to build just about any form you can imagine.
Cabinet panels, cabinet doors, and closet doors are all part and parcel to another popular design trend when it comes to frosted glass. The hint of something behind the door surfaces can create interesting shadows, colors, and shapes that actually add to the overall design of a kitchen or bedroom. Beware of going this route if you're not known for your organizational skills, however. While glass doors are wonderful for creating depth, texture, and color where it was previously lacking, they'll showcase your clutter and messes, as well.
Frosted interior windows are excellent for allowing light to flow throughout your home while providing barriers between different living spaces at the same time. In a day and age when energy conservation is king, maximizing use of natural light throughout your home is always a plus.
For a Little More Flair, Try Etched Glass
Some homeowners want even more originality than frosted glass can provide. For those homeowners the same acid etching procedures used to frost glass can also be used to create more specific designs in glass surfaces. Etched glass is great for entryway accent windows, to add character to mirrors and shower doors, and just to bring personality to living spaces. Since etched glass is often a custom job, you usually get to choose the design. Be it understated abstract borders or intricate wildlife scenes, your imagination, and the skill of the craftsman, are all that limit your etched glass design possibilities.
If you're interested in introducing frosted or etched glass into your home, talk to the appropriate service professional about the designs and styles available to you. Learn more about how to replace shower doors with etched glass.
No Comments Yet