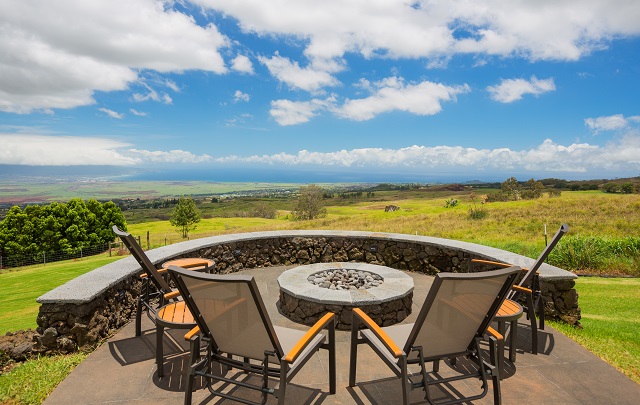 Perhaps the only thing better than having a fireplace for your home is installing a fire pit in your backyard. Not only is it a feature in and of itself, it adds to anything you do in your yard. When installing a fire pit, you've got a few options:
DIY the project using cinder blocks or bricks,
buy and assemble a prefab fire pit kit,
or hire a contractor to install a custom style for you.
Building and buying prefab models can be as easy or complex as you're comfortable with, and a contractor will make sure the job is done properly and up to any local codes. It's important to be aware of any local burning or building restrictions before you get started. No matter how you choose to build your new fire pit, always use the proper materials and do so with safety in mind.
There's nothing more inviting in the middle of the day or more relaxing late into the night. But, what can you do around the fire pit? Here are some great ideas to help you make the most of your new backyard focal point.
Tell Campfire Stories
For families with children, telling campfire stories around the fire is a cinema cliche for a reason. It's a great way for the whole family to bond. The scarier or sillier, the better. There are great classic campfire stories all over the internet to get you started. Check out the list below for a few campfire stories:
Sometimes the best, or at least most memorable, stories are the ones you make up on the spot. They don't have to be good. They don't even have to make sense. What matters is that you took the time to make them up and deliver them in a way that will be remembered for years to come.
Play Cards and Tabletop Games
There's little as relaxing as playing a nice game of cards around a roaring fire. The competition is matched only by the camaraderie, and the fire pit provides the perfect atmosphere for all of it. Of course, you might want to get another light source for the actual cards. But a roaring fire is the perfect companion to the roaring laughter of friends playing cards. So raise, call or go fish around the flame.
Watch a Movie
It was not that long ago that watching a movie outdoors meant being tethered to your home by a very long extension cord. You were outdoors, but just barely. Today, the game has changed. Not only can you watch movies outdoors with cordless projectors and portable computers, but those movies are in theater-quality high definition. Add to that some quality speakers and you have a full theater experience in the middle of the outdoors. There's nothing like watching your favorite movies while making a s'more.
Play Music
Much like the previous section on projectors, the days of needing electricity or a small crate of batteries to play music outdoors are over. Today, you can plug in and charge a decent Bluetooth speaker, small enough to fit anywhere and powerful enough to fill any space. Just be careful not to raise the volume enough to warrant a noise complaint from the neighbors.
If playing music over your speakers doesn't sound fun enough and, more importantly, if you or someone you know is talented enough to make it happen, you could always play music live. Someone can bring their acoustic guitar, take some requests, and make the night memorable. Add the soothing atmosphere of the fire pit and you have a perfect night.
Journal
There is something to be said for the relaxing element a fire pit can add to a day or evening. Get the most out of that zen with a little reflective relaxation by journaling. This means different things to different people. For some, it might just be recounting the day for posterity. For others, it takes a meditation on the meaning of life through the lens of last night's dinner or a quote from a movie. For others, it may be a few doodles or a serious sketch accompanied by a poem.
Whatever it means to you, putting pencil to paper next to the fire might be the best way to spend a lazy morning, afternoon, night, whatever works for you.
1 Comments