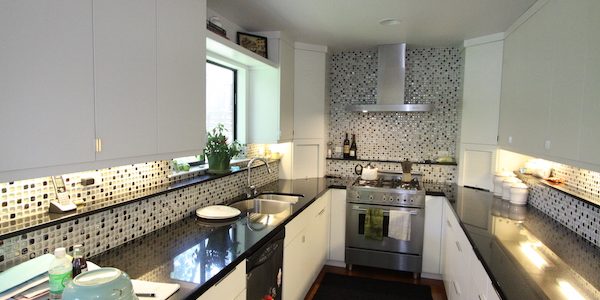 It wasn't too long ago the term "galley kitchen" had negative connotations. After all, it is a kitchen design that gets its name from the cramped cooking quarters of ocean going vessels! Fortunately, those negative labels are a thing of the past. With advances in everything from innovative custom cabinetry to space saving appliances, the galley style kitchen is one of the most popular, sought after kitchen designs for those looking to make the most out of small spaces. In fact, the galley style has come such a long way that galley kitchen remodelers are starting to get requests from homeowners with larger kitchens as well, since the design can open up larger spaces and make it possible to include dining areas and kitchen nooks where there previously wasn't room.
Galley Kitchen Design 101
This is one of the most straightforward kitchen designs there is. It usually consists of two rows of countertops, cabinets and appliances, separated by a walkway that runs in between. The cornerstone of any galley style kitchen is the "work triangle" or triangular configuration of appliances and fixtures that makes the sink, range and refrigerator all accessible from the same small area. Of course, as most galley kitchen remodelers will tell you, the key to an innovative and functional galley style kitchen lies in pushing traditional boundaries.
Lighten Up
Just because a ship's galley is usually tucked away in a dark corner of the boat doesn't mean your kitchen has to be dark and gloomy, too. Remember light colors, from paint and appliances right on up to cabinet material, make any room feel more open and spacious. Also, if there's room for a window, include one. It will provide valuable natural light and further increase the open feeling of what can otherwise be a cramped space. Finally, think about reflective mirrors as backsplashes, or simply as design accents, to create the illusion that there's more space in your kitchen than there actually is.

Need to find a pro for your galley kitchen?
Find Pros
Modify the Shape
Galley kitchen remodelers are also quick to point out that a galley kitchen doesn't have to follow the standard corridor floor plan. L and U shaped designs, often enhanced by a small kitchen island, are two other great ways to maximum space in a small kitchen. In bigger homes, where space is plentiful, the L design is a great way to set the food preparation area off into one corner of the room, leaving the rest of your kitchen space open for dining, socializing, or whatever else you might have in mind.
Talk to Galley Kitchen Remodelers
Successful galley kitchen design hinges on one thing—efficient design plans. You want to make sure you take advantage of every square inch of that kitchen and make it as convenient as possible in the process. Seeing the potential of a small kitchen is something that professional design consultants are trained in. You'll be surprised at the wealth of experience that kitchen remodelers bring to the table, and how skilled they are at getting the most out of one of the most important rooms in your home.
---
No Comments Yet
You can be the first to comment!