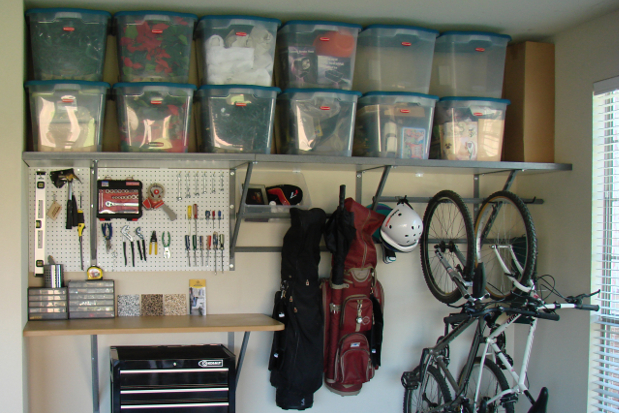 Garage organizing is one of the easiest, and most neglected, home improvements tasks for homeowners to tackle. In fact, if you're like most homeowners, the terms "garage," and "organize," never occur in the same sentence. If you're tired of that black hole sitting on the other side of the mudroom door, however, garage organizing is easier than it looks. The key is installing a good garage storage system, so that everything in your garage has a home to call its own.
Garage Storage System Basics
The three main types of storage systems out there for homeowners to choose from are garage cabinets, garage shelving, and overhead garage storage bins. Since all have distinct advantages for different needs, your best bet is choosing a combination of the three in order to optimize your garage storage. Still it's good to know the ins and outs of each system before you buy.
Garage Cabinets are probably the most popular, and expensive, form of garage storage on the market. The benefits of cabinets are pretty straightforward. Not only do they provide space for all your tools, gear, and other supplies, they also hide it all behind neatly crafted plastic and metal cabinet doors.
Garage Shelving is the most cost effective storage solution, and is also one of the easiest to install (easier than overhead storage, anyway). From a convenience standpoint, shelving is tough to beat, making it easy to find whatever you're looking for. The danger with shelving is that, for some homeowners, what starts out looking like slick, organized, new shelving, eventually clutters and spills out into the rest of the garage, putting you right back where you started.
Ready to start your
Garage Organization

?Find Pros
Overhead Garage Storage is an excellent solution for getting that mess up and out of the line of sight. Overhead storage usually consists of a rack system in which you can store items you don't use on a regular basis. From an organizational standpoint, they're great. They provide valuable space and free up floor area at the same time. Their one big drawback: they are overhead. In other words, they're great for the camping gear you only use twice a year, but for items that you use more often, or that you want to be able to find and have handy at a moment's notice, you're better off with cabinetry or shelving instead.
Other Options are available for you to take advantage of, despite the fact that shelving, cabinets, and overhead storage are by far the most popular choices out there. Garage pulleys and hoists make storing larger, bulky items, such as wheelbarrows, canoes, and truck toppers, easy and convenient. And simple hooks are often the perfect solution for bicycles and garden tools. Finally, there are total storage systems for your garage—such as a slat wall system—that provide a combination of shelving, cabinetry, and wall hooks to meet all of your organization needs.
Consult a Professional
If you're tackling garage organizing, and need a storage solution to help you get the job done, talk to a garage contractor or supplier about what the best options are for you, your space, and your storage needs. Talking to an expert will help you finally transform that messy garage into a clean, attractive, and usable space.
No Comments Yet