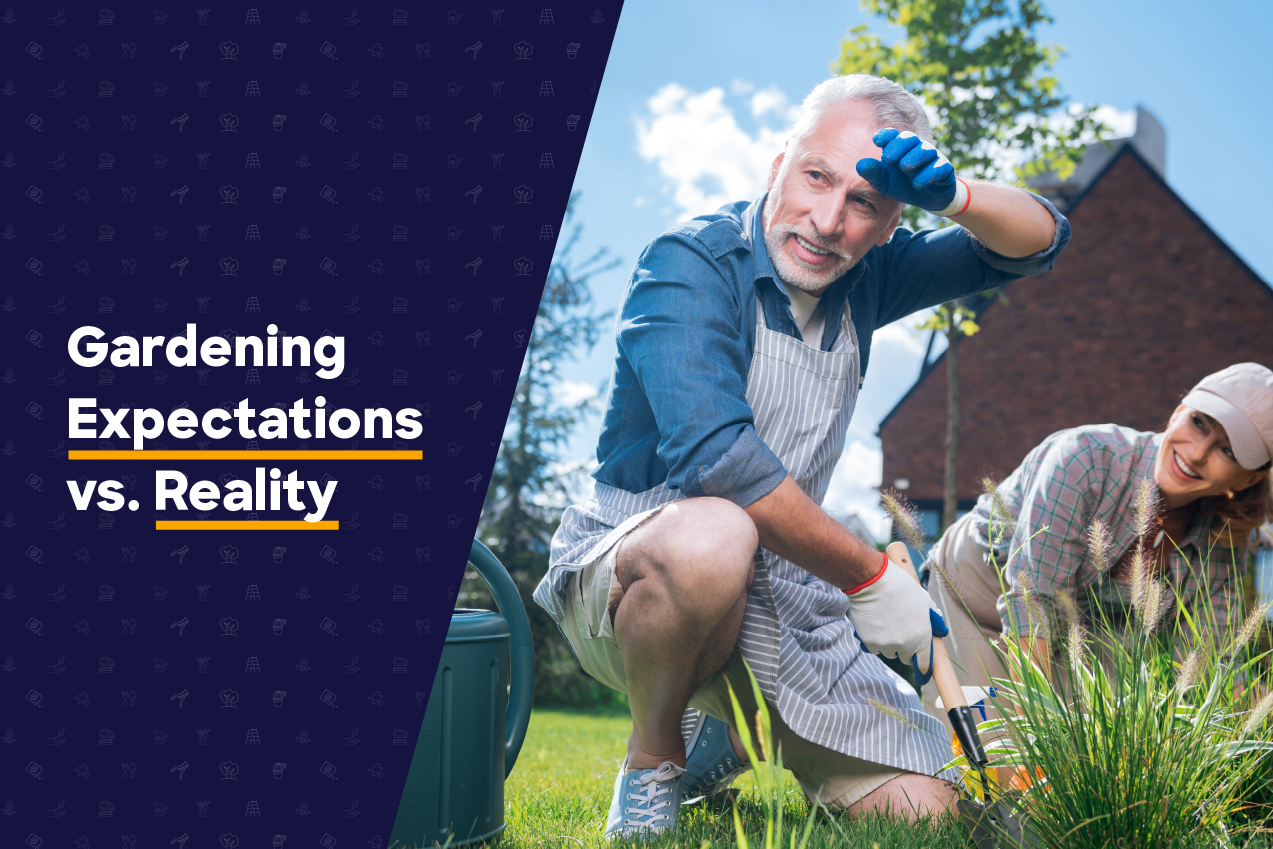 Gardening is on a dramatic rise in the U.S.—demand for seeds in the spring of 2021 matched the blooming sales of the previous spring, when many states were implementing lockdown measures for the first time during the COVID-19 pandemic. But increased participation doesn't necessarily mean gardening is easy for everyone. Some expectations for gardening, especially when you're new, may be a little overzealous—but there are also rewards beyond the fresh produce.
We spoke to 1,000 home gardeners throughout the U.S. to learn what their experiences were when they started their new hobby and whether a green thumb came naturally.
Key Findings
37% of gardeners found the hobby easier than expected, while 24% found it more difficult
More than three in five respondents noticed that gardening had a positive impact on their eating habits, with 57% switching to a vegan or vegetarian diet or otherwise reduced their meat consumption
More than one in three respondents started gardening for the first time during the COVID-19 pandemic
73% of respondents agreed that caring for plants required just as much nurturing as looking after a child
Unexpected Experiences of Gardening
Our survey first looked at the reasons the average American decided to begin gardening, as well as the typical frustrations that arose.
Fifty-four percent of gardeners we spoke to had been gardening for six months or less. We also noticed a significant drop-off in the number of people who had been gardening for more than six months but less than a year, indicating that the hardest part of becoming a lifelong gardener is making it through the first year. While 39% felt the hobby took too much time and effort, most agreed that gardening was about as easy or even easier than they had expected.
When asked about why they started gardening, 65% of respondents wanted more time outside, 51% wanted more physical activity, and exactly half wanted access to healthier food. A significant number of participants were also looking to save money on food and make their space more beautiful.
The biggest frustrations were insects or pests (55%). However, this number decreased among those gardening in urban areas, suggesting that just by virtue of where a person lives, the number one hassle of gardening may be eliminated.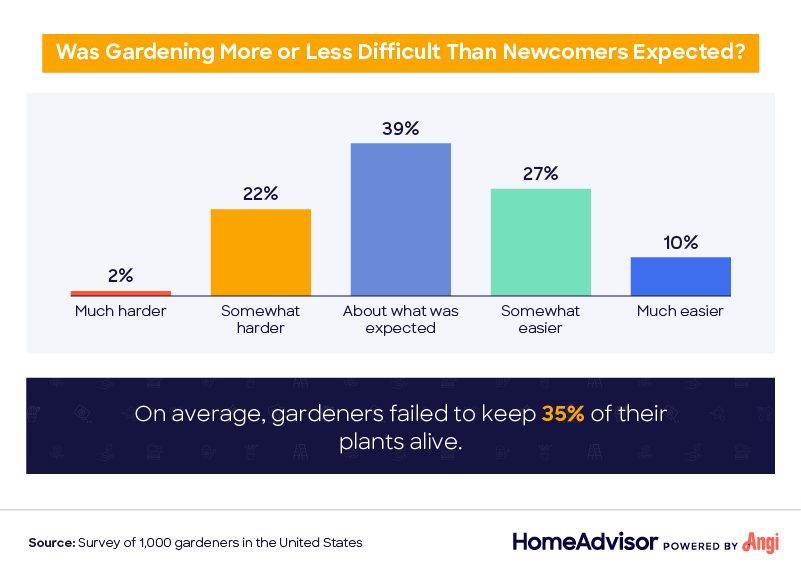 Although the gardeners we surveyed had lost about 35% of their plants to date, the "death rate" was twice as high for newbies as it was for experienced gardeners. Time and experience does improve the success of your efforts—so keep that in mind the next time you feel like throwing in the trowel.
Lifestyle Impacts of Gardening
According to respondents, gardening has had an overwhelmingly positive effect on their moods, productivity levels, mental health and physical health.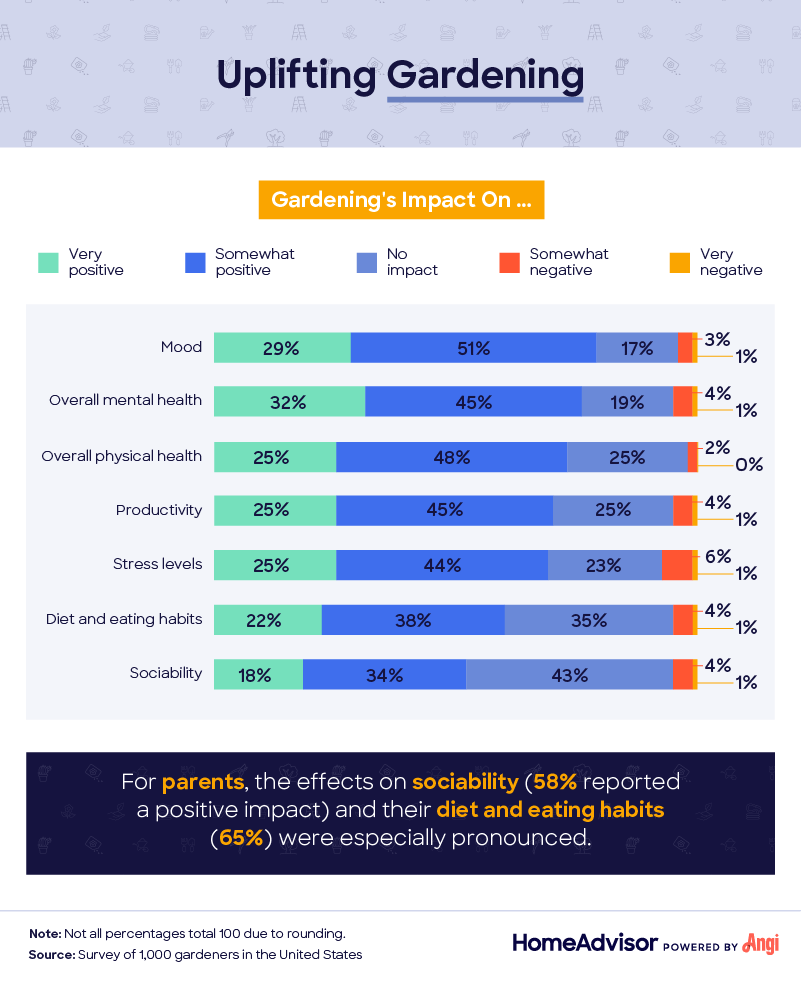 Four out of five gardeners surveyed felt that gardening provided a day-to-day mood boost, and nearly three-quarters reported positive effects on their overall physical health. More than half felt gardening improved their sociability, which has become particularly strained due to social distancing guidelines.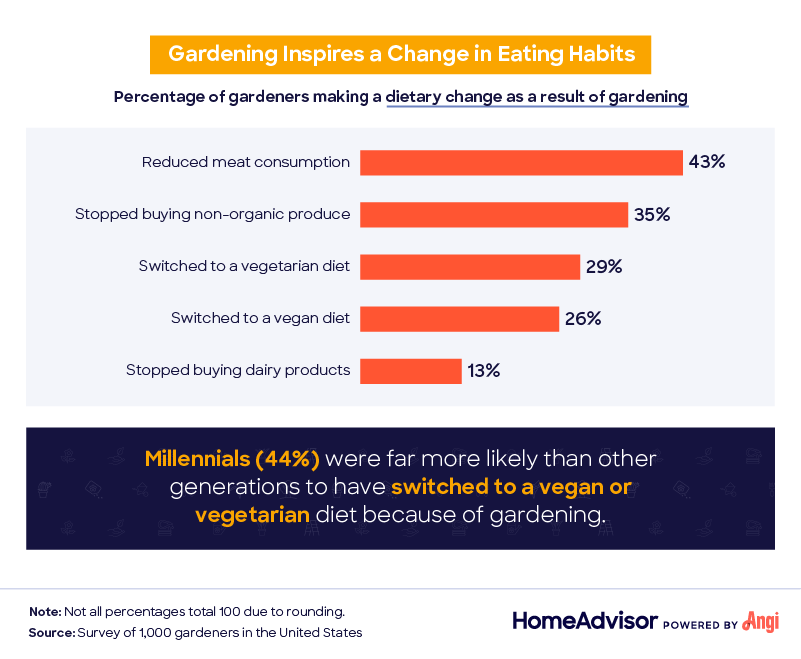 Fifty-seven percent of those surveyed made the switch to a vegan or vegetarian diet or otherwise reduced their meat consumption. These dietary changes can decrease the risk of heart disease or stroke and significantly lower your personal greenhouse gas emissions.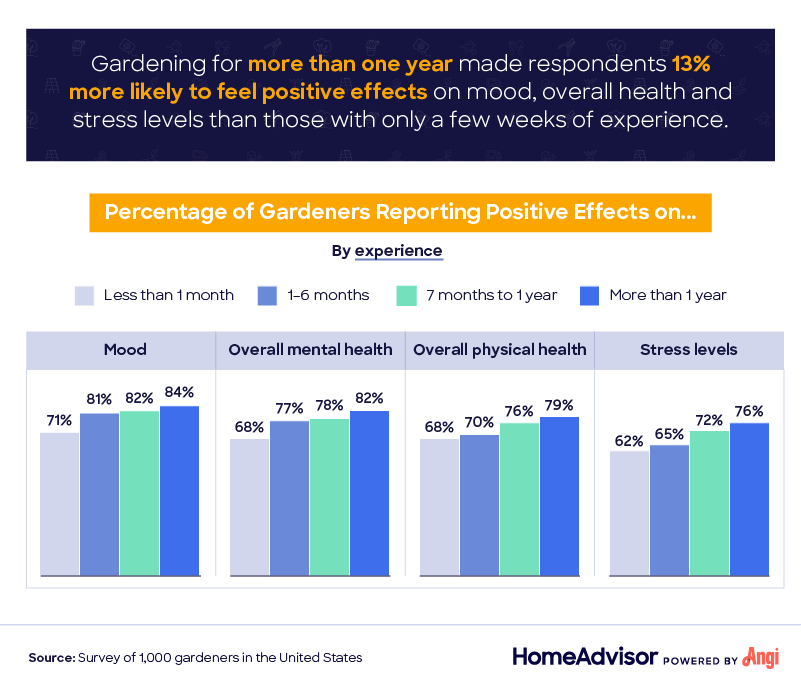 According to our results, the positive effects of gardening quickly grow more common as gardeners gain experience. Those who had been gardening for more than a year were about 13% more likely to feel positive effects on mood, stress levels and overall mental and physical health than those who had begun less than a month ago.
The Pandemic Push to Garden
COVID-19 forced the world to pick up a new hobby or two—and for many, this was gardening.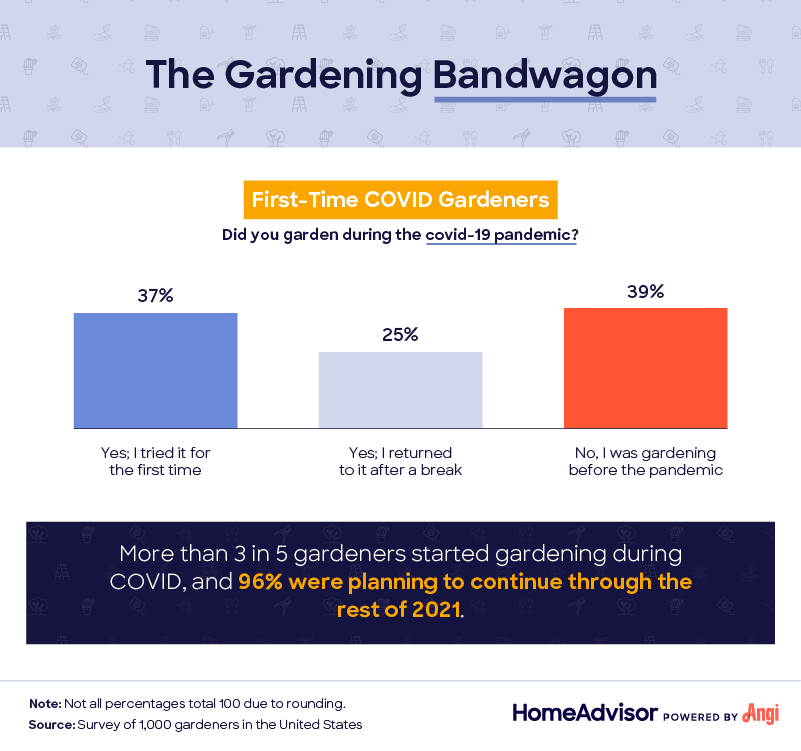 COVID-19 played an enormous role in the popularity of gardening: More than one in three gardeners surveyed said they started sometime during the pandemic. Millennials were the most likely to have started gardening during COVID, with 42% beginning during the pandemic. But gardening during hard times is actually not a new trend at all.
COVID gardens are often referred to as "victory gardens"—a name taken from the World War II plots created to bolster food supplies. In an interview with NPR, Jennifer Atkinson, senior lecturer in environmental studies at Washington University, said in this particular time of hardship, "what people are starved for right now isn't food, but contact with something real."
Although the pandemic may have catalyzed the gardening habit for many, almost everyone surveyed is in it for the long run. Ninety-six percent said they would continue gardening at least through the rest of 2021 and potentially well into the future.
Prioritizing New Gardening Habits
We analyzed monthly expenses, as well as how "plant parenting" relates to the parenting of children.

Those surveyed spent an average of $73 each month on their gardening, and women tended to spend about $10 more than men. The $73 cost is also a comparable amount to how much each participant spends monthly on takeout—another additional healthy swap to consider.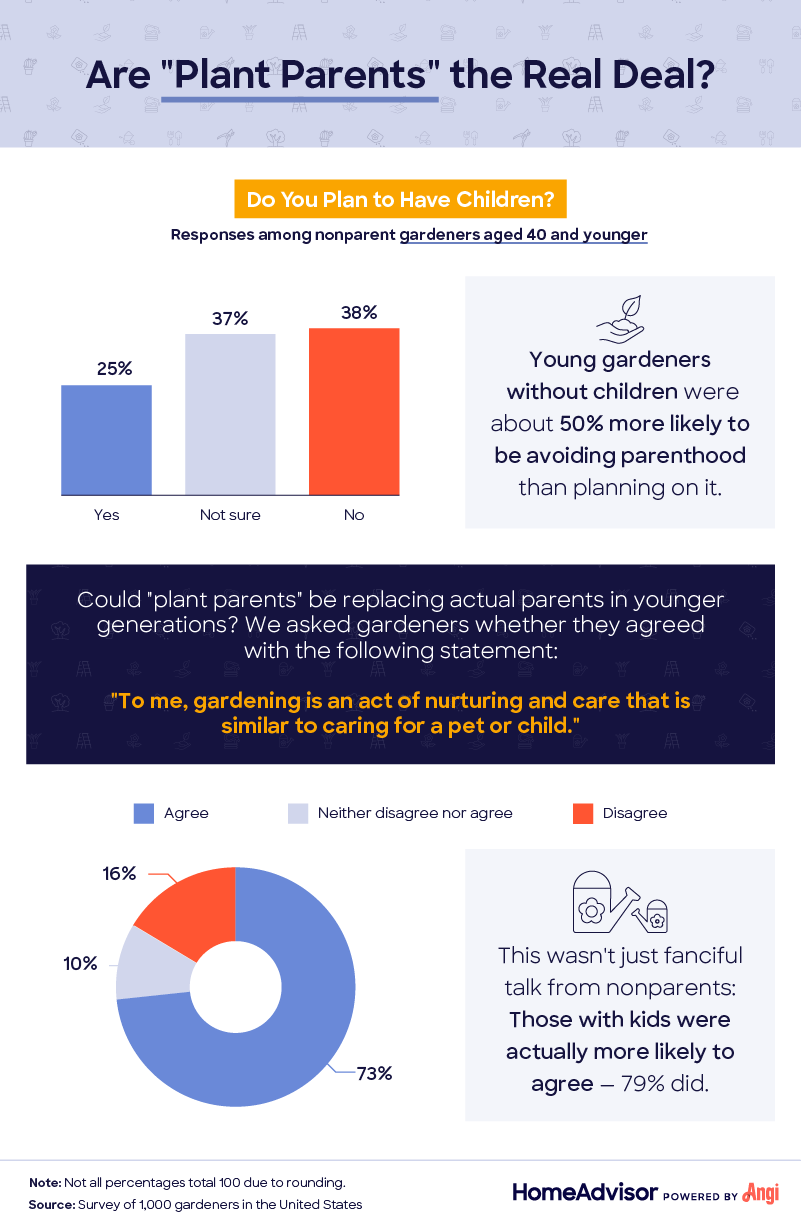 For the average gardener spending $73 per month—or $876 per year—on caring for their plants, the cost of raising a child may seem daunting by comparison. The U.S. Department of Agriculture estimated the cost of raising a child for a middle-income family with two children in 2015 was around $12,980 per year.
However, our results show that 73% of respondents—including 79% of those with kids —agreed that gardening is an act of nurturing and care, similar to caring for a pet or child. Although the material cost may be much lower for "plant parents" than for actual parents, the two experiences share key elements in common: Both plants and human children require water, food, shelter and attention. Spurred by research that suggests plants respond positively to certain types of sound, some plant parents go as far as to read, speak or sing to their plants in an effort to help them flourish.
A Garden of Your Own
Survey respondents, even those new to gardening, had already noticed a positive impact on their diet, mental health and even their sociability. Their moods improved, as did their stress levels. There were even benefits for the environment, with so many people increasing plant-based consumption.
Methodology and Limitations
Data used for this analysis came from a survey of 1,000 adult gardeners in the United States: 514 respondents were men, 481 were women, four were nonbinary, and one chose not to disclose their gender. Fifty-nine percent were millennials, 25% were Generation X, and the remaining 16% were from other generations. Seventeen percent were from rural areas, 40% lived in the suburbs, and 43% were from urban areas. Of respondents aged 40 and younger, 403 had at least one child and 247 had no children. All participants involved passed an attention-check question.
These data rely on self-reporting, which can lead to issues including, but not limited to, selective memory, telescoping, attribution and exaggeration.
Fair Use Statement
Feeling the gardening spirit sprout? You're welcome to share this data with your fellow gardeners. Just be sure you link back to this page and that your purposes are noncommercial.
No Comments Yet